LEGENDS SKOPELOS, ATTRACTIONS SKOPELOS, SIGHTSEEING SKOPELOS, CULTURE SKOPELOS, TREASURES SKOPELOS, HIDDEN TREASURES SKOPELOS,  BEACHES SKOPELOS, TRADITIONS SKOPELOS, ADRINA BEACH, ADRINA HOTELS, ADRINA RESORT AND SPA, ACCOMMODATION IN SKOPELOS, SKOPELOS BLOG, SKOPELOS BLOGSPOT, SKOPELOS BLOGGING, SKOPELOS BLOGS, SKOPELOS BLOGGERS
Adrina Beach is located in Panormos, Skopelos. They are actually small beaches in the rοw, the Andrines. The beach has fine white pebbles and incredibly clear waters embracing in full harmony with the green pines.
The beautiful Adrina beach took her name after the only female pirate of the Greek seas. The popular and fearless pirate Adrina, spread fear and terror throughout the North Aegean. The treasure she had collected was of immense value.
The story of pirate Adrina has remained alive throughout the years.
According to legend, Skopelos received many raids from pirates. After all, Skopelos' location was ideal. Any boat departing from Thessaloniki would have to pass either through Skopelos-Alonissos or through Skopelos-Skiathos.
Blo Bay in Panormos was the point where pirates unloaded their boats as they were protected from the north winds. There, pirate Adrina also had her own ship.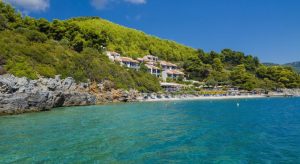 On one of her trips, Adrina, along with her companions, robbed a Venetian boat full of gold. After her success, she returned to Panormos with her crew and her beloved. In order to celebrate their successful raid, the pirates went to Skopelos Town to bring wine and food. Adrina was alone in the harbor waiting for them. Anyway, everyone was scared of her and no local man dared approach her.
On the way to Chora, after climbing towards Murtero and crossing Alikia and Potami, the pirates arrived at Pefkia, on a hill where the chapel of Panagia Polemistria still stands today. There the Scopelites had a feast and danced.
The pirates came into the dance and began to sing a "different" song. The non-drunk people realized the mess and ran into hiding.
The evil was soon to begin and the pirates attacked. But as soon as the first local was killed, Virgin Mary appeared with a sword in her hand. Skopelos people gain strength in her image, hunted down the pirates, and eventually killed all of Adrina's companions together with her beloved.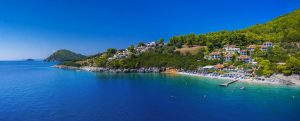 THE END
As soon as pirate Adrina heard the unpleasant news, she hid her treasure (on the beach) climbed the rock, and committed suicide.
According to rumors, her treasure was so big that it took her hours to hide it. In fact, even today many people are struggling to find the hidden treasure of Adrina …
Moreover, many treasures are hidden on beautiful Skopelos Island.
Rodopoulos' family found Adrina's treasure turning him into two excellent summer resorts. The 4 stars Adrina Beach Hotel and the 5 stars Adrina Resort and Spa. The great location and the hospitality of Adrina Hotels promise you unforgettable holidays. As well as treasure hunting …
Skopelos.com – Skopelos Blog
Blog.Skopelos.com – Skopelos.com/Blog
Author – Adrina Hotels Skopelos –  www.Adrina.gr 
www.AdrinaBeach.com – www.AdrinaResort.com