SKOPELOS CHEESE PIE, SKOPELOS STRIFTI CHEESE PIE, TWISTED SKOPELOS CHEESE PIE, TRADITIONAL CHEESE PIE OF SKOPELOS, SKOPELOS CHEESE PIE RECIPES, SPIRAL SHAPED CHEESE PIE OF SKOPELOS, TRADITIONAL PRODUCTS OF SKOPELOS, FOOD IN SKOPELOS, ADRINA TAVERNA, SKOPELOS BLOG, SKOPELOS BLOGSPOT, SKOPELOS BLOGGING, SKOPELOS BLOGS, SKOPELOS BLOGGERS
TRADITIONAL 
CHEESE PIE OF SKOPELOS 
Welcome to Skopelos Island. Get ready to spend a wonderful holiday and get to know the traditional cuisine of Skopelos. Strifti cheese pie of Skopelos is the dominant traditional recipe of the island. The special feature of the authentic Skopelos cheese pie is its spiral-shaped, snail-like shape. The traditional cheese pie of Skopelos has to be twisted, fried with a very thin sheet, always roll on by hand.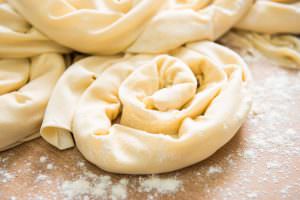 Its taste is unbeatable. It is a fact that you have never tasted such a pie before since it is based on an old traditional recipe of Skopelos. Twisted cheese pie is a treat you will get. It is ideal for all hours of the day. As breakfast, as a snack or as a main meal, as a lunch or dinner.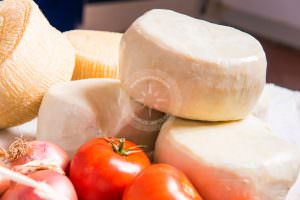 It is no coincidence, however, that Skopelos cheese pie is the trademark of the island. Both the crispy handmade sheet and the cheese made from goat's milk end up in a delicious combination.
You should not leave Skopelos for any reason without tasting the authentic, traditional, strifti cheese pie. Believe us … you'll love it !!!
THE SECRET OF SKOPELOS CHEESE PIE
The secret to the success of traditional Skopelos twisted cheese pie lies in its genuine local ingredients and the right frying that leads to its bright golden hue.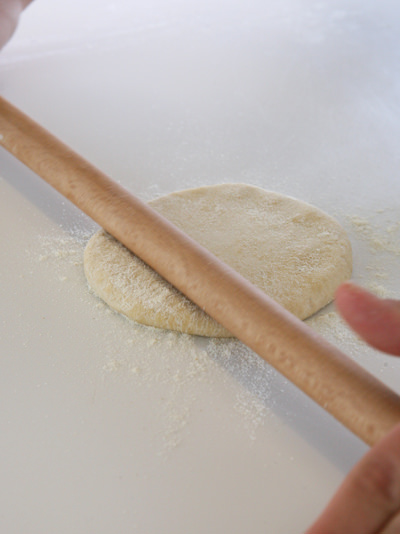 Flour, extra virgin olive oil, and local goat cheese. The simplicity of the traditional ingredients lends prestige to the authentic recipe of the cheese pie. Pure local products of the island that you can taste in every single bite.

The opening of the sheet with a rolling pin plays a very important role in the successful execution of the traditional recipe. The sheet should only be opened with a rolling pin. It takes time, art, and of course patience. Since the sheets should be thin enough but not as much so as not to be broken into the frying pan.
We should also pay attention to proper frying of strifti Skopelos cheese pie since it is part of the secret to sure success. The oil in our pan should be extra virgin olive oil and at the right temperature.
The oil should be plenty in our pan. As soon as the twisted cheese pie enters the pan it will start to swell like a donut. Even small bubbles should form in the dough.
When ready it is best to drain it a little. And don't forget the authentic cheese pie of Skopelos is served warm.
THE HISTORY OF SKOPELOS TWISTED CHEESE PIE 
The traditional cheese pie of Skopelos differs markedly from the pies we find in all other parts of Greece. The difference is mainly based on its shape (snail shape) and frying.
The story of the authentic Skopelos cheese pie originates in the neighboring island of Northern Sporades, in Alonnisos.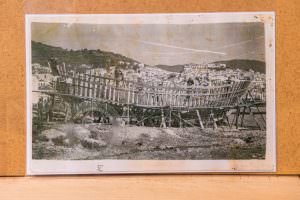 In the old days, the shepherds of Alonissos had to go to the small neighboring islands (Peristera, Kyra Panagia, Gioura) to take care of the goats that lived there. Clearly, in those years there were no modern-day amenities, not even motorboats.

So their trip took several days and people had to have enough food and supplies with them. The main supplies were flour, olive oil, water, dried cheese, and a frying pan.
And so it begins…That's how the precious authentic recipe of Skopelos cheese pie started.
The recipe traveled to Skopelos with the women of Alonissos. Some were fortunate enough to come as brides and some to pick olives.
TRADITIONAL RECIPE OF SKOPELOS CHEESE PIE- RECIPE VARIATIONS
Over the years, the recipe for traditional Skopelos cheese pie has changed. Many variations have now been made, with many blends in its essential ingredients. Still, you have to remember that authentic ingredients are flour, water, extra virgin olive oil, goat cheese and that's it.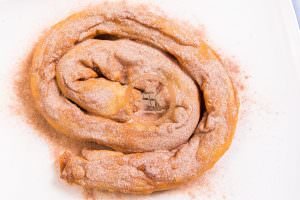 Even in Skopelos, the basic recipe has evolved. In addition to cheese, they add spinach, greens, onions, sweet pastry cream, chocolate, and other kinds. So you have the opportunity to taste delicious lawn pies, hearty spinach pies, delectable onion pies, as well as delicious milk pie, and irresistible chocolate pie.
But all pies are always kneaded with the traditional pie sheet and properly fried. Anyway, by now you have realized that much of the deliciousness lies in the opening of the pie sheet.
RECIPES OF STRIFTI CHEESE PIE OF SKOPELOS
If you wish to try your luck in cooking, below are some of the most popular and simple recipes for the traditional cheese pie of Skopelos.
They are the recipes of Adrina Restaurants ( Adrina Hotels), Argiro Barbarigou, and Akis Petretzikis.
Good luck!
SKOPELOS CHEESE PIE – TRADITIONAL RECIPE,  Adrina Restaurants
Take a look below at the recipe of our traditional cheese pie, one of the most exciting traditional recipes in Skopelos.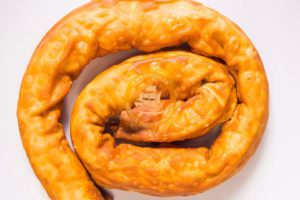 The first thing we do is put the plain flour in a bowl and add some extra virgin olive oil and a pinch of salt. We begin to knead the mix adding a bit of water when needed until the dough becomes soft.
Then, we cut the dough into two balls and leave them to rest for 15 minutes.
In another bowl, we add feta cheese and a bit of pepper. We crush the cheese with a fork.
Next, we sprinkle the counter with cornflour and roll one sheet, brushing it with olive oil. Then we place the crushed cheese on the sheet's surface.
Then, we roll the dough balls on the sheet and shape them like a snail.
We fry them in a pan (medium heat) with extra virgin olive oil until they get a bright gold color.
We drain the pies on paper towels, place them on a plate and serve them hot.
SKOPELOS CHEESE PIE – TRADITIONAL RECIPE, Argiro Barbarigou
Ingredients
Dough: 500 grams of flour, 1/2 cup olive oil, 1 tbsp vinegar, 1 tbsp. salt, lukewarm water (as much as it takes)
Filling: 400 g feta cheese, freshly ground pepper
Frying: plenty of olive oil
Open the pie sheet: extra flour
Method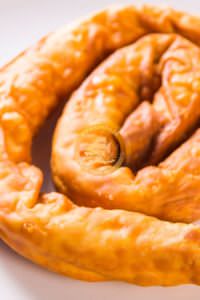 The traditional Skopelos cheese pie is made in a frying pan and served with honey. First of all, we sprinkle the feta cheese with enough pepper.

In a large bowl, whisk and knead all the ingredients for the sheet until a smooth dough forms. Put it in the bowl, cover with a kitchen towel and let it rest for half an hour.
Divide the dough into 4 equal pieces. On a floured bench, open each piece on a very thin sheet.
Sprinkle with olive oil on the surface. Sprinkle with slices of feta all over. Fold the sheet opposite, strain the dough, and twist into a snail.
Fry Skopelos cheese pie in hot olive oil, to brown on both sides.
This traditional cheese pie of Skopelos can be frozen before it is fried and stored for several months.
Pour the cheese pie as it comes out of the pan with thyme honey.
SKOPELOS CHEESE PIE – TRADITIONAL RECIPE, Akis Petretzikis
Ingredients
Dough: 500 g soft flour + extra for opening, 2 medium eggs, 2 tbsp. olive oil, 1 tbsp. vinegar, from white wine, 150-200 gr. water
Filling: 400 g slice, 200 gr. gruyere, 1 medium egg, pepper
Serving: honey, sesame seeds, mint leaves, fresh
Method
In a bowl, add all of the ingredients for the dough. Mix by hand or with a mixer until you create a fluffy dough that pulls away from the sides of the bowl.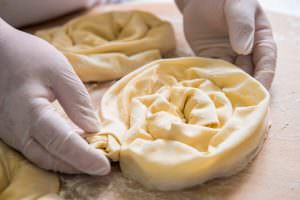 When ready, set it aside to rest for 30 minutes.
Grate the feta and gruyere into a bowl.
Add the egg and pepper. Mix and set aside.
When the dough has rested, roll out the dough into a thin sheet, using a little flour to help you.
Cut lengthwise into 8-10 cm strips that you can roll.
Drizzle each strip with olive oil and add some of the cheese mixtures. Roll each strip enclosing the filling securely and then twist to create a swirl. Fry each cheese pie swirl for 8-10 minutes in hot oil over medium heat, until golden on both sides.
Transfer to paper towels to drain from excess oil. Serve with honey, sesame seeds, and mint leaves.
SKOPELOS CHEESE PIE AND CALORIES 
The nutritional value per serving is 367 calories.
WHERE 
TO BUY 
SKOPELOS CHEESE PIE  FOR HOME
It is sure that you are going to get addicted to the irresistible taste of Skopelos cheese pie!
No matter how often you eat cheesepie during your holiday will not be enough.
That's why we provide you with the best suppliers of Skopelos cheese pie to take home!
"Spora" Giannis Zervas, 2 km EO Skopelos, Tel .: +30 2424024860
Ourania (Nina) Koltsidis, Tel .: +30 2424024774
"Nisiotissa", Glossa Skopelos, Tel .: +30 24240 34350
Agro-Tourist Association of Women "Glossiotissa", Glossa Skopelos, Tel .: +30 24240 33224
TIP: Better to buy frozen cheese pie rather than fresh.
WHERE TO ENJOY THE BEST 
SKOPELOS CHEESE PIE
Skopelos traditional cheese pie is served anywhere in Skopelos.  Guest can enjoy cheese pies for breakfast for lunch, for dinner…. for an all-day and night snack… hot… cold …at the sea…literally everywhere. After all, Greeks love both feta cheese and the exquisite flavor of the pie.
All the restaurants and Tavernas, even the cafes in Skopelos Chora serves Traditional Cheese Pie.
Moreover, whichever village or beach you visit in Skopelos, wherever you go, twisted cheese pie is the leader in all menus.
We suggest you try authentic Skopelos twisted cheesecake at Adrina Restaurants in the magnificent Panormos and Michalis in the dazzling country of Skopelos
Adrina Taverna is located in the 4 star Adrina Beach Hotel, in Panormos. 
A visit to the Adrina Taverna restaurant is the affordable luxury you have to gift yourself during your summer vacation.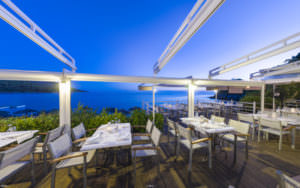 The location of Adrina taverna is idyllic, over the waves overlooking the beautiful Panormos and the Aegean. The service is professional.
At Adrina Taverna, you will enjoy authentic traditional flavors, well-cooked meals, cool salads, fresh fish, and seafood. The specialty of Adrina Taverna is lobster and scorpionfish spaghetti.
The delicious Skopelos cheese pie is the best way to begin your flavors trip. Here, you will enjoy the authentic recipe of Skopelos cheese pie. The difference lies in the extremely crunchy leaf and the traditional stuffing.
If you never miss the dessert in your meals then you should also try the exquisite milk pie !!!
MICHALIS
Michalis's shop with authentic Skopelos pies is located in the picturesque Chora of Skopelos.
Michalis pies opened in 1991. Since then, it has remained faithful to tradition and quality, evolving its recipes.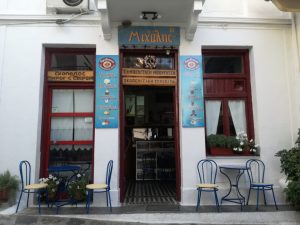 Apart from the traditional Skopelos cheese pie, you will taste pies filled with pastry cream. spinach, chicken, ham and cheese, onion as well as chocolate!
Try the Skopelos cheese pie and discover the most delicious traditional recipe from all of Skopelos!
Skopelos.com –  Skopelos Blog
Blog.Skopelos.com –  Skopelos.com/Blog
Author –  Adrina  Hotels Skopelos – www. Adrina.gr