DRAKONTOSCHISMA SKOPELOS, LEGENDS SKOPELOS, HISTORY SKOPELOS, SIGHTSEEINGS SKOPELOS, CULTURE SKOPELOS, AGIOS RIGINOS SKOPELOS, ELIOS IN SKOPELOS, STAFYLOS IN SKOPELOS, AGNONTAS IN SKOPELOS, AMARANTOS IN SKOPELOS, SKOPELOS BLOG, SKOPELOS BLOGSPOT, SKOPELOS BLOGGING, SKOPELOS BLOGS, SKOPELOS BLOGGERS
DRAKONTOSCHISMA SKOPELOS
Skopelos island is very rich not only in amazing landscapes but also in extraordinary legends. Legends and stories have passed from generation to generation and have created various folk traditions. Even the patron saint of Skopelos, Agios Riginos, deservedly earned his title. Since he killed the bad dragon saved the Scopelites who were suffering for years.
This local legend refers to Saint Riginos and the dragon. It also explains the name given to the specific rock.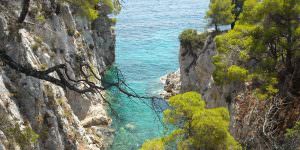 LEGEND
More specifically in Skopelos, between Stafylos and Amarantos, there is an impressive rock known Drakontoschisma. By looking at the Dragon rock (Drakontoschisma) you have the impression that it has been carefully cut by a human hand. This location took its name after a traditional legend of Skopelos. After the Agios Riginos saved with his braveness saved Skopelos island… This story begins 800 years ago…
DRAKONTOSCHISMA SKOPELOS
About 800 years ago in Skopelos, a terrible dragon appeared. The dragon has pleasantly eaten the residents, essentially destroying them, so it was impossible for anyone to live in Skopelos. Therefore the Skopelites were forced to abandon their beloved island. Moreover,  even from the neighboring islands, they sent boats full of prisoners who were sentenced to death in order for the scary dragon to eat them.
However, as soon as Agios Riginos was informed of this tragic situation, he decided to pursue the dragon. Therefore he boarded as a sailor in a convict ship. When he got out of the boat, the beast saw him. Obviously, the dragon was scared. While Agios Riginos landed in Elios Skopelos exclaimed, "Where in God's mercy (eleos) is the monster". Then Agios Riginos started hunting the dragon. The hunt ended in the exact position between Stafylos and Agnontas in Skopelos. Having no other escape, the dragon jumped on the cliff leading to the sea and was killed. The mountain was split, the ground receded, the sea was torn, and since then the area was called Drakontoschisma.
TIPS:
 You can admire Drakontoschisma only from above, as it is only accessible to sea by private boat.
Elios Beach named after Saint Riginos exclaimed "Where in God's mercy (eleos in greek) is the beast"

.

Agios Riginos is celebrated on February the 25th. Every year on the 24th of February the holy relics of Saint Riginos are visited. The tour starts from his monastery and ends at the Church of Christ.
Skopelos.com – Skopelos Blog
Blog.Skopelos.com – Skopelos.com/Blog
Author – Adrina Hotels Skopelos – www. Adrina.gr 
www.AdrinaBeach.com – www.AdrinaResort.com