RECREATION IN SKOPELOS, OUTDOOR ACTIVITIES SKOPELOS, DIVE CENTER SKOPELOS, SCUBA DIVING SKOPELOS, SNORKELING SKOPELOS, ADRINA  HOTELS SKOPELOS, HIKING SKOPELOS, KAYAKING SKOPELOS, SUP SKOPELOS, SEA EXCURSION SKOPELOS, WATER SPORTS IN SKOPELOS, SKOPELOS BLOG, SKOPELOS BLOGSPOT, SKOPELOS BLOGGING, SKOPELOS BLOGS, SKOPELOS BLOGGERS
OUTDOOR RECREATION ACTIVITIES ON SKOPELOS ISLAND
Imagine you are on the greenest island in Greece. Imagine that at the same time, this island offers impressively beautiful beaches and an even more impressive underwater world. Keep imagining that there are numerous outdoor activities to discover both terrestrial and marine nature. Stop imagining, you just arrive on Skopelos Island. A low-key island, which pleasantly surprises its visitor.
If you can't stand spending hours on the beach looking for adventure, exercise, and fun, Skopelos is your destination. As adrenaline goes up, so does inspiration.
In this post, we will see what recreational activities you can practice on Skopelos island. Because there is the recreation in Skopelos.
Let the adventure and the fun start!
Dive Center SKOPELOS
Skopelos is the ideal destination for diving and snorkeling. The underwater world of the island is full of hidden treasures. It was the summer of 2014 when the onwards Scuba Diving and the first Diving Center were added to the island's maritime activities. Actually, Skopelos dive center was added to Sporades activities.
Skopelos Dive Center can be found both on the north side (at the port of Skopelos) and on the south side of the island, at Adrina Beach Hotel in the Panormos area.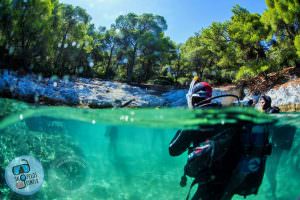 The well-trained staff will train you properly and safely not only to discover the bottom of Skopelos but also to explore Skopelos, its sights, and its magnificent beaches. Instead of just diving or snorkeling you can take lessons and take a certified diploma.
The most popular diving courses are "Open Water Diver" and "Advanced Open Water Diver". While the most popular activities are "Discover Scuba Diving" and "Cruising With Snorkeling".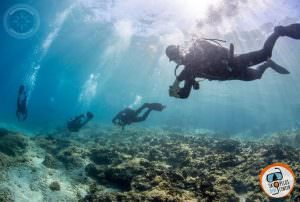 Moreover, you can explore different horizons such as discovering the Sporades. So, take a day to visit Skiathos or Alonissos. In Alonissos, there is Sporades marine park, where you can also see the Mediterranean seal.
Visiting the shipwreck Christoforos in Panormos is also a unique experience.
Do not lose this amazing opportunity. Go diving to discover Skopelos's majestic underwater world.
Dive Center Skopelos info: (+30) 6940 448 000 – (+30) 24240 23373
SUP
Skopelos Stand Up Paddle boarding (S.U.P) has quickly become a famous outdoor activity that offers a fun way to discover the sea while playing in the water. Standing upright on a SUP board allows you to enjoy the stunning island's scenery as well as a spectacular and unique view through the crystal clear Aegean sea and its amazing seascape.
Sup is suitable for all ages. The only prerequisites are to know swimming and to be in a good physical position. Though you can have lessons if you wish to, in a group or personally.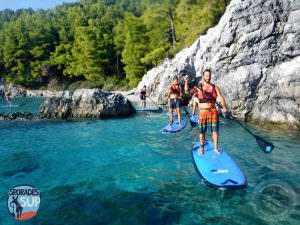 Stand up paddle boarding is an interesting way to explore the coastline of Skopelos island and the nearby islets with their sheltered bays, remote beaches, and hidden caves. Sporades Sup is the first Stand Up Paddleboard outfit on Skopelos, offering daily lessons, tours, and rentals. Fun meets workout!
The famous paddleboarding "Sunset tours" which last 2,5 hours are organized upon request, daily.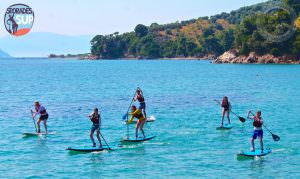 You have the choice either to go paddling with the professional staff or rent a paddle and explore Skopelos coastline with your company.
Sporades SUP Paddle info: (+30) 6940 448 002 – (+30) 24240 23373
Kayak is an adventurous outdoor activity. The Kayaking Team is full of passion for their job. Their goal is to entertain you and transfer your passion for kayaking. Even if you are a beginner or experienced in kayaking, it is always fun!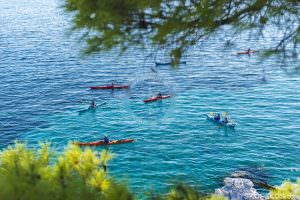 The Kayaking team is located on Milia Beach. The staff is experienced and helpful guides.
Furthermore, Kayaking in Skopelos offers a wide variety of activities for all ages and levels of experience. The kayaking team features trips lasting from a few hours to week-long by exploring the island's beauties. To be more confident before going to the crystal clear water sign up for training courses. Turn to the magnificent sunsets of Skopelos or discover the nearby islands. Explore secluded beaches and coves, sea caves, and uninhabited islands and islets.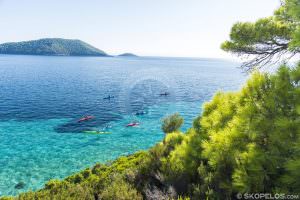 Skopelos island besides the natural beauty has a rich history full of legends, especially from the pirate era. The kayaking guides while exploring the hidden treasures of nature will inform you relatively.
By kayaking enjoy the magnificent sunsets or discover the surroundings of Skopelos. Explore also secluded beaches and coves, sea caves, and uninhabited islands and islets. Kayaking in Skopelos is a great experience.
Kayaking in Skopelos info: (+30) 697 429 9055 – (+30) 694 738 2597
Water Sports
Water sports are fun for everyone of all ages. There are water sports in Skopelos. On Milia beach, you will find a great team as professional as it is a friendly expert on water sports in Skopelos. They practice both lessons and rentals of equipment.
For water sports, on Milia, you can do water skiing, jet skiing, paddling, water skiing, waterboarding, tubing, etc.
Water Sports in Skopelos info : (+30) 6981 022 290
Skopelos does not feature only majestic beaches but also piney mountains. Specifically, there are about eight mountains on Skopelos island. The highest is Delphi Mountain (681 m) in the center of the island and Palouki Mountain (546 m) in the southeast. The countryside of Skopelos is also worth exploring.
Therefore, Skopelos is the absolute destination for hiking and cycling lovers. Since there are numerous trails to walk and ride on with your bike.
If you love hiking you will get thrilled in Skopelos. A network of old trails crosses the island wherein the old days people went with mules. You will walk passing by pine forests, olive groves, and villages.
Some easy routes, to begin with, are the Keramoto route close to Glossa village, the route from Palio Klima to Loutraki port, Skopelos Chora to Delphi, and Skopelos Chora to Velanio beach. Monasteries at Palouki mountain are also trails worth visiting. Keep in mind that no matter which road you will choose the breathtaking views are everywhere.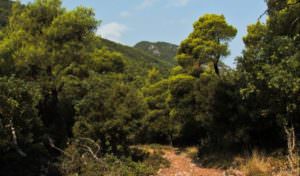 More specifically, there are some common routes of Skopelos with the names T1, T2, T3, T4, and T5, for the convenience of walkers. You can also get relevant maps at Skopelos port, so you can choose the routes you want to follow:
T1 Skopelos Town Route – Palouki Mountain Top and Monasteries
T2 Route Vatos (from Palouki mountain) to Holy Monastery of Taxiarches and Agia Anna
T3 Skopelos – Agios Konstantinos – Pigi Tzelali
Another excellent way to explore the lush Skopelos island is cycling. Skopelos, though it has only two main roads, is crossed by a network of smaller roads and paths along the pine-covered mountains. You will get excited by the fountains along the road, where you can take a break and cool off.
Moreover, Skopelos features magnificent routes for bike lovers. Skopelos is covered by pine forests. It's the green island of the Aegean. Cycling, as well as hiking, is a magnificent experience for all of your senses. Every step you make is an opportunity to admire the lush nature.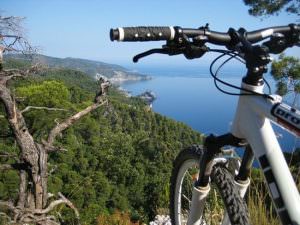 In case you prefer the nights, there is the perfect surprise for you. Enjoy the Skopelos night ride tour. Cycling below the stars! And it becomes even better, after the ride, you will have the opportunity to enjoy the moon with a telescope and cold beer! Just book your ticket at Skopelos Cycling.
Skopelos Cycling info: (+30) 6947 023 145, (+30) 24240 22398
If you love sailing or wish to discover Skopelos and Sporades by boat you can rent one or follow some of the sea excursions organized on the island.
Live these unique experiences of outdoor activities on Skopelos island, the green-in-blue island.
Recreation in Skopelos!!!
Skopelos.com – Skopelos Blog
Blog.Skopelos.com – Skopelos.com/Blog
Author – Adrina Hotels Skopelos – www.Adrina.gr 
www.AdrinaBeach.com – www.AdrinaResort.com