SUMMER VACATIONS IN SKOPELOS, SUMMER HOLIDAYS SKOPELOS, BEACHES SKOPELOS, ENTERTAINMENT SKOPELOS, ATTRACTIONS SKOPELOS, SIGHTSEEINGS SKOPELOS, FOOD SKOPELOS, ACTIVITIES SKOPELOS, SKOPELOS NIGHTLIFE, SKOPELOS BLOG, SKOPELOS BLOGSPOT, SKOPELOS BLOGGING, SKOPELOS BLOGS, SKOPELOS BLOGGERS
21+1 THINGS TO DO ON SKOPELOS ISLAND
Whenever summer approaches one is the key question? Where will I go on holiday this year to rest my tired body after a long winter?
The choices are too many and whatever your decision is, one thing is certain. Your eye will be full of natural beauties because Greek islands are famous for them.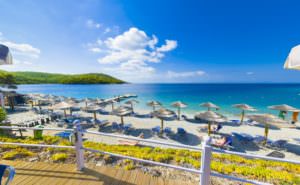 Let's assume you want to do something different this summer!! You just want to avoid Ionian and Cycladic islands. And where am I going? (one can easily ask)
Before we guide you and suggest the perfect destination, we will ask you some questions.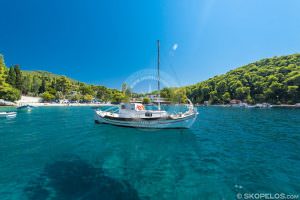 Skopelos ISLAND
Would you like to visit an island with magnificent contrasts and a rich natural environment? Do you want to swim on magnificent beaches where the green of nature meets the blue of the sea and if you are lucky enough to swim next to seals and dolphins? Would you like to eat like kings and taste great local dishes? Are you interested in clubbing or drinking a cocktail in one of the picturesque bars on the island?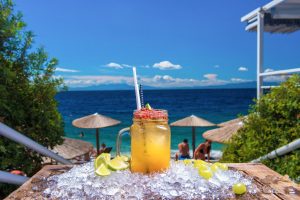 Would you like to visit a museum or even visit one of the 360 churches and light a candle for the coming winter? And anyway I do not want to get you tired, what about spending a perfect holiday on an island whose hospitality will make you feel at home?
OK,  So it's time for a decision. The answer is …… Summer Holidays in Skopelos !!!
Travelers coming from northern Greece will approach Skopelos from Thessaloniki or Volos, while the southerners from Agios Konstantinos or Kymi (Evia) or Mantoudi (Evia).
While the ship approaches Skopelos port, which is the main settlement, you will love the view and say "we started off fine". The settlement is built amphitheatrically. There are small beautiful white houses perfectly combined with the blue and green colors.
So let's explain to you, dear reader, why you should choose Skopelos for your vacation.
Yes, I do know, when you go on vacations you just need to relax, being in a beach bar to enjoy your beers and cocktails. But when you are in Skopelos, somehow you should also bring your artistic character out !!!
Initially, you will visit the Skopelos Folklore Museum. The "Gianni Nikolaides Family" Museum is located in Skopelos Town. There you will admire local artists' achievements while getting a picture of Skopelos culture. That's why you should visit the Folklore Museum.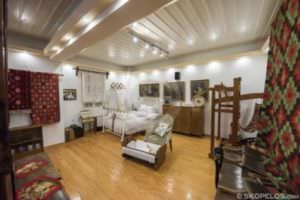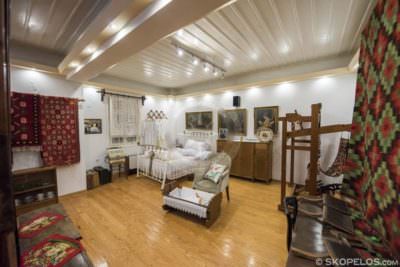 There is also a folklore museum in Glossa Village. There you will admire handmade works by the local housewives as well as traditional costumes of Skopelos Island. Especially the traditional bridal costume is popular all over Greece.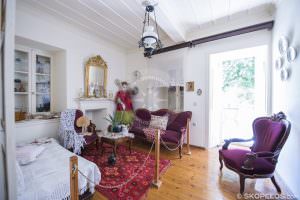 Antigoni Vakraca's mansion is also an attraction, a traditional 19th-century residence worth visiting, as well as the home of the poet Nirvana. Both of them are located in Skopelos Chora.
On Skopelos Island, there are 360 churches (Οur Βlessings) !!! According to local myths, there are two theories about the church crowd.
The first theory is related to pirate raids and Turkish attacks. The enemies, though relentless, respected the sacred spaces of Christians. For this reason, many churches were built and used as a hideout from the enemy.
The other theory states that during the period of the Asia Minor disaster in 1922, Greeks who lived in Mikra Asia threw the paintings of holy icons into the sea to save them from the Turkish.
The holy icons traveled to the Aegean and reached Skopelos. There, for every image found, a church was built.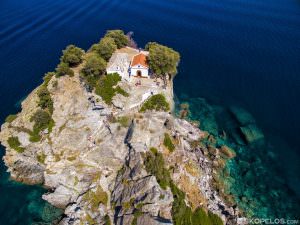 Moreover, it is inconceivable to visit Skopelos without going to Ai Giannis Church. What do you think, Mamma Mia producers were stupid to have the protagonist's wedding there? Located on Skopelos' north side, Agios Ioannis church is built on a rock. The bold can climb up to about 100 steps carved into the rock. Yes I know it's hard, but the view is amazing so it is immediately compensated for you !! Avoid visiting St. John's Church at noon instead prefer the early morning hours as the heat is unbearable.
SIGHTSEEING- TRADITION
Guests can walk to the old town of the island. At the left end of the harbor, there are steps leading up to the old Castle. Along the way, you will admire the traditional typical architecture.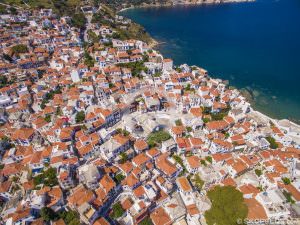 Glossa Village has also great archaeological interest – and amazing sunset – with its ancient towers and ancient buildings.
Skopelos is part of the Northern Sporades marine park. So if you are lucky you can swim next to seals.  Don't forget to visit the Northern Sporades National Marine Park which includes the SE part of Skopelos and Alonissos as well as smaller islands and islets that are not inhabited.
So let's sum up: Museums, Skopelos and Glossa Folklore Museum, Vakratsa Mansion, Churches and Monasteries, Ai Giannis (Mamma Mia) Church, and North Sporades National Marine Park.
And as a folk greek proverb "fasting bears don't dance" we move on to where you can eat and have fun !!!
SKOPELOS FLAVOURS- LOCAL PRODUCTS
Skopelos is generally an island that will not disappoint its visitors as it has many choices in all areas. Personally,  my lovely reader, I will suggest some places to eat and drink, but the rest you will find by yourself. Don't want everything "on the plate" (Greek expression meaning don't want everything ready!)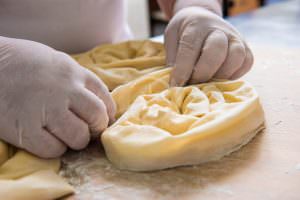 First of all, spending your summer holidays in Skopelos means you must taste the local twisted cheese pie as well as the walnut pie, which is served with ice cream.
Also make yourself a favor by tasting the plum of Skopelos found in all the traditional dishes of the island – Dusky grouper stifado, pork with plum, sweet plum but also local almonds sweets- the well-known Hamalia-.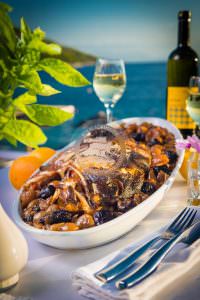 There are endless options for dining to serve all tastes. From the tourist tavernas in the port, restaurants of all kinds ouzo tavernas with live Greek music. Keep in mind the following names. "Muses", "Molos" and "Olivo".
In the "Peparithos" you can enjoy pumpkins and shrimps served in clay dishes and in Agnadi reddish beef with homemade pasta, local snail plums, and the most magnificent view.
Visit "Kanela" for homemade treats.
Special mention should be made of "at Dimitrakis", but also to "Anatoli" where you will find the rembetika musician George Xintaris.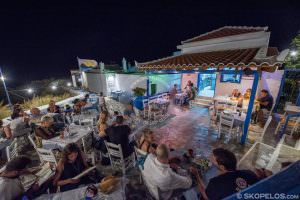 The nightlife is mainly located in Skopelos Town. There is a variety of options for those interested. From the picturesque little bars to the tavernas with Rebetika live music and the island's clubs.
If you want to, I can suggest to you some all-time classic choices.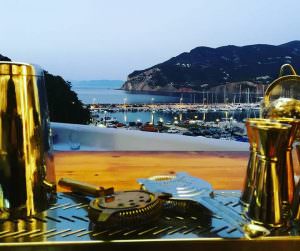 "Platanos" jazz bar, "Skala" cocktail bar, "Vrachos" all-day cafe, "Merkourios" with its beautiful terrace, "La Costa" bar club, and "Anatoli" by Giorgos Xintaris rebetiko musician are just some of the places you should visit at Skopelos.
The beaches of Skopelos are the greenest in the Aegean. The beaches of the island are famous for their natural beauty and turquoise waters. There are beaches for all tastes. Pebble beaches, sandy beaches, calm beaches, beach bar beaches, organized beaches. The only sure thing is that wherever you go you will enjoy your swim.
The most beautiful beaches are in the western part of the island. All beaches are united by the main road connecting Skopelos with Glossa.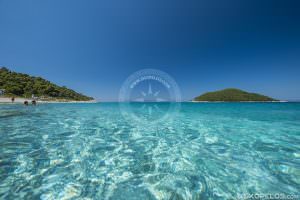 Panormos, Milia, and Kastani are some of the most organized popular beaches with the latter two featuring a beach bar and canteen. Equally beautiful are the beaches of Agnontas, Stafylos, and Limnonari with white sand. Still impressive are Chovolo and Armenopetra beaches. If you want to throw away your swimsuit, you can visit the Velanio beach behind Stafilos.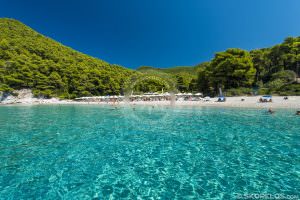 One is for sure. Wherever you go you will admire the diversity and the purity of the waters !!! Enjoy your swim!!
SKOPELOS ACTIVITIES
Summer holidays in Skopelos are full of outdoor recreation activities. Some of the beaches of Skopelos have water sports and there is usually a great photo exhibition every summer.
You can also make organized walks, dear reader. Both on the trails and in the woods and meet the farmhouses and wells.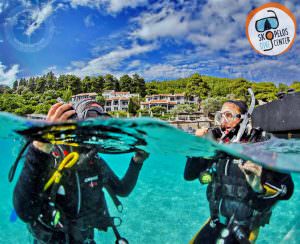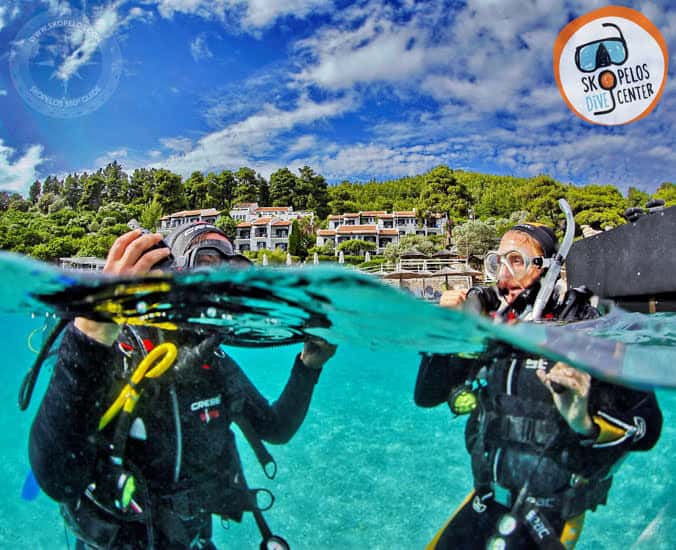 You can also run, as there are beautiful paths between the pine trees, and don't forget to dive.
Take a mask and snorkel and dive into the deep blue water, because if you don't, you'll lose! The bottom of Skopelos is in a word, simply captivating. Dive Center is located in Adrina Beach Hotel.
And a tip on closing. If you have several days available, take the boat and visit the other island of Northern Sporades to Alonissos. You will not lose!!!
Happy Summer.  Summer holidays in Skopelos! Swim at the Beaches of Skopelos, enjoy  Skopelos nightlife, and be adventurous with Skopelos activities. See you on the greenest island of the Aegean !!!!
Skopelos.com –  Skopelos Blog
Blog.Skopelos.com –  Skopelos.com/Blog
Author –  Adrina  Hotels Skopelos – www. Adrina.gr