SKOPELOS ISLAND, NORTHERN SPORADES, SKOPELOS BEACHES, BEST BEACHES GUIDE, ORGANISED BEACHES IN SKOPELOS, BEACH BARS SKOPELOS, BEACHES TO DISCOVER, BY BOAT ONLY, organized beaches in Skopelos, beaches close to Chora, beaches to discover, nudist beach in Skopelos, SKOPELOS BLOG, SKOPELOS BLOGSPOT, SKOPELOS BLOGGING, SKOPELOS BLOGS, SKOPELOS BLOGGERS
SKOPELOS BEST BEACHES GUIDE
Known for the amazing green landscape and the emerald crystal clear water, beaches in Skopelos are considered among the most beautiful in the Aegean Sea. Skopelos beaches have unique quality due to the lush vegetation, mostly pine trees, that have almost their roots on the shore edge. This majestic scenery is rare among other islands in Greece.
The most popular beaches are on the northwest side of Skopelos. Skopelos features sandy and pebble beaches. Family-friendly and beaches to party. There are organized beaches in Skopelos, beaches close to Chora, beaches to discover, and even nudist beaches in Skopelos.
Furthermore, most of the beaches are easily accessible by car or bus. While there are also beaches that you can reach only by boat or trekking. No matter the beach on Skopelos island you will be enchanted by the transparency of the waters.  At our Skopelos best beaches guide you will find all the necessary information you need to enjoy the endless sea.
Skopelos may be a peaceful island, though there are places for extra fun. Skopelos paradise beaches combine perfectly the magnificent landscapes with beach bars. Even the organized beaches in Skopelos offer different options.
Most people claim that Milia is the best beach on Skopelos island. It is for sure the longest. Milia is an exotic beach with white sand, small pebbles, and crystal-clear waters. The pine trees are almost rooted in the sea waters. There is certainly some magic in this perfect landscape. A row of rock formations naturally divides Milia beach into two sides. On the left side, there is a beach bar, sun loungers, and umbrellas.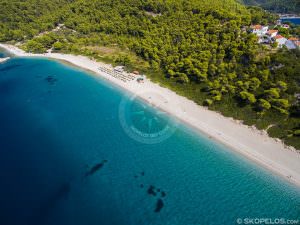 Kastani or Mamma Mia is a splendid bay with fine sand, small pebbles, and rocks at each end. In fact, it is the sandiest beach on Skopelos. That inspiring beach has an amazing environment surrounded by pine forest and the trees touch the edge of the shore. Hollywood producers fell in love with Kastani beach. Most of the shooting of the famous Mamma Mia! took place here.
The magnificent Limnonari beach is full of pine trees that embrace emerald green waters, white sand, and small pebbles. The special characteristic is the slab of calcium that you will meet in shallow water. Limnonari is always calm and peaceful since it is protected by steep green hills. The beach bar and the tavernas made Limnonari beach an excellent hotspot.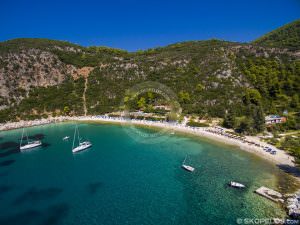 Hovolo is an exotic beach with silver sand, stunning white rocks, and crystal-clear aquamarine waters framed by a pine forest. It has not so easy to access since you have to walk a little bit to reach it. Hovolo Beach is located in the settlement of Elios. There is a cool beach bar there, but there are no umbrellas or sun loungers. The natural shade of the pine trees will reward you at once.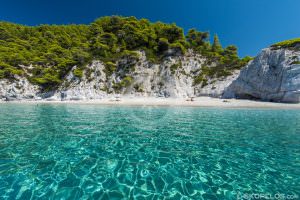 Glysteri beach features crystal-clear aquamarine waters, fine pebbles, and pine trees that embrace their freshness and shade. A rocky peninsula leads to a lush bay with pebbles and clear waters. Moreover, Glysteri is just 4 km away from Skopelos Chora. Due to its location, Glisteri is protected by the winds. The cozy beach bar is made of wood and other ecological raw materials.
Perivoliou beach is very close to Glossa village. It is a sandy magnificent beach with emerald crystal clear waters and stunning rocks that create natural shade. Perivoliou features wild beauty. There are umbrellas, sun loungers, and a summer beach bar.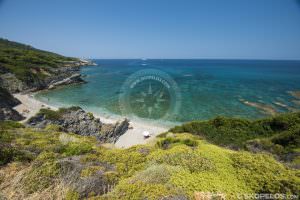 ORGANISED BEACH WITH TAVERNAS
Skopelos is not only famous for its splendid beaches but also for its quality food. Guess what..you can enjoy both swimming and eating on the following organized beaches in Skopelos.
Panormos is one of the most frequented beaches on the island. Since it combines the beauty of the landscape with many facilities, such as traditional tavernas. Panormos beach has mostly pebbles and some sandy areas. It is a wide beach of about 600 meters. The dense vegetation touches the blue waters. Panormos also features marvelous views of Blo bay.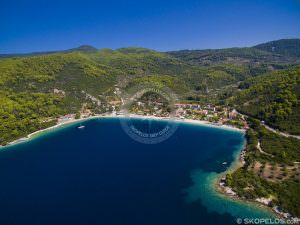 Agnontas is a magnificent picturesque port. It is a small beach with pebbles and turquoise crystal clear waters surrounded by pine trees. This majestic scenery gets even better because of the popular Agnontas fish tavernas. Agnontas is a protected bay and there are no winds.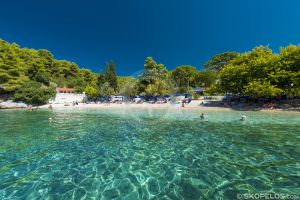 Elios beach extends along with the village of Neo  Klima. The unspoiled beauty in Elios Beach is made of golden sand, silver pebbles, endless horizon, blue sea sand, and pine green. The beach has umbrellas and deck chairs provided by the various tavernas and cafes in the port.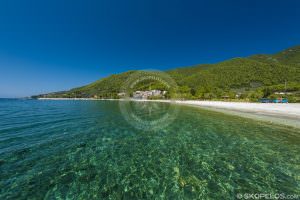 Stafilos is a beautiful organized beach with a beach bar just 4 kilometers away from Skopelos Chora. It is an extraordinary bay with small pebbles, silver sand, and large rocks. Lush pine hills embrace the shore. In contrast with most Skopelos beaches, the waters are not so deep but are the warmest.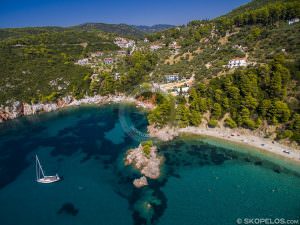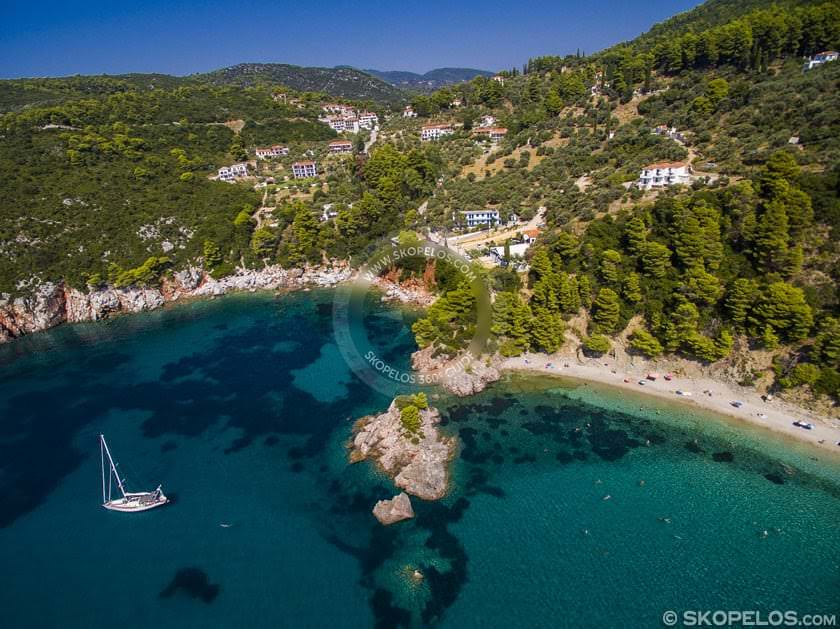 Glyfoneri or Agios Konstantinos beach is a magnificent beach only 2,6 kilometers away from Skopelos town. Meaning that you need just 8 minutes to swim to the emerald crystal clear water. Once again the combination of green to blue dominates.
Therefore, if you live in a port/town and don't feel like going very far just visit the beaches close to Chora of Skopelos.
Except for the popular and organized ones there are even more beaches to discover. The beauty of nature is limitless on Skopelos. The landscapes are breathtaking. The pine trees over their shadow right over the turquoise waters. The below beaches are the most peaceful on the island. Follow Skopelos' best beaches guide.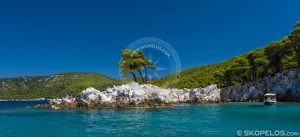 Enjoy nature embracing the sea at the following beaches Amarantos, Armenopetra, Pethamenis, Hontrogianni, Aggeletou, and Vathias.
Be adventurous and visit the beaches to discover Skopelos.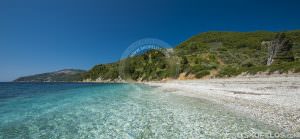 At Skopelos island, there are also beaches approachable only by boat. Those gems are worth visiting. If you love adventure and feel like going out of the line then rent a boat and just go for it.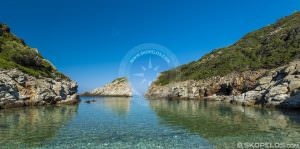 Visit Ai Giannis Spilia, Ekatopenintari, Megalo Pefko, Ftelia – Neraki beach. Those sandy beaches will definitely reward you with enchanting landscapes and tranquility.
NUDIST BEACH
For those that are in favor of nudism, Skopelos has an official nudist beach, Velanio Beach! Velanio Beach is approachable by a pathway from Stafylos Beach. Moreover,  Velanio beach has golden sand, small white pebbles, and emerald waters.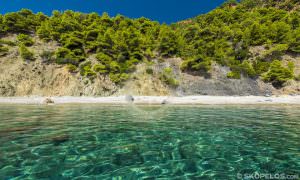 The landscape becomes even better with the pines that are coming out of the sea and spreading to the shore. Skopelos island offers the opportunity for the naturist to come closer to nature. Velanio beach, the nudist beach in Skopelos, is definitely worth visiting.
EXTRA TIP 1: Follow the winds for amusing swimming. Maybe in the summer period, winds will blow. When there is north wind in Skopelos Chora chooses the southern beaches of the island. Because the northern ones will be wavy.
EXTRA TIP 2: If you are interested in getting to know the underwater world of Skopelos as well, you can visit the diving center at the beachfront  Adrina Beach Hotel.
GOOD TO KNOW: The coastline of Skopelos is 67 km long.
Skopelos.com – Skopelos Blog
Blog.Skopelos.com –  Skopelos.com/Blog
Author – Adrina Hotels Skopelos – www. Adrina.gr