SKOPELOS ISLAND BEACHES, AGNONTAS BEACH SKOPELOS, LIMNONARI BEACH SKOPELOS, SKOPELOS BEACH TOURISM, SKOPELOS BEST BEACHES GUIDE, EXPLORING SKOPELOS BEACHES, ORGANISED BEACHES IN SKOPELOS, SKOPELOS AGNONTAS BEACH, SKOPELOS LIMNONARI BEACH, NORTHERN SPORADES, GREEK ISLANDS, GREECE, SKOPELOS BLOG, SKOPELOS BLOGSPOT, SKOPELOS BLOGGING, SKOPELOS BLOGS, SKOPELOS BLOGGERS
SEASIDE SERENITY: DISCOVERING AGNONTAS AND LIMNONARI ON ENCHANTING SKOPELOS ISLAND 
Nestled in the embrace of the Aegean Sea, the Greek island of Skopelos is a paradise waiting to be discovered. Exploring Skopelos beaches is always the perfect idea. While the entire island boasts stunning coastal vistas, two of its hidden gems truly stand out: Agnontas and Limnonari beaches. These two coastal treasures offer an unparalleled blend of natural beauty, tranquility, and Mediterranean charm.
Our journey begins at Agnontas Beach, a picturesque fishing village located on the southwestern coast of Skopelos. The fisherman village derives its name from the ancient Greek champion Agnontas or Agnon, who achieved victory in the 53rd Olympiad, Olympic Games, in 568 BC.
As you approach Agnontas, you'll be greeted by the sight of colorful fishing boats bobbing gently in the crystal-clear waters. The beach is a cozy crescent of pebbles and sand, inviting you to relax and soak in the sun's warmth. While you're here, don't miss the opportunity to indulge in freshly caught seafood at one of the local tavernas, where the flavors are as authentic as the surroundings.
After a morning of sun-soaked bliss, your appetite will surely lead you to explore the local dining scene. As already mentioned, Agnontas boasts a few culinary treasures to satisfy your cravings. In fact, Agnontas is famous for the tavernas and the special dish is the lobster spaghetti.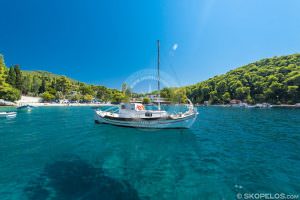 Agnontas is a place where time seems to slow down. Whether you're seeking solitude for introspection, to read a book, or simply to listen to the gentle lull of the waves, this beach offers the perfect sanctuary. Families with young children will also find it appealing, as the shallow waters near the shoreline are safe for little ones to frolic in.
Nestled in a sheltered bay, the alluring Agnontas Beach offers a feeling of safety and sanctuary. Even when the weather takes a turn for the worse, this hidden treasure on Skopelos Island remains a peaceful oasis, with its waters maintaining a sense of calm.
Agnontas Beach & Port are located 7.8 km from Skopelos Town. By car, it is a 10 min road. By bus, it is 11 min. However, the bus stop is located near the Beach. Walking distance to the beach and the port is about 200m. The journey offers breathtaking views of the island's lush landscapes.
Limnonari Beach: A Slice of Paradise
Just a short drive or a pleasant hike through the lush greenery from Agnontas lies Limnonari Beach. This beautiful beach is often described as a slice of paradise and for a good reason. Surrounded by fragrant pine trees and olive groves, Limnonari's charm is boundless.
Based on the ancient myth, the Greek deity Ares, known as the god of war, bestowed the name upon the beach due to its captivating beauty. In Greek, "Limni" translates to "lake," hence, Limnonari signifies Ares' lake. Limnonari Beach is a masterpiece painted by Mother Nature herself. Its horseshoe shape is embraced by cliffs adorned with fragrant pine trees, providing ample shade and an ideal spot to escape the midday sun.
When it's time to satisfy your hunger at Limnonari Beach, you have a couple of delightful options. Since there is a taverna, a restaurant, and a beach bar.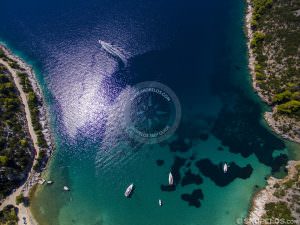 The waters of the Aegean, with their brilliant turquoise hues, are as inviting as ever, and for snorkeling enthusiasts, the submerged world beneath the surface offers endless exploration.
You'll feel like you've discovered your secret hideaway as you spread your beach towel and savor the quietude. The shallow, calm waters make Limnonari ideal for families as well as snorkeling enthusiasts.
Additionally, the presence of a calcium formation in the shallow waters contributes to its unique quality. Notably, a calcium plate lies beneath the sea's surface, necessitating caution when entering. These rocks are primarily concentrated at the entrance of Limnonari Beach. However, as you venture further into the water, their prevalence diminishes, revealing a seabed so immaculate that it blurs the line between being in the sea and a pristine pool.
Limnonari Beach is 8.7 km from Skopelos town. It is just 10 minutes by car. However, the bus takes 12 min. Moreover, the bus stop is located on a hill and you have to walk 2 km (10 minutes) to get down to the beach. Like Agnontas, the route is picturesque, winding through the island's countryside.
BY CAR OR BY BUS:
Agnontas and Limnonari are two beautiful beaches on Skopelos Island, Greece. Here's some information on parking availability, and bus service:
Parking Availability:
Both Agnontas and Limnonari beaches offer free parking facilities. However, the availability may vary depending on the time of day and the tourist season. During the peak summer months, parking can be limited. Therefore, it's advisable to arrive early to secure a parking spot, or you can consider using public transportation to avoid parking concerns.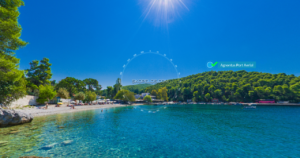 Bus Service Availability:
Skopelos Island has a reliable bus service that connects Skopelos Town to various beaches and villages across the island. Including Agnontas and Limnonari (Skopelos beach tourism). The bus schedules can vary depending on the season. Therefore it's a good idea to check the current timetable when planning your visit.
During the summer tourist season, buses tend to run more frequently, providing convenient transportation options for visitors. The bus rides to both beaches. Moreover, it offers a cost-effective and eco-friendly way to reach these destinations while enjoying the island's scenic beauty.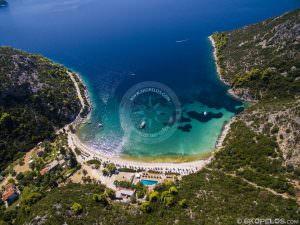 For those in search of an authentic Greek island experience, Skopelos Island's Agnontas and Limnonari beaches are waiting to enchant you. So, pack your sunscreen, your favorite book, and your appetite for Greek cuisine, and embark on a journey to the unspoiled paradise of Skopelos.
Whether you're seeking relaxation, natural beauty, or a taste of authentic Greek life, these two gems have it all. Visit them, so as to explore the island's treasures, and experience the enchantment of Skopelos for yourself. Exploring Skopelos beaches.
Skopelos.com – Skopelos Blog
Blog.Skopelos.com –  Skopelos.com/Blog
Author – Adrina Hotels Skopelos – www. Adrina.gr