This post is also available in: Ελληνικά (Greek)
RESTAURANTS AND TAVERNAS SKOPELOS,  BEACHES SKOPELOS,  SUMMER SKOPELOS,  GREEN ON BLUE SKOPELOS, FOOD SKOPELOS, LOBSTER PASTA SKOPELOS, LOBSTER SPAGHETTI SKOPELOS, ADRINA TAVERNA SKOPELOS, KORALI SKOPELOS, ADRINA HOTELS SKOPELOS, ADRINA BEACH SKOPELOS
LOBSTER SPAGHETTI IN SKOPELOS 
Lobster Spaghetti is a traditional dish of the Greek summer. People who truly enjoy gourmet flavours always order that delicious pasta.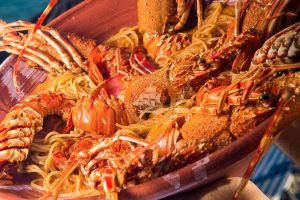 The lush Skopelos island offers quality food and fresh fish. Here, my dear reader, we recommend you the two top restaurants to visit and taste the most delicious lobster pasta.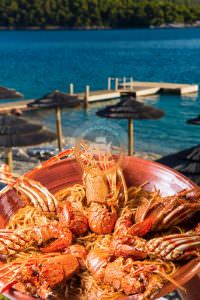 The Adrina Taverna is located in Panormos, on Skopelos Island, in the four-star Adrina Beach Hotel. The name Adrina  Hotels is synonymous of quality and excellent service. The Adrina Taverna is one of the best places to eat in Sporades. Since, it offers quality dishes, breathtaking views, professional service and friendly environment. Many even come by boat to enjoy Adrina's delicious lobster spaghetti.
Authentic traditional recipe that the local cooks Mary and Constantine always perform successfully.
Adrina Taverna not only offers you the most delicious lobster pasta you have ever eaten, but also offers you an unforgettable tasting experience. At the same time Adrina Taverna, which is just a few meters above the idyllic Adrina Beach, gives you a magnificent view of the beautiful bay of Panormos, also known as Blo. Enjoy the ultimate Greek summer with the whole Aegean featuring out in front of you.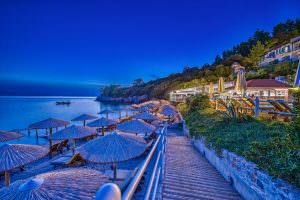 Tip 1: In July and August it is a good idea to make a reservation.

Τip2: If you wish to taste Adrina's specialty, lobster spaghetti, it is a good idea to make a reservation for your meal. As their preparation time is at least one hour.
Adrina Taverna, Adrina Beach Hotel,  Adrina Hotels, Panormos Skopelos, Tel: +30 24240 23373
www.adrinabeach.com – www.skopelosrestaurants.com – www.adrina.gr
Korali fish restaurant is located in the picturesque Agnontas port. Agnontas is a beautiful, beautiful harbor with an idyllic beach. Situated a few meters above the beach, Corali restaurant offers breathtaking views of the endless Aegean blue.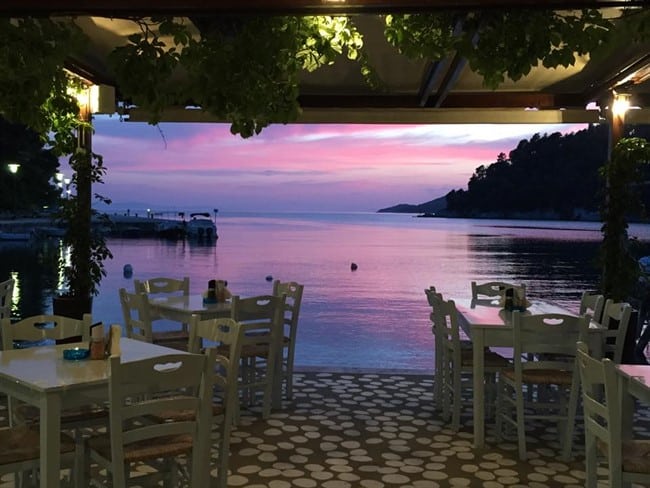 Korali Restaurant operates for almost 40 years. Dimitris and Maria Pandou welcome you to their summer paradise, the Korali Fish Taverna Restaurant. Owner Maria Pandou, as an experienced cook, always overcomes herself by leaving in her delicious dishes her personal mark.
Her specialty is lobster spaghetti. Korali restaurant emphasizes on make your meal an unforgettable experience. Traditional flavors, amazing  landscapes and Greek hospitality are the secrets of the success.
Korali Fish Taverna in Agnontas is open form the early noon until late at night.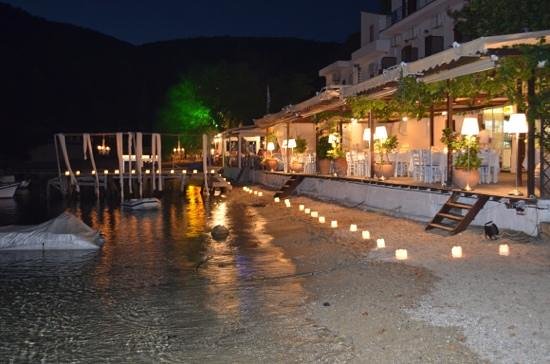 KORALI Restaurant,  Agnontas Skopelos, Tel: +30 24240 22407
Skopelos.com – Skopelos Blog
Author – Adrina Hotels Skopelos – www.Adrina.gr