SKOPELOS REMOTE WORK, SKOPELOS REMOTE WORKERS, SKOPELOS REMOTE WORKING, SKOPELOS DIGITAL NOMADS, VISIT SKOPELOS, SKOPELOS GETAWAY, BEACH OFFICE SKOPELOS, ADRINA  HOTELS SKOPELOS, ADRINA BEACH HOTEL, ADRINA RESORT AND SPA, NORTHERN SPORADES, GREECE, GREEK ISLANDS, SKOPELOS BLOG, SKOPELOS BLOGSPOT, SKOPELOS BLOGGING, SKOPELOS BLOGS, SKOPELOS BLOGGERS
Adrina Hotels welcome Remote Workers in Skopelos Greece
REMOTE WORK
Remote work has now entered our everyday life as a new reality. The first-ever conditions we experienced with the pandemic of Covid-19 made this way of working very popular. Μany organizations have been forced to adapt to the new conditions, leaving behind the traditional office-based working model for health and safety purposes.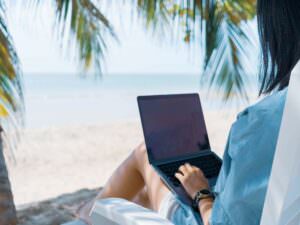 Remote working is getting more and more widespread because of the advantages it offers for both employers and employees.
Many workers preferred to move to new regions, municipalities, states, other cities, or even foreign countries. However, they remained dedicated to their work, opening their laptops on an island beach or in a mountain forest.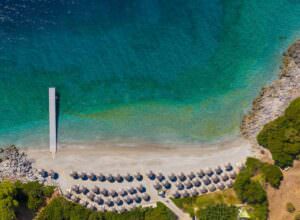 Remote working, along with the person's desire for exposure to new encounters, is giving rise to the age of the digital nomad.
DIGITAL NOMADS
The new condition of distance working has brought digital nomads to the surface. It also brought new legislation in Greece, in January 2021, which sets the basis and incentive for the transfer of professional activities.
Digital Nomads can work from anywhere as long as they have their laptop, their mobile phone, and of course a reliable and fast internet connection.
To be an effective digital nomad one must ensure two basic conditions:
1. Have the proper tools (laptop, cellphone).
2. Choose the right place (with reliable WiFi).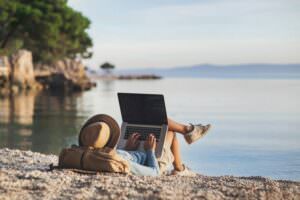 Except for remote working, there are also "workcations". A perfect combination of work and vacation. Booking a hotel villa on a Greek island and at the same time working remotely on a full-time job.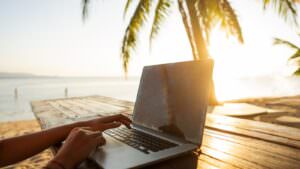 We proposed the Greek Island to be Skopelos island, the green jewelry of Northern Sporades. We highly recommend Adrina Hotels for a successful remote working project.
Adrina Hotels are the 5 stars Adrina Resort and Spa and the 4 stars Adrina Beach. According to the legend, the area called Adrina was named after the female pirate Adrina.
Both Hotels are amphitheatrically built on a magnificent slope. They are located in the Panormos area. Both Hotels have organized beaches, Adrines beaches.
The most important issue for remote workers is the fast and reliable WiFi of the hotels. At the Adrina Hotels, you may enjoy the Free WiFi zone in order to work accurately and safely. Actually, free WiFi is available in all areas of the hotels, even on the beaches.
The hotels also provide extra private space at the reception. The staff is always available to meet any requests and provide technical equipment when needed.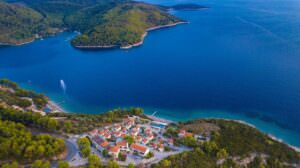 Adrina Hotels offers luxury, excellent facilities, and professional services. All rooms, maisonettes, and villas of the accommodation come with a sun terrace with outside tables and chairs. Which can create an excellent office.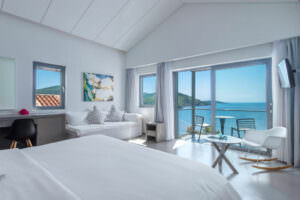 All rooms offer spectacular views of the blue Aegean and enough space to create a "vacation" office. In fact, every spot of the excellent hotels can be a potential office.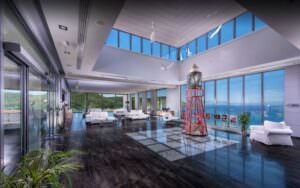 Other luxury amenities at Adrina Hotels include restaurants, saltwater pools, full breakfast, cable car, and children's playgrounds.
The very good news is that Adrina is expanding and soon a third part of the hotel complex will be completed.
Skopelos.com – Skopelos Blog
Blog.Skopelos.com – Skopelos.com/Blog
Author – Adrina Hotels Skopelos – www. Adrina.gr 
www.AdrinaBeach.com – www.AdrinaResort.com
Latest Posts
Fresh articles from the blog
What are you interested in?
Discover something nice