This post is also available in: Ελληνικά (Greek)
FOOD AND DRINK SKOPELOS, CAFES SKOPELOS, BREAKFAST SKOPELOS, CAFE RESTAURANT SKOPELOS, SUMMER HOLIDAYS SKOPELOS, BEACHES SKOPELOS, ENTERTAINMENT SKOPELOS, ANEMOS COFFEE BRUNCH SKOPELOS, KANELA SKOPELOS, KOCHILIS SKOPELOS, KARAVIA SKOPELOS, BARRAMARES SKOPELOS, INTERNATIONAL SKOPELOS, LIMNONARI COMPLEX SKOPELOS, MADALAKI CAFE SKOPELOS, P'THARAKIA SKOPELOS, PETRINO CAFE SKOPELOS, SKOPELOS BLOG, SKOPELOS BLOGSPOT, SKOPELOS BLOGGING, SKOPELOS BLOGS, SKOPELOS BLOGGERS
THE 10 BEST BREAKFAST SPOTS IN SKOPELOS
Skopelos island, this green Aegean diamond, offers you unforgettable summer holidays. Idyllic beaches, picturesque cobbled streets, luxury hotels, traditional accommodation, beach bars for extra fun and delicious food in great restaurants and tavernas.
It is obvious that just once time it is not enough to enjoy all the beauties of Skopelos. Once is not enough to enjoy the culinary delights and traditional products of Skopelos. Moreover, the culinary tradition of Skopelos is a strong element of the island's culture.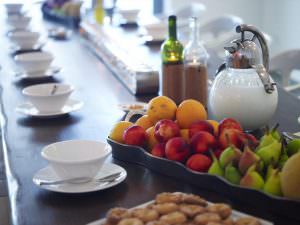 The leader in Skopelos cuisine is always the tasteful popular traditional Skopelos cheese pie! Which is also a super hearty and nutritious breakfast meal. Apart from the Skopelos cheese pie and its wonderful variations, there are many options for a complete breakfast in Skopelos.
Some suggestions for a nutritious breakfast in Skopelos are classic English breakfast, greek breakfast, brunch, omelets, and eggs in many variants, healthy fresh juices, fresh sandwiches, sweet pies such as plum pies, and other delicacies.
Besides, quality, local and traditional products, great raw materials, and unique recipes create fabulous dishes and a great breakfast for all tastes! Skopelos is never lacking in love and a positive attitude.
Skopelos has remarkable all-day cafes in Chora and its picturesque villages to enjoy a hearty and healthy breakfast before your sally to the beaches.
ANEMOS COFFEE BRUNCH
To start with, Anemos Coffee Brunch is an original brasserie that offers unique flavors.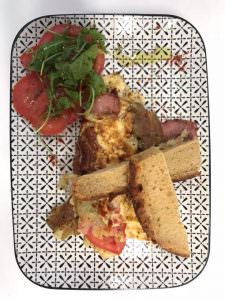 It used to operate as a cocktail bar until the summer of 2017. However, the owners decided to present something completely different in Skopelos Town with a keen creative attitude. Indeed, that was missing from Skopelos Town… An original idea with Italian air …So in the summer of 2018 Anemos coffee brunch introduced itself.
Anemos Coffee Brunch is a small cafe in the heart of Skopelos beach. Here you will enjoy great espresso and a wide variety of dishes such as eggs, Croque madame, and much more. Here you will have a complete brunch!!
The café has comfortable tables overlooking the port of Skopelos. It operates from 8 am to 12 pm. In Anemos Coffee Brunch you will enjoy extremely rich and original breakfasts, coffees, and more. Delicious pancakes, a variety of omelets, scrambled eggs, fresh sandwiches, pizzas, fresh juices, and smoothies are just one part of the menu.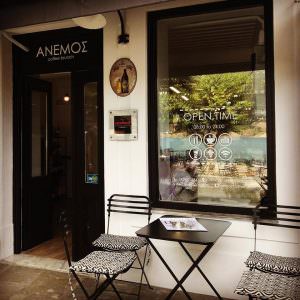 It is worth noting that there is an Italian touch to the menu.
KANELA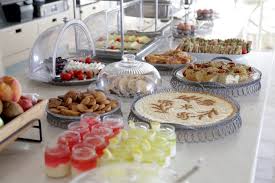 Kanela is a small bakery that exudes warmth and intimacy.
The handmade flavors offered by Kanela, both sweet and savory will delight your palate. The romantic landscaped area is ideal for sitting down to enjoy exquisite homemade delicacies.
Kanela is located in Skopelos Town, near the port. It operates from 7 in the morning until 8 in the evening. You can enjoy your breakfast at Kanela or takeaway. Only organic ingredients and local products are used for the preparation of tasty dishes.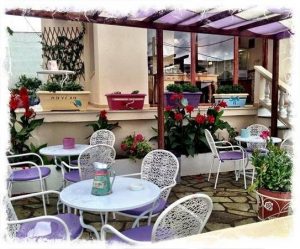 The variety in Kanela is great, with countless temptations for the perfect breakfast meal. You will surely want to visit Kanela the next morning and the next … Incredible chicken pie,  pie with local katiki cheese, mushroom pie, Skopelos pie with bacon, small stuffed donuts, peppers, quiche Loren, and freshly made sandwiches. Apple pie, chocolate pie Bueno, baguette, cinnamon and praline pudding, red velvet cake, etc…

Here in Kanela,  in addition to the excellent homemade delicacies, you will also taste one of Skopelos' best coffees and healthy freshly squeezed juices.
KOCHILIS BAKERY
Kochilis Bakery is located in front of the entrance to the port of Skopelos. The quality of the products, the delectable variety, and the constant refurbishment have made Kochilis Bakery a classic hangout in Skopelos. Ideal for an enjoyable and hearty breakfast meal.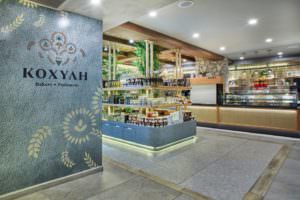 New visitors to Skopelos are keen to know that Kochilis Bakery has been a landmark for many years on the island. You will be impressed by the bold variety, the fresh products, the impeccable service, and the excellent quality coffees.
One of its benefits is that it stays open 24 hours a day and you can grab whatever you want or sit at comfortable tables outdoors.
Delicious bread delicacies, daily bread, fresh sandwiches, Skopelos cheese pie, puff pastries, ice creams, sweet flavors, traditional delicacies, freshly squeezed natural juices, coffee, and other beverages. A wide variety of sweet and savory flavors. You will surely find the perfect breakfast for you !!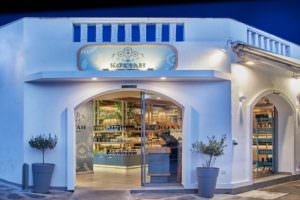 In Kochilis Bakery at the port of Skopelos, you will enjoy a complete breakfast as you will find everything you wish.
Kochilis Bakery prepares wonderful weddings as well as birthday cakes to sweeten the highlights of your life.
KARAVIA CAFE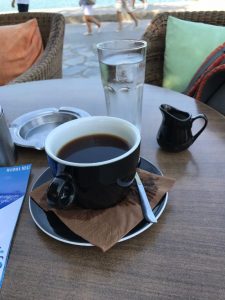 Karavia Cafe has been in the port of Chora on Skopelos island for about 4 decades. Faithful customers come here every year to enjoy a hearty breakfast at the comfortable tables overlooking the sea !!
The main reason for keep visiting Karavia Cafe is not only the variety on the menu but also the hospitality of the owners. Indeed, the rich nutritious breakfast, the delectable options, the delicious espresso, and cappuccino coffee will cover your needs. But the owners themselves with their hospitality and positive attitude will make you feel at home!
Karavia Cafe, in Skopelos Chora, offers excellent traditional Skopelos cheese pie, English breakfast, tasty omelets and eggs with bacon, club sandwiches, fruit salads, yogurt with honey, jams, croissants in savory and sweet varieties, waffles, and a variety of freshly squeezed fruit juices.
It is now certain that at Karavia Cafe, on the beach in Skopelos, you will enjoy a rich breakfast.
It remains open from early morning until late at night.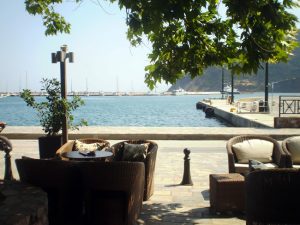 Karavia Cafe is now a classic destination in Skopelos Town as it offers you quality coffee and breakfast.
BARRAMARES CAFE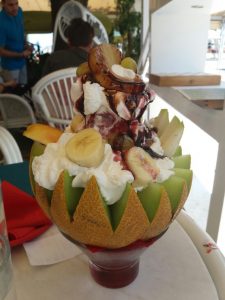 Barramares Cafe is centrally located on the beach of Skopelos, opposite the port. The location of the Cafe is lovely with magnificent sea views. A perfect place for both relaxation and fun. Your breakfast here is a completely delicious treat.

The many choices for a nutritious and rich breakfast are satisfying. Barramares Cafe offers among other choices English breakfast,  Skopelos cheese pie, fresh sandwiches, hearty omelets, bacon eggs, homemade ice creams, crepes in sweet and savory variants, unique waffles, fruit salads, honey yogurt, freshly squeezed juices, and rich coffee.
At Barramares Cafe, in Skopelos port, you can enjoy a very hearty breakfast on its beautifully landscaped grounds.
It is open from early morning until late at night.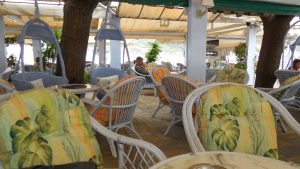 For years Barramares Cafe remain popular for its bamboo comfort chairs.
INTERNATIONAL CAFE
International Cafe is centrally located on the beach in the port of Skopelos. Actually, it has been working successfully for many years. It remains open from early morning until late at night.
Along with your morning coffee, don't forget to enjoy a hearty breakfast at the comfortable tables. The menu choices will totally satisfy you.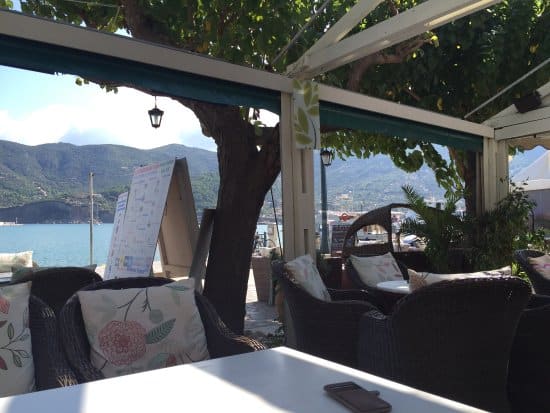 At International Cafe, you will enjoy a traditional breakfast of eggs, bacon, bread and jam, omelets, Skopelos cheese pie, pancakes, crepes, sandwiches, fruit salads, yogurt with honey, and handmade pastries.

International Cafe is a traditional timeless café in the port of Skopelos and is famous for its wonderful ice creams.
Taverna Limnonari is located on the beautiful Limnonari beach, 9 km from Skopelos Town. At Taverna Limnonari you will enjoy the idyllic landscaped space and the hospitality of the Lemonis family, which has been operating the taverna from 1969 until today.

Tables are under the shade of trees or awnings. Absolutely summer setting is fully harmonized with the green landscape. A perfect place to enjoy a nutritious breakfast before getting to the beach.
The basic observation we have to make is about raw materials. The Lemonis family produces its own traditional products. So you will taste yogurt with honey from their own beehives, olive oil and olives, traditional pastries, and delicious homemade jams!
In  Taverna Limnonari you will enjoy a delicious breakfast, coffee, healthy juices, and traditional Skopelos cheese pie.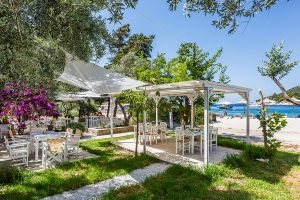 All dishes and flavors are handmade and the raw materials are produced by the owner himself.
MADALAKI CAFE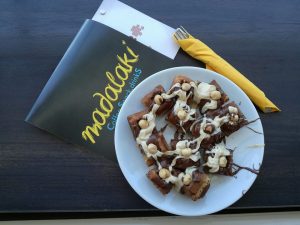 Madalaki Cafe is located on the magnificent Hovolo beach, in Neo Klima or Elios in Skopelos. It is without a second thought the best place to start your day with energy.
The ideal place to enjoy a delicious breakfast in Skopelos. Rich aromatic coffee, fresh baguettes, toast and sandwiches, great chocolate or plain waffles, ice creams, friendly and prompt service all by the sea with idyllic sea views.
You can sit at the tables on the sand in the small courtyard and enjoy excellent Mrs. Rose coffee and nutritious breakfast. You have also the option of taking coffee and snacks with you to the beach.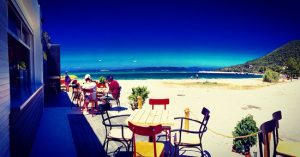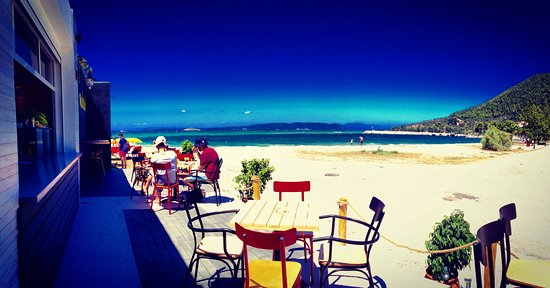 Madalaki Cafe is a super-cool choice.
P'THARAKIA ESPRESSO & COCKTAIL BAR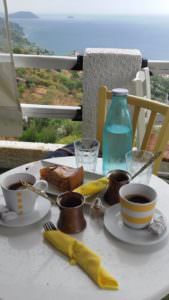 P' tharakia ( Ptharakia ) Espresso & Cocktail bar is an alternative cafe bar, located in the picturesque village of Glossa in Skopelos. You will find it a few meters down the main street in the old town of Glossa.
The view from the café is breathtaking. The ideal place to enjoy a hearty breakfast and your coffee. Although you will find excellent espresso and cappuccino coffee we will recommend the traditional Greek coffee. Always served with a Cyprus delight.
Moreover, in the shade of a walnut tree, you will have the opportunity to enjoy your coffee and/or fresh-squeezed juice with a variety of breakfast suggestions. Handmade energy bars with cereals and nuts, handmade pies (eg apple pie) as well as delicious fresh sandwiches and fruit salads.
In the courtyard of the cafeteria, there is a lovely walnut tree that offers you its shade. The landscaped surroundings also provide a swimming pool. On the menu, there are aromatic blended coffees and many breakfast options to choose from.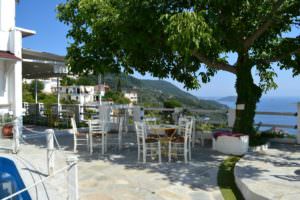 P' tharakia ( Ptharakia ) Espresso & Cocktail bar offer you stunning views. The whole Aegean stretches in front of you.
PETRINO CAFE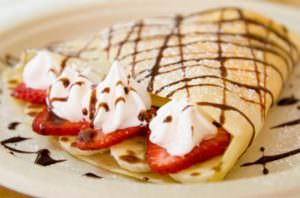 Petrino Cafe Snack Bar is a beautiful traditional Greek coffee bar. You will find it in Loutraki port. Furthermore, its location is idyllic and offers wonderful sea views.
Along with your delicious coffee breakfast, you will enjoy a rich breakfast meal. You will also have a choice of a variety of sweet and savory flavors. Great homemade delicacies for all tastes. Handmade pies and pastries, omelets and eggs, amazing crepes, and yogurt with honey and fruits.
The friendly owners in combination with the tasty delicacies, whether salty or sweet, will make you want to visit Petrino again and again.
Petrino Cafe is open from early morning until late at night.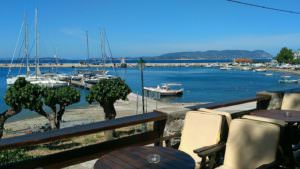 Petrino Cafe offers a friendly atmosphere and delicious handmade dishes.
Skopelos.com –  Skopelos Blog
Blog.Skopelos.com –  Skopelos.com/Blog
Author –  Adrina  Hotels Skopelos – www. Adrina.gr