SKOPELOS BY PLANE, GETTING TO SKOPELOS, SKOPELOS SKIATHOS, SKOPELOS AIRPORT, SKIATHOS AIRPORT,  SKOPELOS VOLOS, SKOPELOS ATHENS, SKOPELOS THESSALONIKI, FLIGHTS TO SKIATHOS, HOW TO GET TO SKOPELOS BY AIRPLANE. SKOPELOS TOURISM, SCHEDULES AND AIRPORTS: SKIATHOS, VOLOS, THESSALONIKI, ATHENS, AIRPORT: SKIATHOS AIRPORT ALEXANDROS PAPADIAMANTIS, ATHENS ELEFTHERIOS VENIZELOS AIRPORT. FLY TO SKIATHOS,  SKOPELOS BLOG, SKOPELOS BLOGSPOT, SKOPELOS BLOGGING, SKOPELOS BLOGS, SKOPELOS BLOGGERS
TRAVELLING BY PLANE TO SKOPELOS
Have ever visited the enchanting Skopelos island? If you have then you will come again, if not this summer is your chance to meet this magnificent destination. Not only Greeks but also foreigners are already in love with Skopelos. Especially after the great success of the "Mamma Mia" movie Skopelos become even more popular on an international level.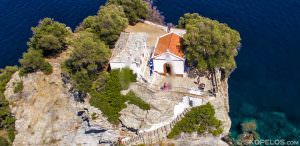 No matter the fame it gains through Mamma Mia film, Skopelos has remained its traditional style. Skopelos is one of the lushest islands in the Aegean Sea. The idyllic combination of the green of the forest with the blue of the sea leaves no one emotionless.
Furthermore, the fact that Skopelos island has no airport contributes even more to the maintenance of the folk features. Nevertheless, you can always travel by plane to airports near Skopelos as there is a sea connection.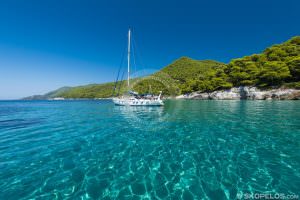 AIRPORTS
The airports that are convenient for planning your holidays to Skopelos are SKIATHOS AIRPORT, VOLOS AIRPORT, ATHENS AIRPORT, AND THESSALONIKI AIRPORT.
TIP 1: GETTING TO SKOPELOS BY PLANE, YOU SHOULD SCHEDULE YOUR TRIP EARLIER, BY BOOKING IN ADVANCE YOUR FERRY TICKETS OR BY GETTING A WATER TAXI APPOINTMENT, ESPECIALLY DURING THE SUMMER PERIOD
TIP 2: COMING FROM ABROAD, THE EASIEST WAY TO GET TO SKOPELOS, IS TO HAVE A FLIGHT TO SKIATHOS AIRPORT AND THEN TAKE A WATER TAXI. 
SKIATHOS AIRPORT, ALEXANDROS PAPADIAMANTIS
The closest airport to Skopelos Island is of course Skiathos airport. Skiathos is a neighbor island of Northern Sporades. The airport of Skiathos, Alexandros Papadiamantis, serves both domestic and international flights.
During the summer period, there are daily flights to and from Athens, while during the winter months there are flights on a weekly basis.  Moreover in summer months flights arrive from and to Thessaloniki as well.
The airport of Skiathos is about 3 km away from Skiathos port (5 minutes by car). The taxi rank will be located just outside the airport. While the route airport to the port of Skiathos costs approximately € 6. From Skiathos port, you can take a ferry boat or a water taxi to get to Skopelos island.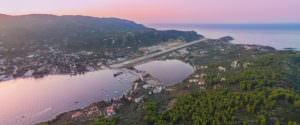 NATIONAL AIRPORT OF SKIATHOS ALEXANDROS PAPADIAMANTIS JSI
37002, SKIATHOS GREECE
Tel: +30 3024270 22376, +30 24270 29105, Fax: 24270 24130, Telex: 295822 LGSK GR, AFTN: LGSKYTYX
Website: https://www.jsi-airport.gr E-mail: d5ith_kask@hcaa.gr
MORE DETAILS
Daily there are 2 or 3 direct flights from Athens Airport, Eleftherios Venizelos airport to Skiathos airport.
Timetable – Information  Olympic Air, Aegean Airlines
Timetable – Information  Sky express
TIP: The flight lasts only 45 minutes.
Furthermore, during summer, visitors can access Skiathos from all over the world, by a combination of flights. With charter flights visitors easily get directly to Skiathos from the following cities:
 Amsterdam, Oslo, Belgrade, Berlin, Vienna, Bucharest, Gothenburg, Zurich, Copenhagen, Larnaca, London, Manchester, Milan, Munich, Düsseldorf, Stavanger, Stockholm, Stuttgart, Trondheim, Frankfurt.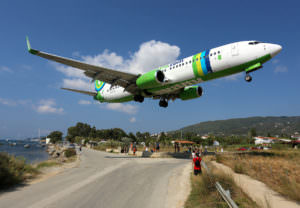 EXTRA TIPS:
Skiathos National Airport Alexandros Papadiamantis is a small airport that meets the needs of the Northern Sporades (Skiathos, Skopelos, Alonissos).
 Airlines have specific routes and you can book your tickets very early to obtain a better price.
 Flights to Skiathos airport from Athens, Volos, and Kavala.
In Skiathos, dozens of charter flights arrive directly (or with stopovers) from abroad.
Olympic Air has its ticket auditors in the middle of the central airport.
Ticket vendors can be found on the left side of the airport building.
ATHENS INTERNATIONAL AIRPORT ELEFTHERIOS VENIZELOS
Athens International Airport Eleftherios Venizelos (ATH) is the biggest airport in Greece. It also serves the largest number of domestic and international flights in Greece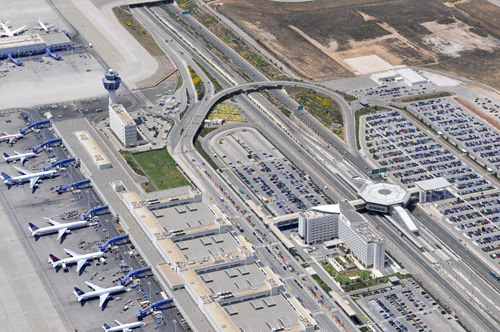 Athens International Airport Eleftherios Venizelos is connected with Skiathos Airport, Alexandros Papadiamantis JSI. Furthermore, if you chose not to fly directly from Athens to Skiathos you should go to Mantoudi Evia or Agios Konstantinos to go to Skopelos.
NATIONAL AIRPORT VOLOS NEA ANCHIALOS
Volos National Airport, Nea Anchialos, is the closest mainland airport to Skopelos.
Nea Anchialos National Airport with VOL code serves domestic, international, and charter flights from the largest cities in Europe.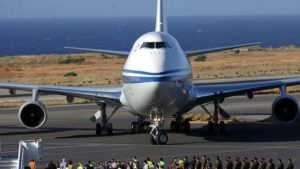 TIP: Volos Airport serves international flights only during summer.
The airport is connected to the long-distance bus station of Magnesia to Volos. Moreover, taxis are outside the Terminal.
By Taxi, you will need approximately 40 minutes to Volos port, while by bus is about 1 hour.
From Volos port to Skopelos there are direct ferries services.
THESSALONIKI makedonia AIRPORT
Thessaloniki Airport is one of the two major airports in Greece. Furthermore, it is closer to Skopelos than Athens airport. Macedonia Airport is the number 4 large airport in Greece and the number 10 in the European Union.
It is operated throughout the year and serves domestic and international flights.
City buses connect the airport to the center of Thessaloniki, with Thessaloniki's New Railway Station and with the Intercity Bus Station "Macedonia"(KTEL). Their departure is every 30 minutes and the route to the city center takes about 40-50 minutes since Thessaloniki Airport is 15 km away from the city. Moreover, taxis at Thessaloniki Airport are available throughout the 24-hour period.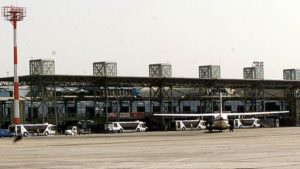 THESSALONIKI TO SKOPELOS EASIEST TRAVEL TIP: Landed at Thessaloniki Airport, take bus no 78 to the airport terminal and then the intercity bus to Volos port in order to get a ferry to Skopelos.
Skopelos.com – Skopelos Blog
Blog.Skopelos.com – Skopelos.com/Blog
Author – Adrina Hotels Skopelos – www. Adrina.gr