FROM SKIATHOS TO SKOPELOS, GETTING FROM SKIATHOS TO SKOPELOS, SKIATHOS SKOPELOS, SKIATHOS PORT, SKIATHOS AIRPORT, SKOPELO PORTS, SKOPELOS WATER TAXI, SKOPELOS FERRY BOATS, SKOPELOS TOURISM, GETTING TO SKOPELOS, EXTRA TRAVELLING TIPS, HOW TO GET TO SKOPELOS FROM SKIATHOS, SKOPELOS BLOG, SKOPELOS BLOGSPOT, SKOPELOS BLOGGING, SKOPELOS BLOGS, SKOPELOS BLOGGERS
FROM SKIATHOS TO SKOPELOS
The lush Skopelos island has no airport. If you wish to travel by plane you can land at Skiathos Airport. (Skiathos National Airport, Alexandros Papadiamantis JSI). Skiathos is a beautiful island of Northern Sporades. This neighbor island is 12 nautical miles away from Skopelos.  Despite the fact Skopelos has no airport, you can land in Skiathos.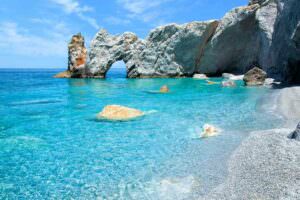 Furthermore, Skiathos Airport is only 3 km away from Skiathos Port. By car or taxi, you will need just five to get to Skiathos Port. Then you are ready to continue your journey to the green Skopelos Island. From Skiathos to Skopelos you go only by sea.
Keep in mind that Skopelos has 2 main ports, Loutraki Port in Glossa and the Skopelos Port in Chora. In case of bad weather conditions, there is also Agnontas port to serve the passengers.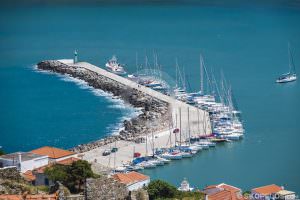 Getting from Skiathos to Skopelos
There are two options to transfer from Skiathos to Skopelos and some extra traveling tips. You can use the ferry boats which is the most economical way. Or you can have a water taxi which is the faster and more efficient way to do so.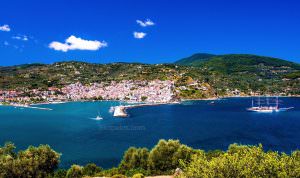 from Skiathos to Skopelos by ferry
Skiathos is connected to Skopelos with daily ferry services, especially during the summer months. The duration of the trip is approximately 30 minutes depending on the boat you will use. The prices of the tickets vary from € 5,30 to € 19.
The two companies that operate the itinerary Skiathos – Glossa or Skiathos -Skopelos are the Anes Ferries and the Hellenic Seaways.
Anes Ferries has PROTEUS Boat which needs 30 minutes to reach Glossa Port. The ticket price is € 5,30.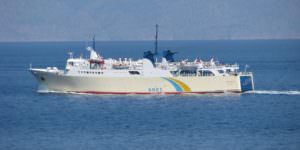 Hellenic Seaways has one ferry boat the EXPRESS SKIATHOS and the speedboat FLYING CAT 5.
EXPRESS SKIATHOS takes 30 minutes to reach Glossa Port and 1 hour and 25 minutes to reach Skopelos Port. The ticket prices are € 7 and € 11 respectively.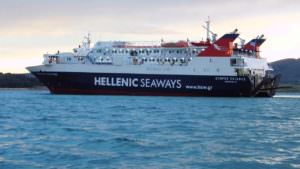 FLYING CAT 5 takes 15 minutes to reach Glossa Port and 50 minutes to reach Skopelos Port. The ticket prices are € 11,50 and € 19 respectively.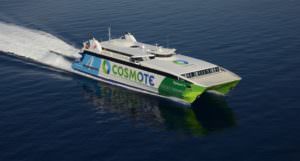 SOME MORE USEFUL INFO
TIP 1:  Check your air tickets along with the ferries to make sure that there is a direct connection between airplanes and boats. 
TIP 2: Ferry tickets are usually available. However, you must book your tickets on time especially during the months of July and August.
TIP 3: The ferry companies usually announce the summer itineraries before the Greek Easter period.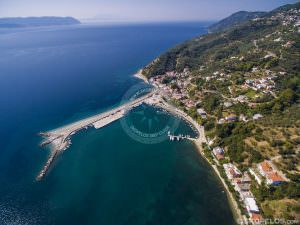 from Skiathos to Skopelos by water taxi
The shortest way (but the most expensive one) to get from Skiathos to Skopelos is the water taxi.
The water taxi just travels you to the exact port/destination you wish and is available 24 hours per day. The only reason water taxis can not travel is the weather conditions. In this case, visitors should use the ships that will be available.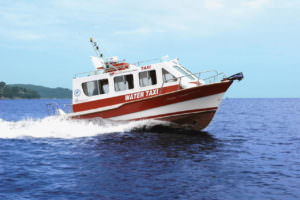 The waters taxi can get from 1 to 5 passengers. The usual number of passengers is 4.
The journey with the water taxi meets all the safety rules.
Skiathos Water Taxi works directly with Adrina Hotels. The transfer cost from Skiathos directly to the Adrina Hotels ( Adrina Beach, Adrina Resort and Spa) is 150 € for 4 people and the journey lasts 30 minutes.
Contact Information: Skiathos Water Taxi. Dimitris Dioletas +30 6980 200 200, website: http://www.skiathoswatertaxi.gr/, email: info@skiathoswatertaxi.gr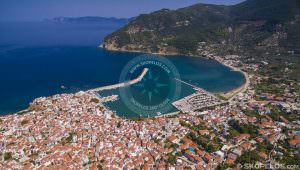 EXTRA TRAVELLING TIPS FOR A PLEASANT JOURNEY
Skopelos has two ports, Loutraki Glossa and Skopelos Chora. Always double-check the port of your arrival and departure while you are booking your ticket.
From mainland Greece, the ports that serve the Northern Sporades are Volos Magnisias, Agios Konstantinos Fthiotidas, Mantoudi Evias, and Kymi Evias. There is no direct itinerary from Athens ports to the Sporades.
If you are lucky you may face a very pleasant surprise while traveling from Skiathos to Skopelos. You may have the opportunity to admire the beautiful dolphins swimming in the Aegean Sea alongside your boat.
Skopelos.com – Skopelos Blog
Blog.Skopelos.com – Skopelos.com/Blog
Author – Adrina Hotels Skopelos – www. Adrina.gr 
www.AdrinaBeach.com – www.AdrinaResort.com
from skiathos
port
skiathos
skiathos airport
skiathos port
skopelos ports
to skopelos
water taxi
Latest Posts
Fresh articles from the blog
What are you interested in?
Discover something nice