This post is also available in: Ελληνικά (Greek)
FROM AGIOS KONSTANTINOS TO SKOPELOS, SKOPELOS FROM AGIOS KONSTANTINOS, SKOPELOS BY BOAT, HOW TO GET TO SKOPELOS BY BOAT. HOW TO GET TO SKOPELOS FROM AGIOS KONSTANTINOS, ROUTES, TICKET PRICE, TIMETABLES, PORTS, SKOPELOS, ATHENS SKOPELOS, LOUTRAKI, GLOSSA, SKIATHOS, ITINERARIES TO SKOPELOS, AGIOS KONSTANTINOS FTHIOTIDA, SKOPELOS BLOG, SKOPELOS BLOGSPOT, SKOPELOS BLOGGING, SKOPELOS BLOGS, SKOPELOS BLOGGERS
TRAVELING FROM AGIOS KONSTANTINOS TO SKOPELOS
Skopelos island is an amazing place which you will definitely love by heart.
Skopelos has fairly announced to be "the Green & Blue Island" by international biopolitics. Since it is decorated with pine forest, and the pine trees touching the shore of the sea.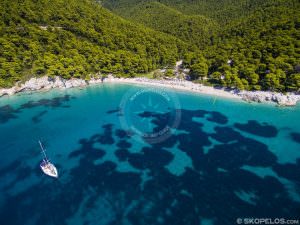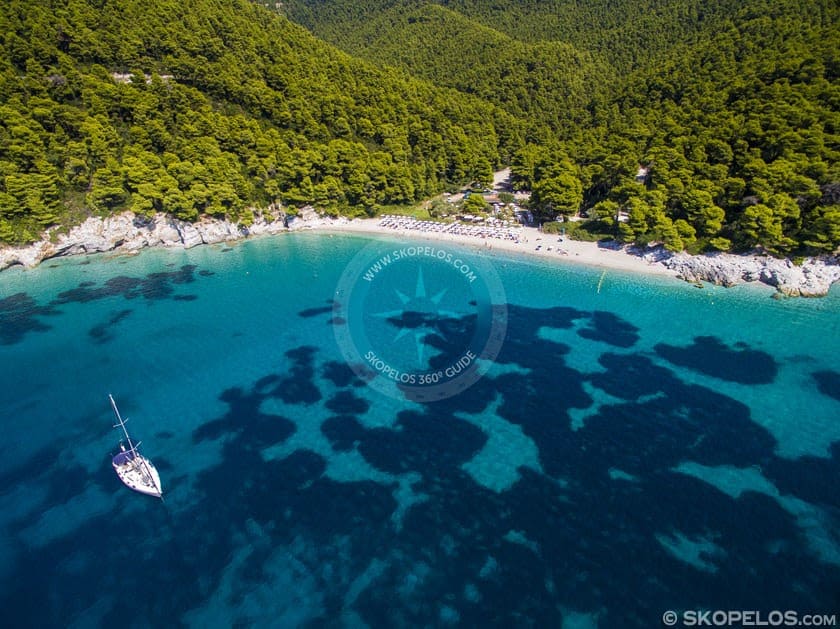 This magnificent island of Skopelos is in the Northern Sporades. Although it became very popular with the Holywood movie Mamma Mia, it has remained the traditional essence and the peacefulness.
Being is Skopelos you should visit the incredible beaches with the crystal clear waters and the pine hills all over. Do not miss to visit movie the Church of Agios Ioannis Kastri, also known as the Mamma Mia Church. Τake endless walks in Skopelos Chora and Glossa and enjoy the wonderful summer sunsets of the Aegean Sea.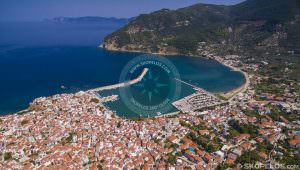 Skopelos is between Skiathos and Alonissos. Mostly families and couples prefer to visit beautiful Skopelos. There is no direct itinerary from Athens to Skopelos.
In order to travel from Agios Konstantinos Ftiotida to Skopelos you need to know the following information.
From Agios Konstantinos
Getting to beautiful Skopelos from Agios Konstantinos Port you have to travel with:
The Ferry Boat  "SYMI" of the company Anes Ferries. The boat accepts passengers and vehicles.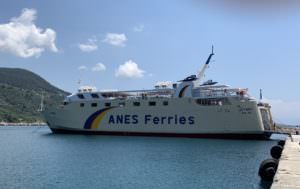 TIP 1: Symi Boat of the anes ferries operates seasonally only during summer period. On winter time there are not scheduled itineraries. 
TIP 2: Until 2018, there was another company serving the route Agios Konstantinos Skopelos with high speed boat.
duration of the trip
The ferry boat "SYMI" from Agios Konstantinos in Fthiotida to Skopelos takes approximately 4 hours and 20 minutes.
Tip: Before booking your ticket check in which port you will disembark. Skopelos island has two ports,  Skopelos port (Chora) and Loutraki port (Glossa). It takes less time for the ship to arrive at Loutraki port (Glossa of Skopelos), since it  first stops there.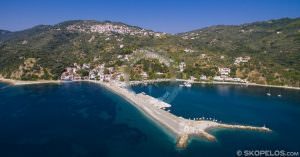 Route
From Agios Konstantinos port, the ferries first take a stop to Skiathos then at Glossa Port ( Loutraki) on Skopelos island, continue to Skopelos port and the last stop is in Alonissos.
AGIOS KONSTANTINOS-SKIATHOS-GLOSSA-SKOPELOS-ALONISSOS
FROM Athens TO Agios Konstantinos
Agios Konstantinos is about 170 km away from Athens. By your own vehicle is approximately 1 hour and a half.  Be aware that there are tolls on the route. The cost of tolls amounts to € 11 under current conditions. This cost may change.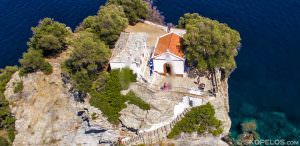 Buses from Athens to Agios Konstantinos
In case you do not have your own vehicle, anes ferries company has buses for your transfer from Athens to Agios Konstantinos and vice versa. 
The routes and the prices of the bus will be announced along with SYMI boat itineraries.
Tip: There are always the bus stations in your area as well as private taxi companies.
Travel Cost
The trip from Agios Konstantinos  to Skopelos is as follows:
"SYMI" ticket prices
SYMI

Passenger

Vehicle up to 3,7m

Vehicle exceeding  3,7 m

SKOPELOS

ONE WAY

ROUND TRIP

29,90 €

53,80 €

49,00 €

88,20 €

69,50 €

125,10 €
Infants and children up to 4 years travel for free, children from 5 -10 years have 50% discount..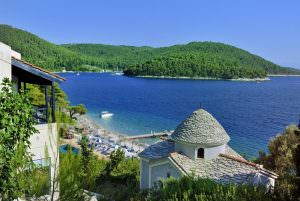 Itineraries
The routes will be announced after Easter period. The itineraries to Skopelos from Agios Konstantinos are not yet be announced.
In general you should know that the routes to Skopelos are usually as follows:
Easter period up to the Holy Spirit the routes are finalized just before Easter.
Summer season, from May to August, itineraries are finalized shortly after Easter.
September the routes are finalized in July.
Skopelos has a full season in July and August. So it's a good idea to book your tickets on time.
BOOKING TICKETS
Tickets can be booked via:
tourist agencies (tourist offices of Skopelos) (tourist offices of Agios Konstantinos)
in the offices of anes ferries. contact phone: +30 210 5237613, +30 2227023336 email: 

info@anes.gr

via Internet.
General Information
More extra info please contact:
Port Authority of Agios Konstantinos Tel:

+30 22350 31759, +30 22353 50320

Port Authority of Skopelos Tel: +3024240 22180
Under the Port Authority of Skopelos Tel: +3024240 33033
Skopelos.com – Skopelos Blog
Blog.Skopelos.com – Skopelos.com/Blog
Author – Adrina Hotels Skopelos – www.Adrina.gr