This post is also available in: Ελληνικά (Greek)
FOOD AND DRINKS SKOPELOS, RESTAURANTS AND TAVERNAS SKOPELOS, BEACHES SKOPELOS, NORTHERN SPORADES SKOPELOS, SUMMER VACATION SKOPELOS, HOLIDAYS SKOPELOS, HOTELS SKOPELOS, FUN SKOPELOS, ENTERTAINMENT SKOPELOS, ATTRACTIONS SKOPELOS, SIGHTSEEINGS SKOPELOS, VILLAGES SKOPELOS, ACCOMMODATION SKOPELOS, CHORA SKOPELOS, PORT SKOPELOS,  PANAGITSA OF PYRGOS SKOPELOS, ADRINA TAVERNA SKOPELOS, ADRINA HOTELS SKOPELOS, MAMMA MIA SKOPELOS, SKOPELOS BLOG, SKOPELOS BLOGSPOT, SKOPELOS BLOGGING, SKOPELOS BLOGS, SKOPELOS BLOGGERS
SKOPELOS THE MOST GREEN ISLAND IN GREECE.
Greece islands are one of the most popular summer destinations. People all over the world eager to live their myth in Greece. Most specifically most of them are more familiar with the Cyclades islands and Crete. But what about the green islands of Northern Sporades.
Northern Sporades islands are the green treasure of the Aegean Sea. Actually Skopelos Island is the greenest one. It combines dense forests (67% of the island) with the blue of the sea.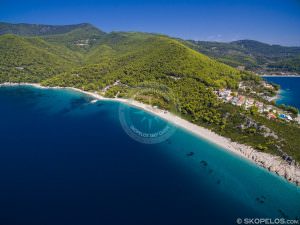 Skopelos is famous worldwide due to its green landscape, the beaches with the pine trees, the white pebbles and the golden sand as well as the successful musical of Hollywood "Mamma Mia". Despite the popularity Skopelos gained through Mamma Mia movie still remains a tranquil destination with intense the traditional element.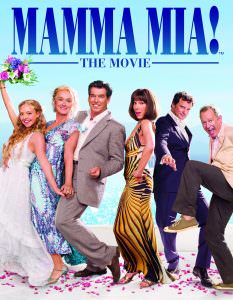 SKOPELOS
Skopelos may be the perfect island. Just visiting Skopelos once is not enough. It is not enough to feel the charm of Skopelos and wander around to the beautiful Chora. To get to Agios Ioannis in Kastri and Panagitsa of Pyrgos.
It is not enough to really feel the legends of the island and to swim in its idyllic beaches. In just one visit you will not enjoy the picturesque villages of Skopelos.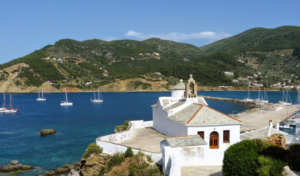 In recent years Skopelos has had a remarkable growth in its tourism infrastructure without ever losing its authenticity.
Greece is the country with the best summer destinations. Its islands are world renowned. Skopelos, though not one of the most popular destinations, meets all the requirements for an unforgettable vacation.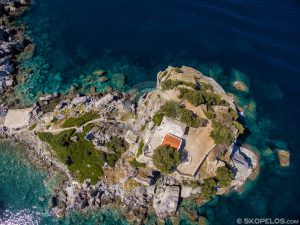 After all Hollywood producers of Mamma Mia Movie chose Skopelos!!!
Skopelos belongs to the Northern Sporades along with Skiathos, Alonissos and Skyros. The island of Skopelos has no airport, so you use the airport of neighboring Skiathos to travel by plane. From there you continue your trip either by conventional ferry or by sea taxi.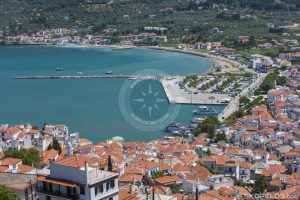 From mainland Greece you can reach Skopelos by ships, catamarans and flying dolphins from the ports of Volos, Agios Konstantinos, Mantoudi and Kymi. Be aware that from the ports of Agios Konstantinos and Kymi there are only summer itinerarιes.
There is no direct sea connection from the ports of Athens (Piraeus, Athens)to Northern Sporades.
CHORA OF SKOPELOS – MAIN PORT
Skopelos port is one of the most beautiful in Greece. Skopelos Town has retained its traditional architecture and its authentic style. In fact for this reason it has earned the title of Traditional Settlement.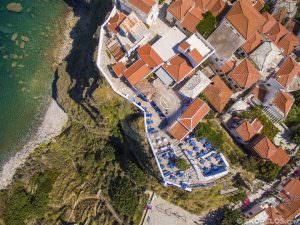 The hillside with its dazzling white walls, the tiles, the picturesque cobbled streets, the Venetian fortress with magnificent views and the dozens of scattered chapels will invite you to return again and again.
The picturesque villages of Skopelos exude the authenticity of the country. They all have their own character and their own myth.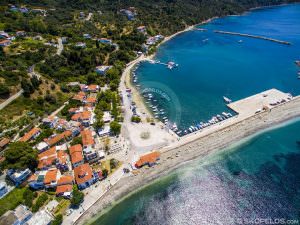 Loutraki village is located below Glossa and is the second port of Skopelos. It offers comfortable accommodation for a pleasant stay. In Loutraki you will find taverns, cafés and bars.
Glossa: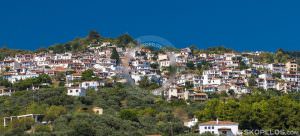 Glossa is the second largest settlement on the island. It is a picturesque town with traditional architecture and mansions. In the lovely alleys you will find taverns, cafés and bars.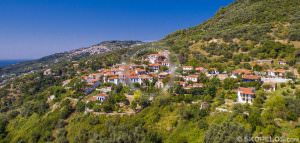 The lush and picturesque village of Paleo Klima is amphitheatrical built on the mountain. The houses are stone-built and face the Aegean Sea.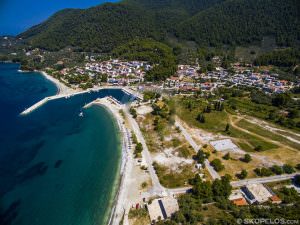 The seaside Neo Klima or Elios is considered a blessed place. Fanatic visitors visit it every summer as it offers them a wonderful sea, comfortable accommodation, traditional dining in the taverns and fun in the cafes.
The lush island of Skopelos has also archaeological and cultural interest. You can visit the museums of Skopelos, the Folklore Museum of Skopelos, the Vakratsa Mansion and the Folklore Museum of Glossa. Moreover there are the carved tombs, the Asklepios, the castle in Chora of Skopelos and the tomb of Stafylos.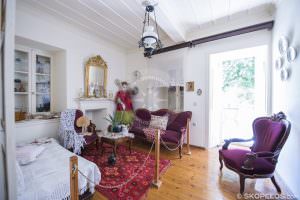 Of particular interest are the monasteries of Skopelos. Scattered throughout the island, each one has its own unique beauty. Ai Giannis in Kastri, known from the movie Mamma Mia, Panagitsa of Pyrgos as well as the monasteries at Mount Palouki and more other.
A Greek island always shows off its beaches. Skopelos has beaches of unsurpassed beauty. The special feature of the beaches of Skopelos are the pines that literally take root in the sea. The perfect combination of the green into the blue.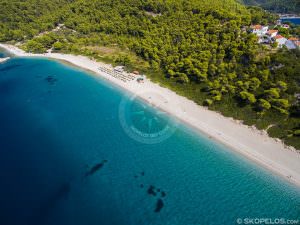 Skopelos has amazing beaches set in a lush mountainous background. Surrounded by the forest cliffs, beaches of Skopelos have a dramatic sense, full of nature. Most beaches have fine pebbles, are embraced by pine trees and have deep blue waters.
It's no coincidence that the cast of Mamma Mia chose Glisteri and Kastani Beach for most of the scenes. Both beaches have beach bars.
Kastani Beach became famous due to the Mamma Mia movie. The landscape is majestic. White sand, small pebbles and pines touching the shore.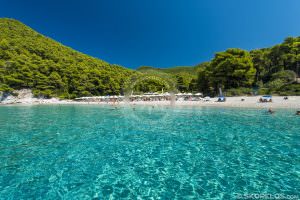 Milia Beach is the one of the most popular beach of Skopelos. It is an amazing beach with white pebbles, gold sand and crystal clear waters. There is sun loungers, umbrellas and beach bar.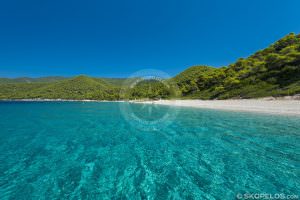 Panormos beach is also very popular organised beach. It is a wide beautiful beach with blue waters. Mostly families prefer to visit Panormos. There are also tavernas on the beach.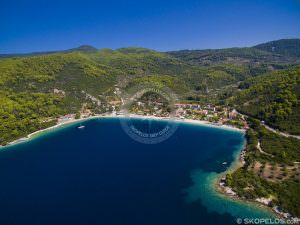 Stafylos beach is a magnificent organised bay with white sand and big rocks very close to Skopelos Chora. If you like nudits then go to Velanio Beach, just next to Stafylos beach.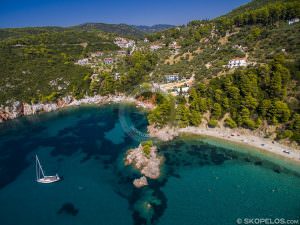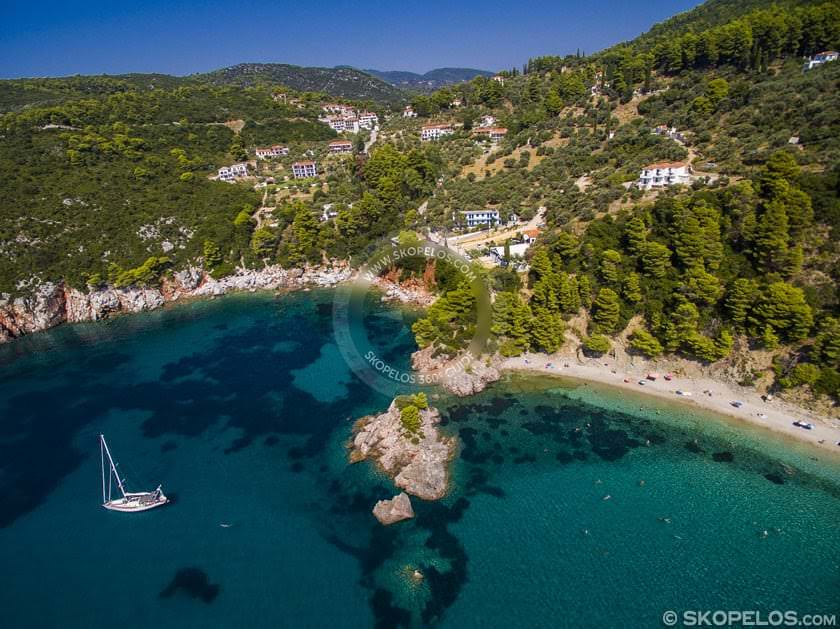 Agnontas beach is small beach with pebbles, emerald crystal clear waters surrounded by pine trees. There are famous seaside fish tavernas in Agnontas.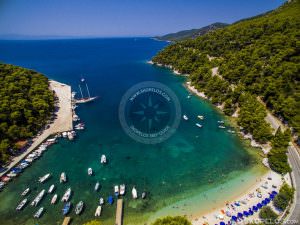 Limnonari beach is a impressive sandy beach totally protected by the green hills. The beach has white sand that turns golden by the reflection of the sun. It is also organised.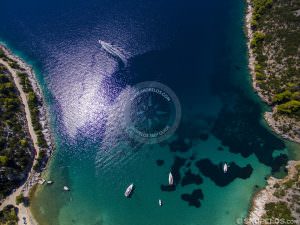 Hovolo beach has extraordinary exotic beauty since it combine the fine sand with the white rocks and the turquoise waters. Moreover, the bay is surrounded by pine forest. It is not an organised beach but there is a beach bar.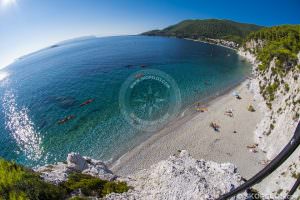 Since we are talking about the magnificent beaches of Skopelos, it is a good idea not to focus only on the famous ones. But let's also make a brief reference to the equally beautiful but lesser known ones.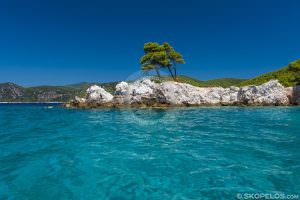 Let's begin, other beaches worth visiting are Glyfoneri, very close to Skopelos Chora and Elios beach at Neo Klima village. To continue with, the most peaceful beaches are Armenopetra and Amarantos. There are beaches that you can only visit by boat such as Ekatopenintari, Megalo Pefko and Ftelia. Others beaches to discover are  Aggeletou, Vathias and Pethamenis beach. 
Holiday Makers have many choices of accommodation in Skopelos. There are many accommodation within the country, villages and seaside areas. You will find hotels, studios and apartments, houses and rooms to let. To avoid being surprised, a detailed internet search will help.
We highly recommend the luxury and impeccable services of Adrina Hotels in Panormos, Skopelos. There is the 4 stars hotel Adrina Beach and the 5 stars Adrina resort and Spa.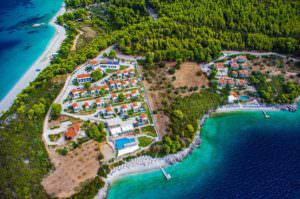 Adrina Hotels, Panormos Skopelos, Tel. +30 24240 23373 
FOOD IN SKOPELOS
A classic Greek taverna usually has the following characteristics: it is seaside, it is a family business and the wife of the house is the cooker, it has plaid tablecloths, it has rice in the salt pan, it has its own bulk wine, the menu includes greek salad tzatziki and there are stray cats in the garden of the tavern.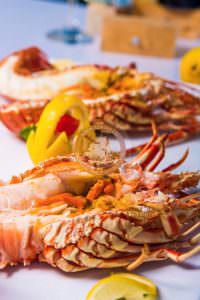 Taverna is an integral part of Greek holidays. In Skopelos you will eat delicious well-cooked food. There is a plethora of traditional tavernas and more refined restaurant options.
We highly recommend  Adrina Taverna of Adrina Beach Hotel in Panormos. The name Adrina comes from the legendary pirate of Skopelos.
At Adrina Taverna you will enjoy authentic Greek flavors at their best. Delicious salads, a variety of appetizers, grilled meats, lobster spaghetti, fresh fish and seafood as well as daily traditional dishes. Have a great time !!you will enjoy authentic Greek flavors at their best. Delicious salads, a variety of appetizers, grilled juices, fresh fish and seafood as well as daily traditional cooks. Have a great time !!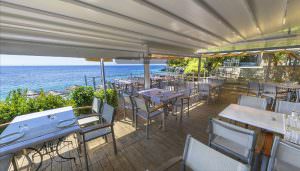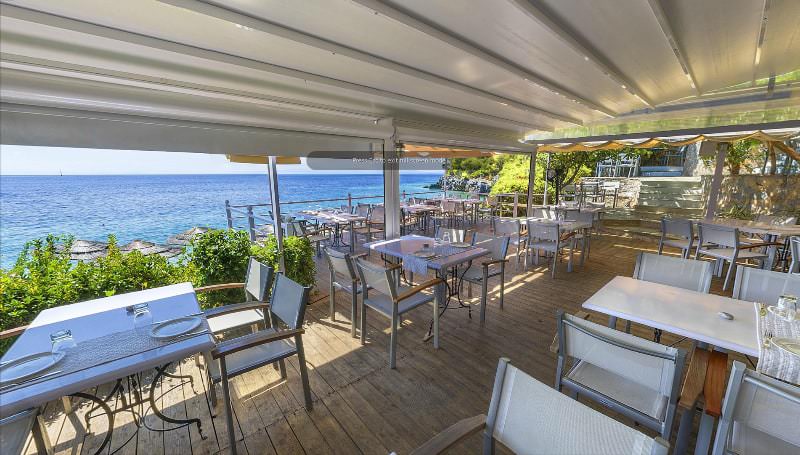 Adrina Taverna, Panormos Skopelos Tel. +30 24240 23373 
Furthermore, another nice seaside restaurant is Korali restaurant in Agnontas port.
Being in Skopelos town you should visit for a delicious meal mouses restaurant, ta kymata taverna, zoupa and olivo  restaurants for more ethic options.
On Elios port there are also many options for authentic greek food. Captain Spyros Taverna and Vaggelis Taverna  are very popular tavernas in the area.
CHEESE PIE: The most popular dish in Skopelos local kitchen is the Cheese Pie. The special feature of the authentic Skopelos cheese pie is its spiral-shaped, snail-like shape. Therefore, the traditional cheese pie of Skopelos is twisted, filled in with goat's cheese, fried with a very thin sheet, always roll on by hand.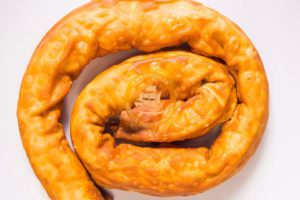 PLUMS: Skopelos is also famous for its excellent quality plums (prunes) that has been producing for over two centuries. The locals use the plums in the kitchen in many versions, in main dishes cooked with meat or fish, in in spoon sweets (avgato), in jams, desserts, dried and liqueurs.
OLIVE OIL: Skopelos produce excellent quality low-acid extra virgin olive oil and olives. The locals use their own way of production, which doesn't requires second pressing or any other mixing.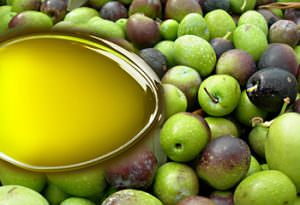 HONEY: Skopelos honey is organic and beekeepers keep to use only traditional wooden beehives to raise bees. Moreover, Skopelos island fulfil the best conditions for the production of quality honey and its products.
WINE: According to mythology the first inhabitants of Skopelos were the brothers Stafylos and Peparithos. Sons of god Dionysos, god of vineyards and wine and Ariadne (princess of Crete). Therefore, this legend just confirms the good taste and aroma of Skopelos wine since ancient times.
COFFEE, DRINK AND FUN IS SKOPELOS
We have already discuss that Skopelos is a peaceful island. That does not mean that this beautiful island has a lack of entertainment choices. Since there are many trendy place to enjoy your cafe and drink.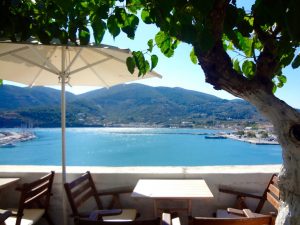 You can visit cafes and bars that satisfy all tastes in the settlements of Skopelos island, like Chora, Elios, Glossa and Loutraki. So, although Skopelos has gained the reputation of a tranquil family island, it does not lack cafes and bars. You can experience unique moments of fun.
If you are a fan of Jazz and Rock then go to Platanos, Mercurius or Oionos.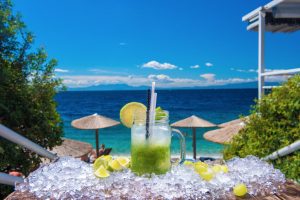 To enjoy traditional music go directly to Anatoli taverna. At Kimata taverna, Kyratso and Molos you also have the opportunity to listen to greek mpouzouki!. 
To have a cocktail overviewing the sea we recommend  Skala Cocktail Bar and Vracho Bar. 
For "crazy" nights there are Exodos Club and La Costa.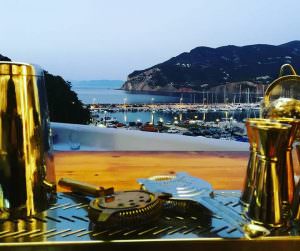 Ntokos organizes great parties with loud music while, ScrewDriver and Paraporti put rhythm to Chora's alleys. 
Moreover there are plenty nice cafes on Skopelos beach.
In Elios you should visit Palataki Bistro Bar. In Glossa and Loutraki you should visit Pixida,  p'sarakia and monogramma for a drinks and whatever it may follow..
HAVE A NICE HOLIDAY!!!
AFTER ALL SKOPELOS IS THE PLACE TO LOVE!!!
Skopelos.com – Skopelos Blog
Author – Adrina Hotels Skopelos – www.Adrina.gr 
www.AdrinaBeach.com – www.AdrinaResort.com