This post is also available in: Ελληνικά (Greek)
JAZZ ENTERTAINMENT SKOPELOS, NIGHTLIFE IN SKOPELOS, JAZZ MUSIC IN SKOPELOS , OIONOS SKOPELOS, PLATANOS JAZZ BAR SKOPELOS, MERCURIUS SKOPELOS, MERCURIOS SKOPELOS, BARS SKOPELOS, CAFE SKOPELOS, JAZZ BARS SKOPELOS , JAZZ MUSIC IN SKOPELOS, BARS IN SKOPELOS, SKOPELOS BLOG, SKOPELOS BLOGSPOT, SKOPELOS BLOGGING, SKOPELOS BLOGS, SKOPELOS BLOGGERS
THE JAZZ NIGHTS OF SKOPELOS,
JAZZ BARS
One of the many surprises that Skopelos hides is its Jazz side. Skopelos gives you unforgettable Jazz nights, fun and relaxed nightlife! The best places to enjoy Jazz Notes are the following three.
Oionos – Blue Bar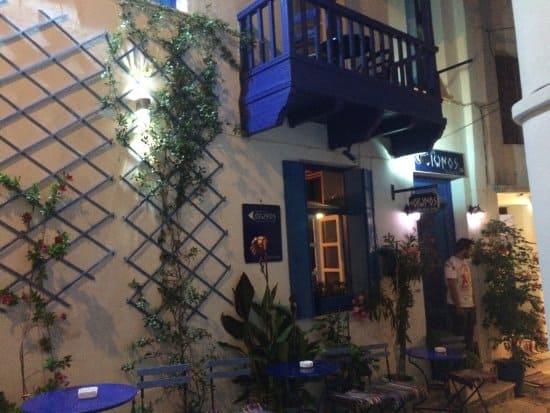 Hidden in the picturesque cobblestones of Skopelos, Oionos the Blue Bar has been established in Skopelos Town for many years.
In Oionos the blue bar you will enjoy "cool" jazz sounds that harmonize perfectly with the island color and the nightlife of Skopelos.
The fully updated bar cellar is also impressive. The cocktail list is broken down by key ingredients so you can decide quickly as the list is really long.
Inside the bar, the separate set of the bar creates an intimate atmosphere. The tables are out in the alley, on the steps leading to the Oionos Blue Bar.
It is a warm place, with its own character that has dynamically put its personal touch on Skopelos nightlife. Skopelos Oionos the Blue Bar has a timeless value in Skopelos with many loyal fans.
At Oionos the Blue Bar, nightlife gets more jazz.
Platanos Jazz Bar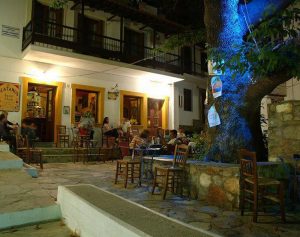 At the edge of the picturesque Skopelos Chora, just opposite the old harbor is an age-old plane tree. Under its shade, you will find the Platanos Jazz Coffee Bar. It is there for many years. At Platanos you can enjoy coffee, juice, soft drinks, light snacks, drinks, and cocktails all day long.
The magic part of Platanos jazz bar is the musical journey. Skopelos nightlife culminates in its authentic rock jazz tunes.
Platanos jazz bar Skopelos has not diminished in quality over time. The service remains impeccable and the atmosphere warm. Therefore, the fans always stay faithful to their favorite Jazz Bar.
The evening drink is an unforgettable experience at Platanos jazz bar.  The original cocktails combined with rock jazz sounds and friendly service make it a place for fun and relaxation.
Mercurius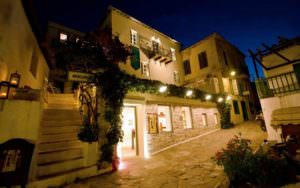 Mercurius Bar Gallery has been operating since July 1997 and is centrally located in Skopelos Town. From summer 1997 to the present, it fascinates visitors by putting unique color and jazz notes in Skopelos nightlife.
Mercurius Bar offers idyllic views to the old port of Chora from its lovely terrace.
Mercurius Bar Gallery in Skopelos Town has loyal fans.  Visitors will be easily falling in love with the magnificent atmosphere and the alternative point of view of the bar. You will be amazed by the rich variety of drinks and cocktails, as well as the remarkable wine labels.
Moreover, the chillout, lounge music options are fully in tune with the cozy atmosphere of the bar. Enjoying a cocktail at Mercurius Bar Gallery feeling like traveling to the world jazz music scene. Because of the exceptional sounds that perfectly accompany your drink.
Skopelos.com – Skopelos Blog
Blog.Skopelos.com – Skopelos.com/Blog
Author – Adrina Hotels Skopelos – www. Adrina.gr 
www.AdrinaBeach.com – www.AdrinaResort.com