This post is also available in: Ελληνικά (Greek)
SKOPELOS BLOG, SKOPELOS BLOGSPOT, SKOPELOS BLOGGING, SKOPELOS BLOGS, SKOPELOS BLOGGERS, VAKRATSA MANSION, CULTURE SKOPELOS, SIGHTSEEINGS SKOPELOS, TRADITIONS AND CUSTOMS SKOPELOS, MUSEUMS SKOPELOS, Vakratsa Mansion Skopelos, the Museums in Skopelos, Culture Skopelos, culture center, art exhibitions, must see in Skopelos
MUSEUM OF SKOPELOS
Skopelos belongs to the Northern Sporades cluster. It is considered the greenest island in the Aegean since Skopelos is covered by 80% of pine forests. In addition to its natural beauty, Skopelos has also a cultural heritage. It is an island with many traditions and customs as well as various legends. Skopelos has a strong cultural character and several museums present it.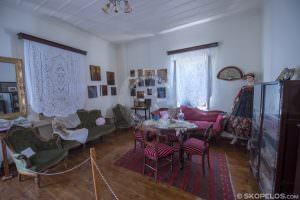 Vakratsa Mansion is located in the neighborhood of Agios Michael in Skopelos Chora just above the beach. The mansion itself was donated by Antigoni Vakratsa of the Vakratsa – Rembaki family in 1995 to the municipality of Skopelos with the ultimate goal of becoming a museum. As it happened in the year 2001. A visit to this museum is an enjoyable time journey.
The Vakratsa Mansion is a typical three-story mansion of the last century. Specifically, it is an 18th-century house that absolutely illustrates that time. The mansion belonged to the scholar, Senator, and Member of Parliament Stamatis Vakratsa. Particularly impressive is the backyard of the house with the palm tree dominating in the middle.
VAKRATSA FAMILY
The Vakratsa family donated not only their home but also its rich content. You will have the opportunity to admire the valuable heirlooms and personal belongings of the Vakratsa family such as carved handmade furniture, priceless paintings, traditional women's costumes, rare books, embroidery, embroidery, porcelain, household utensils, and more.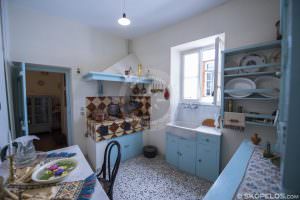 The doctor, Senator Stamatis Vakratsas, is said to have summoned great personalities of the time in this house. Important political debates took place in the dining room of the Mansion, involving Eleftherios Venizelos, General Velissarios, and even Nicolas Plastiras. Great intellectual scholars such as Kostis Palamas and Alexander Papadiamantis have also visited the mansion.
Well, the description that perfectly matches the Vakratsa Mansion is a cultural center.
Moreover, in the Vakrasa mansion still are the medical instruments and diplomas of the doctor Stamatis Vakratsas and his daughter of Antigoni Vakratsa, also a doctor. In fact, Antigoni Vakratsas was an active member of Alexander Fleming's famous team. Mr. Fleming is famous worldwide since the discovery of penicillin.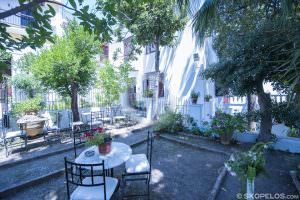 CULTURAL CENTRE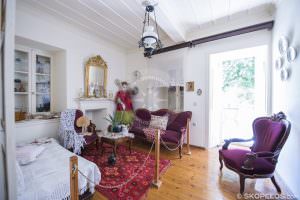 Vakratsa Mansion is much more than a museum. It is a cultural center. In fact, the Municipality of Skopelos makes full use of the area, as various cultural events often take place there. Book presentations, painting exhibitions, art exhibitions, guided tours, and much more. One year, in the framework of the 5th Festival of Traditional Dances "Diamantis Palaiologos", he hosted the Playmobil collection of local costumes by Petros Kaminiotis, since the traditional bridal costume was prominent.
To conclude, one of the must-sees in Skopelos is the Vakratsa Mansion.
Skopelos.com – Skopelos Blog
Blog.Skopelos.com – Skopelos.com/Blog
Author – Adrina Hotels Skopelos – www. Adrina.gr