This post is also available in: Ελληνικά (Greek)
SKOPELOS THESSALONIKI, THESSALONIKI SKOPELOS, SKOPELOS BY BOAT, HOW TO GET TO SKOPELOS BY BOAT, TRAVELING TO SKOPELOS, HOW TO GET TO SKOPELOS FROM THESSALONIKI, ROUTES, TICKET PRICE, ITINERARIES, TIMETABLES, PORTS, SKOPELOS, LOUTRAKI, GLOSSA, THESSALONIKI MACEDONIA,  NORTHERN SPORADES, SEAJETS, SKOPELOS BLOG, SKOPELOS BLOGSPOT, SKOPELOS BLOGGING, SKOPELOS BLOGS, SKOPELOS BLOGGERS
TRAVELING FROM THESSALONIKI TO SKOPELOS
The Port of Thessaloniki, in northern Greece, is considered one of the largest seaports in the Eastern Mediterranean. Thessaloniki is the capital of Macedonia and is also known as the bride of Thermaikos.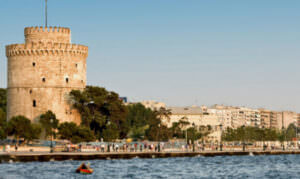 After a gap of a few years, the port of Thessaloniki has been reconnected with the Northern Sporades with direct routes.
The shipping company Seajets Company, from the summer of 2021, has reintroduced ferry services from Thessaloniki to the ports of the Northern Sporades. (Skiathos, Skopelos, Alonissos).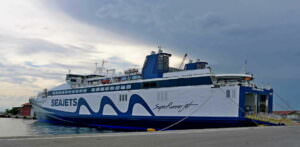 The Seajets Company, specifically with the Super Runner Jet Speed Boat will start the itineraries on the 6th of June until the 11th of September.
Please be informed that The Runner Jet Speed Boat accepts both passengers and vehicles. The trip duration is approximately 4 hours and 5 minutes. Skopelos' most used ports are Glossa and Skopelos. In cases of bad weather conditions, the boats may stop at Agnontas port.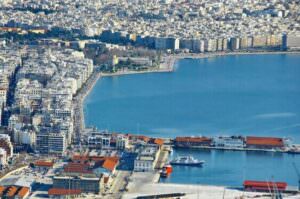 PRICES
PASSENGER:
SILVER: 48€
PLATINUM:96€
Infants and children up to 4 years travel for free, children from 5 -10 years have a 50% discount.
The student discount is eligible only for students of Greek Public Universities.
CAR:105,90€
MOTO:21,10€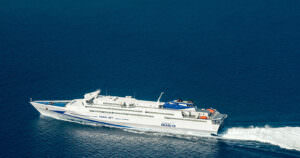 NORTH GREECE-THESSALONIKI- VOLOS- NORTHERN SPORADES
Another way to travel from North Greece and Thessaloniki to the Northern Sporades and Skopelos is through Volos.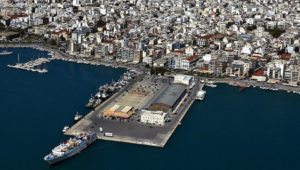 Distance Thessaloniki – Volos
Thessaloniki is 207 km from Volos.
With your own vehicle
To arrive from Thessaloniki to Volos, with your own vehicle, you will need approximately 2 hours. There are also tolls on the route. The total cost of tolls is currently 13.01 €. Toll costs may change.
There are two other routes to follow, with small mileage deviations.
Thessaloniki – Volos, 212 km, duration 2 hours and 36 minutes, toll cost 9,10 €.
Thessaloniki – Volos, distance 215 km, duration 2 hours and 42 minutes, toll cost 11,80 €.
THE COST OF TOLLS MAY VARY
By KTEL
If you DO NOT have your own vehicle, you can move with VOLOS KTEL or THESSALONIKI KTEL
The cost is 20,20 € on the simple route and 35,00 € in return.
The KTEL bus takes about 2 hours and 20 minutes. The KTEL bus goes directly without stops.
Useful Phone Numbers
KTEL VOLOS Address: Sekeri and Zachou, Volos
Tel.: +30 24210-33254, +30 24210-25527
Email: ktelvol@gmail.com
Website: http://ktelvolou.gr
http://ktelvolou.gr/el/routes/map/&map=greece
KTEL THESSALONIKI MACEDONIA Address: Lagkada 16, Thessaloniki
Tel.: +30 2310 510835, +30 2310 595400
Email: contact@ktelthes.gr
Website: https://ktelthes.gr
https://ktelthes.e-ticketing.gr
General Information for traveling to Skopelos from Thessaloniki
SEAJETS phone number: 210 7107710, +30 210 4121001, e-mail: reservations.dpt@seajets.gr
If you would like to get more information about the ports please contact:
Port Authority of Thessaloniki Tel:

+30 231 332 5800

Port Authority of Skopelos Tel: +3024240 22180
Under the Port Authority of Skopelos Tel: +3024240 33033
Skopelos.com – Skopelos Blog
Blog.Skopelos.com – Skopelos.com/Blog
Author – Adrina Hotels Skopelos – www. Adrina.gr