National Holidays Skopelos, Skopelos 28 October, Skopelos No Celebration, Skopelos National Celebration, Anniversary of No, No Anniversary, national parade, greek liberation, SKOPELOS NORTHERN SPORADES, GREECE, SKOPELOS BLOGSPOT, SKOPELOS BLOGGING, SKOPELOS BLOGS, SKOPELOS BLOGGERS, SKOPELOS BLOG
The celebration of October 28th in Skopelos
What do Greeks celebrate on 28 October?
Usually, it is celebrated the end of a war and the coming of peace. In Greece, on October 28th they celebrate the country's epic entry into the 1940 war and the Greek NO to the unconditional surrender to the Italians.
Specifically, on 28 October 1940, the Italians sent an ultimatum to Greece and Prime Minister Ioannis Metaxas demanding:
1. the free passage of their troops across the Greek-Albanian border
2. the cession of certain key points, such as airports, ports, etc.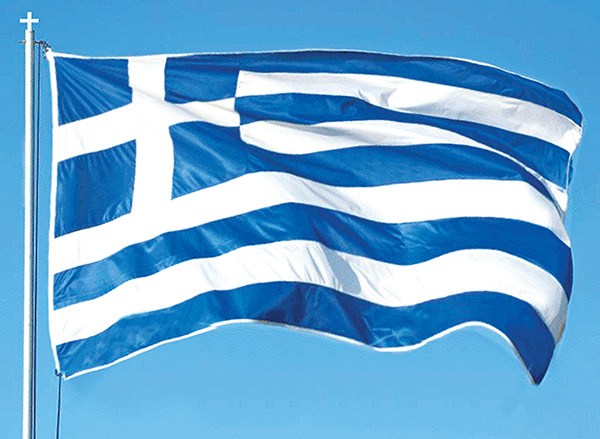 The Prime Minister, taking very seriously what most people wanted, replied with a resounding ΝΟ. With the OXI, the Greeks entered World War II.
In fact, the celebration is about the whole 1940s epic and Greece's successes in World War II.
It is no coincidence that Churchill seems to have said that "From now on we will not say that Greeks fight like heroes, but that heroes fight like Greeks".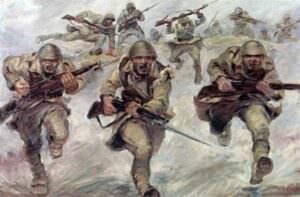 It is also noteworthy that the "ΝΟ" anniversary began to be celebrated from the very first year, despite the fact that Greece was under Italian-German occupation.
Greeks decorate the roads with Hellenic flags. Students in all parts of Greece are parading to praise their brave ancestors, as the municipal bands play songs from the 1940s and the national anthem. Officials from each place also place wreaths of honor and glory in memory of the soldiers who perished in the war.
Skopelos Celebration of NO
As in all of Greece and the Greek Nation, the locals and tourists on the island of Skopelos will celebrate with honor and glory the heroic NO to the unconditional surrender to the Italian troops.
In Skopelos, the flag bearers and escorts wear the traditional costumes of their place. The rest are dressed in national costumes or in white and blue, the colors of the Greek flag.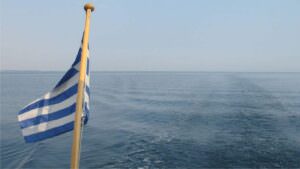 The day of the 28th begins with the church bells ringing joyfully. Then a group of students raises the Greek flag at the Heroes' Monument.
After the official Doxology in a village church, the laying of wreaths at the Monument of Heroes is completed.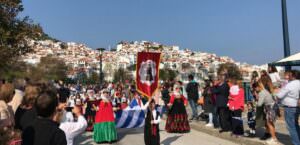 Afterward, the parade of students from Skopelos schools and the Skopelos Cultural & Folklore Association follows.
The student parade takes place in three central points. On the beach of Chora Skopelos, in the village of Neo Klima, and in the village of Glossa.
After the parade, people start dancing traditional dances.
Skopelos.com – Skopelos Blog
Blog.Skopelos.com – Skopelos.com/Blog
Author – Adrina Hotels Skopelos – www. Adrina.gr