SKOPELOS BEACHES, BEACHES OF SKOPELOS, BEST BEACHES ON SKOPELOS, BEACHES SKOPELOS, KASTANI BEACH, MILIA BEACH, STAFILOS BEACH, VELANIO BEACH, ANDRINES BEACHES, AGIOS IOANNIS IN KASTRI BEACH, STAFYLOS BEACH, BEACHES ON SKOPELOS, SKOPELOS BLOGSPOT, SKOPELOS BLOGGING, SKOPELOS BLOGS, SKOPELOS BLOGGERS
SKOPELOS BEACHES, 5 + 2 BEST BEACHES ON ISLAND
Everything about Skopelos is beautiful but the one thing that will truly remain unforgettable is the beaches.
The amazing blue of the sea, the green pine trees that on many occasions touch the water, and the surrounding scenery evoke the senses in a most memorable way. I could just suggest to you to drive in a straight line in any direction and as soon as you reach the sea you will have found the beach of your dreams.
In the list below, however, I will present 5+2 of my favorite beaches of Skopelos – and of all the world. I truly hope that you are able to visit and enjoy each and every one of them.
Kastani beach is easily accessible by car and has comfortable parking. This sandy beach with its beautiful clear water has a starring role in the movie Mamma Mia. It is a place of impeccable beauty with pine trees winding up almost in the water. Kastani beach on Skopelos is very organized with all the necessary amenities.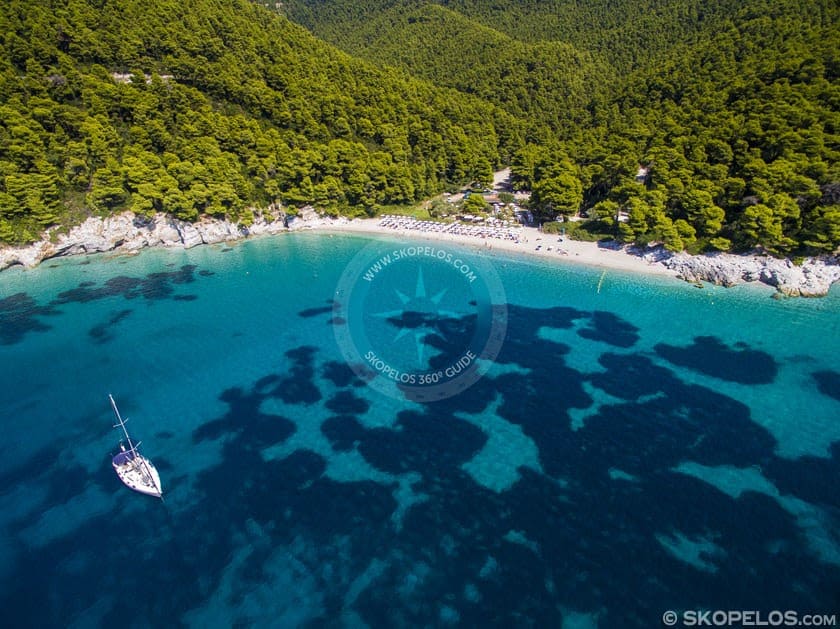 Milia is one of the most popular beaches in Skopelos. Located a kilometer away from Panormos this large, sandy beach has a spectacular view of the little island of Dasia. A row of rock formations naturally divides the beach in half. The left side attracts most visitors since it has a beach bar, sun loungers, and umbrellas whereas the right side is quieter.
When it is windy the sea gets quite rough so it is not recommended for families with small kids.
You can easily access at milia beach on Skopelos by car or bus, parking is easy and there is a taverna for those who would like to have lunch or dinner.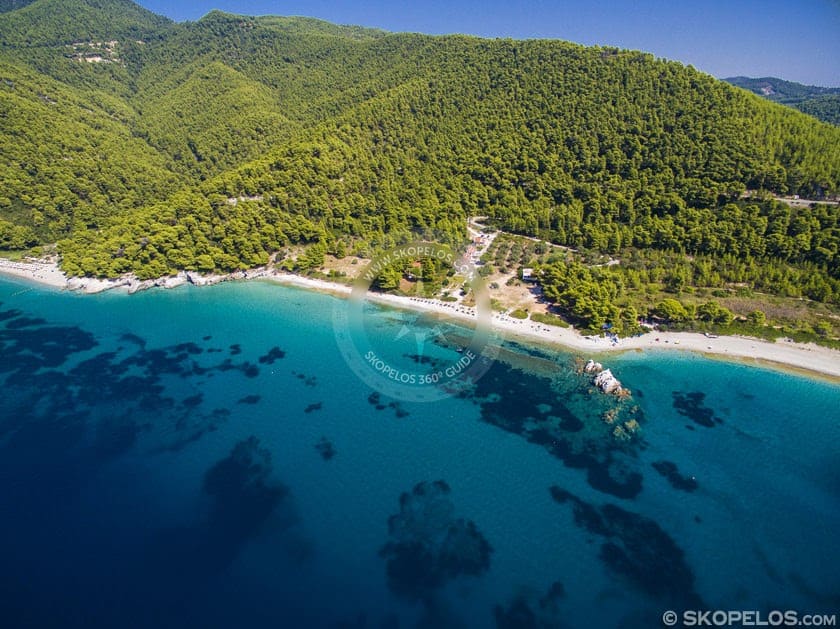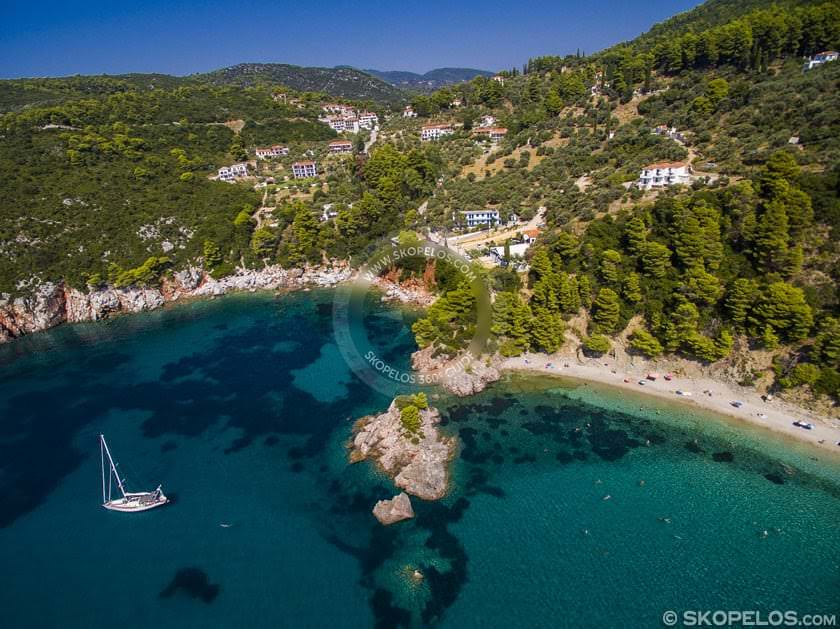 Stafylos beach on Skopelos is a beautiful beach only 4 km away from Skopelos town. It is a beautiful bay surrounded by pine trees. The beach is sandy and the water is a mesmerizing green-blue. Stafilos beach is a well-organized beach with sunbeds umbrellas and a beach bar. Lifeguard services are also available. Bear in mind that access to the beach includes a steep downhill and steps after you get there by bus. Because it's well protected from the north wind, makes Stafylos beach very popular!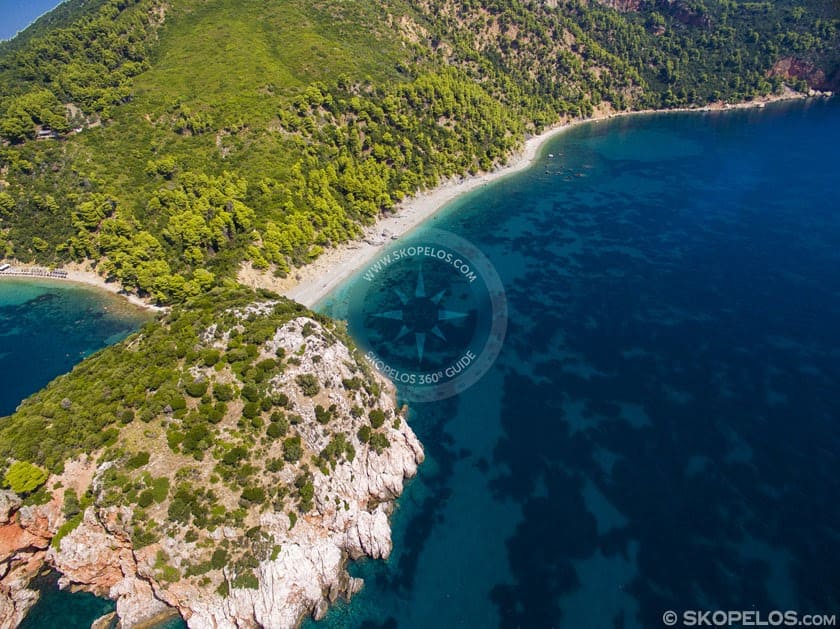 Velanio is an amazing pebble beach that is accessible on foot from Stafilos beach. Swimming at Velanio is an experience in itself. The water is deep blue and the only thing in sight is the beach and the side of the hill full of pine trees. It's a large beach that is divided by a large rock formation. The beach beyond the rocks is the official nudist beach of the island.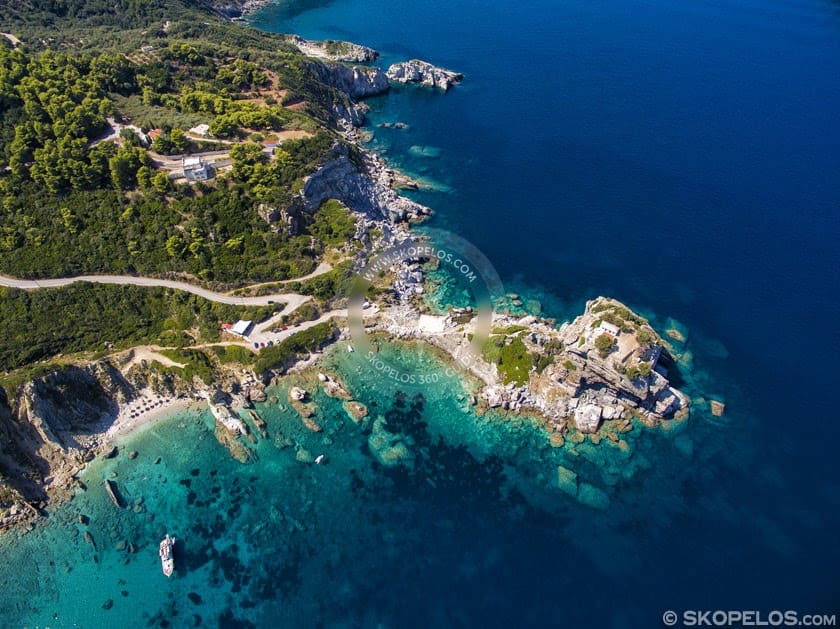 Do you want to feel like you are in the middle of the Aegean Sea? Do you wish to visit the place where Dona Sheridan finally married her true love? Would you like to sing at the top of your lungs "The winner takes it all" by Abba and not be misunderstood? Then you must visit Agios Ioannis at Kastri, the small church on the top of a steep rock, at the northeast side of Skopelos Island. Not much should be said. If you visit Skopelos you MUST visit Ag Ioannis.
This is Mamma Mia's most famous landscape. They call it "Meteora" of the sea. On top is a very beautiful, tiny church.
Make sure you have your camera ready to take many selfies with spectacular backdrop views and be the envy of friends and family that could not join you on this holiday!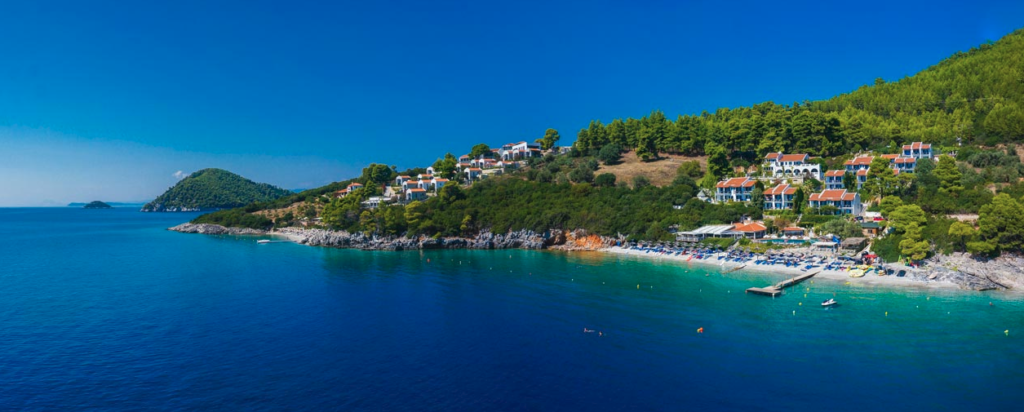 And Last but not least, my favorite beach I have ever been to is Adrina beach(es). The Andrines are a truly unique experience on their own!  Two well-organized beaches are located just below the Adrina Beach Hotel and the Adrina Resort & Spa. There are also many little coves in the same row with crystal blue waters and lush greenery dipping into the sea.
Skopelos.com –  Skopelos Blog
Blog.Skopelos.com –  Skopelos.com/Blog
Author –  Adrina  Hotels Skopelos – www. Adrina.gr 
www.AdrinaBeach.com –  www.AdrinaResort.com
Adrina
Agios Ioannis at Kastri
agnontas
Beaches
best beaches on skopelos island
glisteri
kastani
milia
Skopelos
skopelos beaches
stafilos
Velanio
Latest Posts
Fresh articles from the blog
What are you interested in?
Discover something nice