SKOPELOS BLOG, SKOPELOS BLOGSPOT, SKOPELOS BLOGGING, SKOPELOS BLOGS, SKOPELOS BLOGGERS,  FOLKLORE MUSEUM OF SKOPELOS, MUSEUMS SKOPELOS, CULTURE SKOPELOS, SIGHTSEEINGS SKOPELOS, TRADITIONS SKOPELOS, CUSTOMS SKOPELOS, TRADITIONAL COSTUME OF SKOPELOS, TRADITIONAL BRIDAL COSTUME OF SKOPELOS, POTTERY IN SKOPELOS, MICRO SHIPBUILDING
MUSEUM OF SKOPELOS
Skopelos is an island with an excellent cultural heritage. Ιmaginative myths enrich the island's history. Traditions and customs make life in Skopelos very interesting. So, not only you can visit the magnificent beaches but you can also visit Skopelos museums.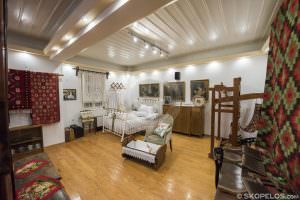 Folklore Museum of Skopelos (tel. +30 2424023494) is located in Chora, near the OTE building. It has been operating officially since August 1992.  Since the doors to the public opened officially that date.  
The Museum is actually in a three-story building, an old mansion dating back to 1795. The Hadjistamatis – Nikolaidis family donated this particular house to the Municipality of Skopelos. This building suffered a lot of damage from the earthquakes of 1963. However, the authorities of Skopelos restored the house in 1971. While they focus on the maintenance of the traditional color both in its interior and exterior.
Skopelos Chora has been characterized as a "traditional settlement", as it has maintained its original style over the years.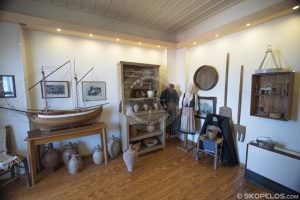 Museum
Furthermore, the Folklore Museum of Skopelos is a fully equipped mansion of the last century that exudes the lifestyle of a daily family. The Skopelites gladly donated textiles, embroidery, paintings, tools, furniture, and everyday items, and furniture. Nicolaides's family also donated to the museum a large part of the traditional collection.
On the ground floor of the Museum, you will admire the traditional bridal costume of Skopelos and all the dowry the bride had prepared. There are still many women and black and white photographs. The woman keeping the Greek flag at the 1996 Olympics in Atlanta wore the traditional bridal costume of Skopelos.
On the upper two floors of the building, you will have the opportunity to see both the collection of traditional pottery IN Skopelos by the Rodios family and the collection of embroidery by the Georgara family.
The authentic collection of the Folklore Museum of Skopelos is enriched with the popular carving knives of Yannis Lemonis. This artist is famous for his knives, which have an animal horn handle. They also engrave on their metal the quartet poems dedicated to us by our great poet George Seferis.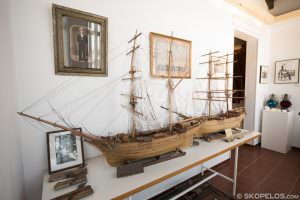 Micro shipbuilding is well-known in Skopelos. The popular shipbuilder Mr. Triantafyllos Boudalas has donated an excellent collection of handmade boats. His most important work is the representation of the tarsana, terminology for the traditional shipyard.
All the items on display at our museum showcase folk art and the island's traditional customs. Moreover, all the furnishings reflect the lifestyle and culture of Skopelos during the last century.
The Folklore Museum of Skopelos operates morning and afternoon. Continuing with the specific museum involves actually leading in various cultural events and educational programs.
Skopelos.com – Skopelos Blog
Blog.Skopelos.com – Skopelos.com/Blog
Author – Adrina Hotels Skopelos – www. Adrina.gr 
www.AdrinaBeach.com – www.AdrinaResort.com
folklore museum
folklore museum skopelos
museums skopelos
λαογραφικό μουσείο
λαογραφικό μουσείο σκοπέλου
μουσείο σκόπελος
Latest Posts
Fresh articles from the blog
What are you interested in?
Discover something nice