This post is also available in: Ελληνικά (Greek)
SOUVLAKI SKOPELOS, RESTAURANTS AND TAVERNS SKOPELOS, FOOD SKOPELOS, SUMMER SKOPELOS, VACATIONS SKOPELO, HOLIDAYS SKOPELOS, souvlaki in Skopelos, grill house Skopelos, To Louki, O Nikos tou Ralli, Skopelos Magali, Vasiliki Taverna, Grill House O Mylos, SKOPELOS BLOG, SKOPELOS BLOGSPOT, SKOPELOS BLOGGING, SKOPELOS BLOGS, SKOPELOS BLOGGERS
4+1 RESTAURANTS FOR  DELICIOUS SOUVLAKI IN SKOPELOS
You will spend an unforgettable summer vacation in the lush North Sporades diamond on beautiful Skopelos. Both the natural landscape and the beautiful beaches will fascinate you. You will also be pleasantly surprised by the delicious temptations of the island as there are many choices on the subject of good food. And when you are in Greece the food synonym is souvlaki. A delicious, large and satisfying solution to your hunger! Souvlaki in Skopelos! So you will enjoy a good souvlaki in the following places: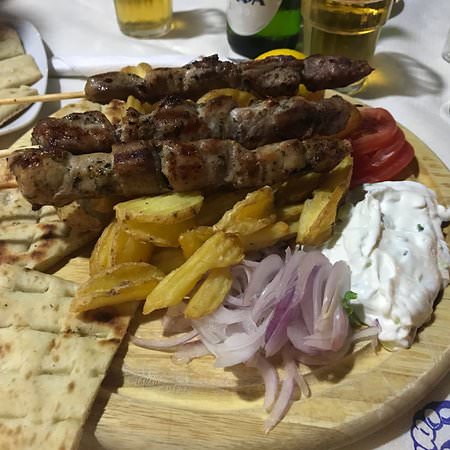 TO LOUKI IN GLOSSA SKOPELOS (TEMPORARILY CLOSED)
"Louki" is located in the picturesque village of Glossa Skopelos. Its location is ideal as it gives you magnificent Aegean views and idyllic sunsets. "Louki" offers a beautiful, clean and attentive environment. Without question, you will be completely satisfied with the menu and the quality of the dishes. The meats he uses are all of excellent quality. You will eat very good pork and chicken "souvlaki" and an incredibly tasty and crunchy "gyro" pork and chicken. Amazing fries, hand cut homemade tzatziki and fresh salads. Tasty wrap souvlaki, crunchy "gyros", perfect service and incredible view!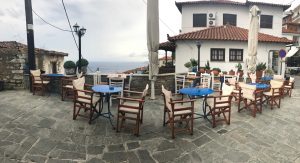 To Louki, Glossa Skopelos Tel: +30 24240 34210
TAVERN "O NIKOS TOU RALLI"
Nikos Ralli's Tavern is located in the graphic village of Neo Klima, also known as Elios of Skopelos. The seaside Neo Klima is a beautiful village with a beautiful port. In this port you will find the tavern.  At Nikos Ralli's Tavern you will feel like an honored guest in a friendly home. Clean environment, warm service and authentic Greek flavors. Wrapped gyros pork, with pork or chicken souvlaki, with burger and sausage. The portions of well-cooked meats are rich and will surely satisfy your hunger. You should try the frying pan and the "skepasti" with "gyro".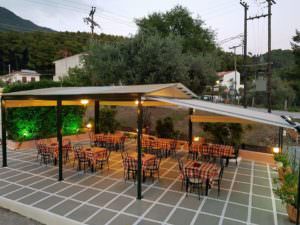 O Nikos tou Ralli, Neo Klima, Tel: +30 24240 27964
You will find the grill house – souvlaki "Magali"  in Skopelos Town, a few meters from the port, in the square with the lush plane tree. Magali offers you an intimate environment and fast service. The natural shade that gives the plane tree creates beautiful climate. The food is delicious, generous portions and good quality meat. You will enjoy meats both grilled and spit on. Amazing wrapped souvlaki, roasted chicken and pork souvlaki and as well excellent gyros pork and chicken. You can also make your own sandwiches by adding ingredients of your choice. You will still enjoy fresh salads and a variety of appetizers.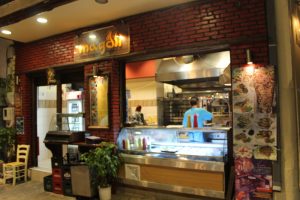 Magali, Skopelos Town, Tel: +30 24240 22322
Vasiliki taverna is located on the magnificent Panormos beach. This location gives you an idyllic landscape where the green pines embrace the blue sea. Vasiliki Taverna is a family Greek tavern that offers excellent service, well-cooked traditional dishes, friendly and clean environment. Here you will enjoy delicious cooked dishes such as moussaka, meatballs and chicken with plums, as well excellent quality grilled meats. Definitely try the wrap souvlaki with exquisite pork gyros. Also on the menu you will find a variety of tasty appetizers, such as tzatziki and the traditional Skopelos cheese pie. As well as fresh salads with delicious vegetables.
"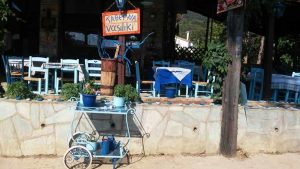 "Vasiliki" Taverna, Panormos Skopelos, Tel: +30 698 694 0316
TAVERN GRILL HOUSE "O MYLOS"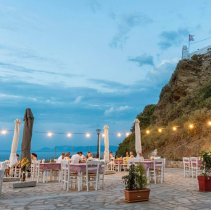 Below the imposing castle of Skopelos you will find the tavern grill house "o Mylos". The view from Mylos is just breathtaking as you admire the endless blue of the Aegean. But there are other "serious" reasons to make a visit to the grill – house. The main reason is the delicious, tasty wrap souvlaki that will lift your senses. Whether you choose it with gyros pork or chicken or with pork or chicken souvlaki, the satisfaction will be great. Do not miss to try the spit meats as well. Both "kontosouvli" and chicken are a delicious feast. Finally, you will be thrilled with the friendly and clean environment and the warm welcome of the owners.
"O Mylos", Skopelos Town, Tel: +30 24240 22099
Souvlaki in Skopelos, the traditional greek menu!
Skopelos.com – Skopelos Blog
Blog.Skopelos.com – Skopelos.com/Blog
Author – Adrina Hotels Skopelos – www.Adrina.gr