This post is also available in: Ελληνικά (Greek)
SKOPELOS SIGHTSEEINGS, PLACES TO VISIT, SKOPELOS GREEN ON BLUE, SKOPELOS SUMMER, SKOPELOS NORTHERN SPORADES, SKOPELOS ΜΑΜΜΑ ΜΙΑ, PLACES TO VISIT SKOPELOS, AI GIANNIS KASTRI, PANAGITSA PYRGOU, MONASTERIES, ADRINA HOTELS ON SKOPELOS ISLAND, SKOPELOS DIVE CENTER, BEACHES SKOPELOS, SKOPELOS BLOGSPOT, SKOPELOS BLOGGING, SKOPELOS BLOGS, SKOPELOS BLOGGERS, SKOPELOS BLOG
10 STOPS TO DO IN SKOPELOS
SIGHTSEEINGS IN SKOPELOS
Discover the top 10 must see destinations in Skopelos, the greenest island in the Aegean. There are interesting sightseeings in Skopelos. Plenty majestic places to visit.
Ai Giannis at Kastri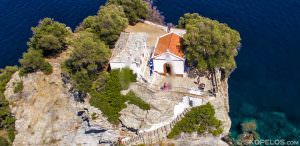 The magnificent picturesque chapel of Ai Giannis in Kastri became popular after the Hollywood film Mamma Mia !. The protagonists of the film Meryl Streep and Pierce Brosnan married there. This small chapel (ai giannis kastri skopelos) was built in the 18th century on a 100m rocky hill. To reach the chapel you need to climb 106 steps. Though, the dazzling view of the Aegean Sea to Alonissos will immediately compensate you!
ai giannis kastri skopelos is one of the must sightseeings in Skopelos.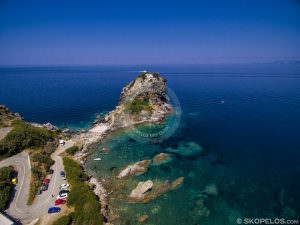 TIP:  Ai giannis kastri skopelos  church is about 30 km away from Skopelos Town. It takes 40 to 45 minutes by car to get there.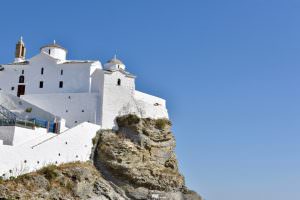 Panagitsa of  Pyrgos is now a registered trademark of Skopelos. To reach Panagitsa of Pyrgos you will climb several steps, but the view will compensate you immediately. On one side the vast sea and on the other Skopelos Chora.
The interior of the church of Panagitsa Pyrgos is just as imposing and beautiful as the whole landscape. The church, dating back to the 17th century, follows a complex four-tiered cross type. Indoors you will admire 18th and 19th century icons.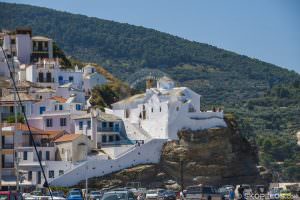 ΕΧΤΡΑ:  In Panagitsa Church, at the edge of Skopelos Chora, weddings and baptisms are held.
On the beautiful Skopelos island there are about 365 churches and monasteries, as the days of the year. Most of the monasteries are places you have to visit. The 123 churches and 15 monasteries are located in and around Skopelos Town.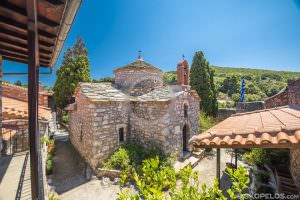 The monasteries are built in prominent places with magnificent views and all have a distinct architectural and historical interest. Most are on Mountain Palouki. Some of them are Sotiros Monastery, Agia Varvara Monastery and Agios Ioannis Prodromos Monastery .
ΕΧΤΡΑ: Νuns are especially friendly as they open the door to the public offering local delicacies, buns and amulets. Any offers from you are welcome. You will find a climate of dedication, sympathy and love. 
Adrina Hotels on Skopelos island are synonymous with affordable luxury and excellent summer vacation service. They are truly diamonds on Skopelos island. The four-star Adrina Beach and the five-star Adrina Resort and Spa are attractions to tourists. 
There is also a very interesting legend regarding Adrina.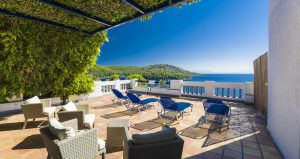 Built respecting the traditional architectural style and fully in harmony with the natural landscape, they promise to offer you a unique holiday. Adrina Hotels  on Skopelos island are located in Panormos area.
Great breakfast, organized private beach, excellent taverna and restaurants, swimming pools, play area, integrated spa are some of the services offered by Adrina Hotels on Skopelos island.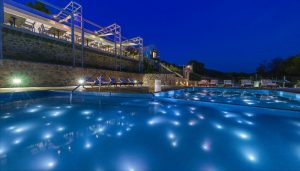 ΕΧΤΡΑ: To visit one of the Adrina Hotels restaurants you should have a reservation.
Anatoli
In Skopelos beats the heart of rebetiko songs. The island remains faithful to its music traditions. In Skopelos, in fact, you will not only hear well-known songs, but also some rebetika notes. The perfect place to enjoy this kind of music is Anatoli. The ouzeri of the well known musician Yiorgos Xintaris. He and his two sons Antonis and Thodoris guides you on a rebetiko musical journey. Bouzouki, baglama, guitar, clear voices without microphones. Anatoli is built on Skopelos Castle offering a dreamy view. Anatoli is one of the places to visit on Skopelos island.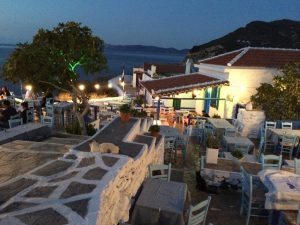 ΕΧΤΡΑ: In Anatoli you can drive either by the ring road or on foot, following a wonderful route through the streets of Skopelos but also by steps.
SKOPELOS DIVE CENTER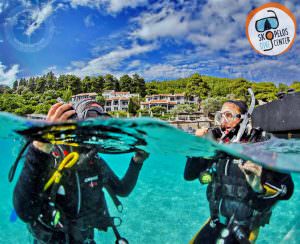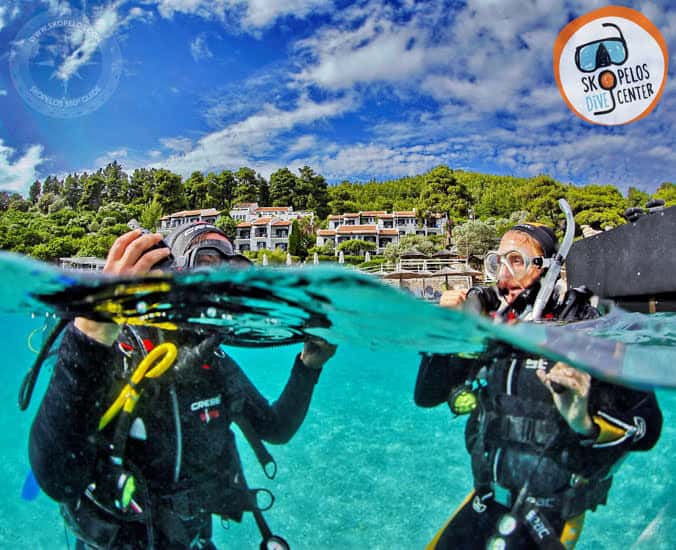 Scuba Diving and Snorkeling are popular water activities. Activities that combine love of the sea with exploration and adventure.
Τhe seabed of the island is also one of the sightseeings in Skopelos.
The conditions for Scuba Diving and snorkeling in Skopelos are ideal due to the clarity of the waters. Divers can admire the beauty of the sea and the underwater world. Skopelos, after all, has a rich underwater world as well as  the Christoforos shipwreck which is now accessible to divers.
In 2014 the Diving Center was added to the marine activities of Skopelos.
Skopelos Dive Center, is located in Skopelos Port and in Adrina Beach Hotel in Panormos.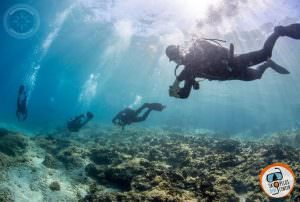 ΕΧΤΡΑ: Well-trained coaches will make you feel confident and dispel any doubts.
Kastani beach is in a distance of 15 km of Skopelos Chora. The beach has small pebbles and white sand. Kastani is a magnificent bay with pines that are literally rooted into the sea.  Moreover, the green to blue scenic creates some natural shade. The beach is a enchanting landscape of breathtaking beauty. Therefore, it's no coincidence that many scenes of the Mamma Mia movie were filmed here.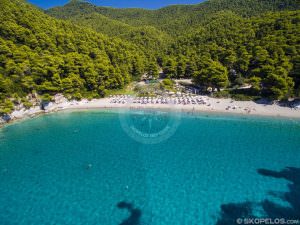 Kastani Beach is fully organized with umbrellas, sunbeds and a Beach Bar that organizes wonderful themed parties during the summer. Generally speaking all beaches in Skopelos have a majestic point of view.
ΕΧΤΡΑ: You will feel like a Hollywood protagonist, as many Mamma Mia scenes filmed here.
Milia Beach is probably the most popular beach of all the beaches in Skopelos and for many people the most beautiful. It is about 14 km from Skopelos Town. Furthermore, Milia offers also an exotic landscape with turquoise waters, small pebbles and pine green to complete the magnificent picture. A large rock separates Milia Beach in two parts. On the left you will find an organized Beach Bar, umbrellas, sun loungers and summer cocktails! While the families usually prefer the right side. In fact there is a beach bar with playground there.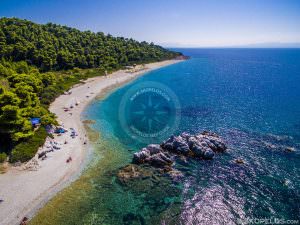 Opposite Milia beach is Dassia island. Milia beach is even suitable for snorkelling. There is also a taverna above the beach in case you feel hungry.
ΕΧΤΡΑ: Sunset, summer parties and clear water.
Limnonari beach is located 10 km from Skopelos Town. This beach, as all the beaches in Skopelos, is a dreamy landscape with crystal clear waters and white sand hugged by green pine trees. In fact, the legend says that Limnonari name was given by the Ancient Greek God of war ARIS (limni stands for the lake in greek). So the lake (limni) of Aris who fell in love with this beauty. Another version of the name is the small lake, since there are almost never waves in this creek.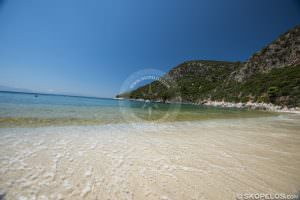 Limnonari is an organized beach with two picturesque tavernas, Limnonari Taverna and Apanemo Restaurant.
ΕΧΤΡΑ: The special bottom of the beach and the calcium plate you will find in the shallows of the beach.
If you are looking for an earthly paradise then visit Velanio Beach. In Velanio Beach the landscape consists of clear waters, white pebbles and pines that rise to the sea and extend to the coast.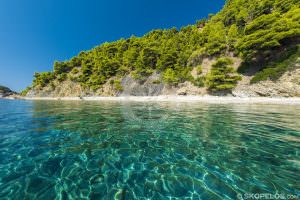 This magnificent place perfectly combines pine and sea. In fact, Velanio Beach is officially a nudist beach.
Velanio Beach is located next to Stafylos beach. You have to cross Stafylos beach and after the rock you will find it. Moreover, it is about 4.4 kilometers from Skopelos Town.
ΕΧΤΡΑ: It is the only nudist beach in Skopelos. Of all the beaches in Skopelos, on Velanio beach you will swim naked. 
Skopelos.com – Skopelos Blog
Blog.Skopelos.com – Skopelos.com/Blog
Author – Adrina Hotels Skopelos – www.Adrina.gr 
www.AdrinaBeach.com – www.AdrinaResort.com