SKOPELOS SAFE GUIDE, FISRT TIME SKOPELOS, SKOPELOS INTERNATIONAL TRAVELLERS, SUMMER IN SKOPELOS, VISIT SKOPELOS, VACATION IN SKOPELOS, HOLIDAYS IN SKOPELOS, SKOPELOS ISLAND, SKOPELOS ENTERTAINMENT, SKOPELOS SIGHTSEEING, SKOPELOS CULTURE, SKOPELOS FOOD AND DRINK, SKOPELOS RESTAURANTS AND TAVERNAS, SKOPELOS CAFES AND BARS, SKOPELOS ACCOMMODATION, HOTELS IN SKOPELOS, THE BEACHES OF SKOPELOS, SKOPELOS VILLAGES, SKOPELOS BLOG, SKOPELOS BLOGSPOT, SKOPELOS BLOGGING, SKOPELOS BLOGS, SKOPELOS BLOGGERS
Safe Guide for first-time international travelers to Skopelos!
Holidays and travel are always exciting ideas. Especially when the trip is international and particularly if you are traveling abroad for the first time, with friends or family. You seek adventure but also relaxation. If you are also going on a summer holiday you are definitely looking for the unique atmosphere of the Greek islands. The reason anyone visits the Greek islands during their summer holidays is for fun and relaxation.
However, for a summer vacation to be truly carefree, it is essential to have a plan beforehand regarding budgeting, safety, and security on the trip. Like other first-timers, you are eager to experience new adventures and are incredibly excited. That's great, but you need to understand that safety comes first. Therefore, you need to do the proper preparation and have a plan to follow.
So we're here to offer you our help along with your experience for a complete safe guide so you can have a safe and unforgettable trip.
Congratulations on planning your first trip to Greece! Skopelos is a beautiful island in the Aegean Sea, and you're in for a treat.
SAFE GUIDE- BASIC ADVICE
Creating an emergency plan before traveling to Skopelos from abroad can help you stay safe and prepared in case of unexpected situations. It is clever to research local emergency services, share your itinerary with a trusted person at home, update your family and friends about your travel plan, and have the important docs with you.
Getting to know your destination

is an essential part of travel, and Skopelos is no exception. Here are some tips to help you get to know Skopelos:
Learn about the history: Skopelos has a rich history, with evidence of human settlement dating back to the Neolithic period. Learn about the island's history by visiting archaeological sites and museums, or by reading books about the island's past.
Meet the locals: The best way to get to know a destination is through its people. Strike up a conversation with a local at a café or restaurant, or take a guided tour with a local guide.
Attend local events: Skopelos has several cultural events throughout the year, including music and dance festivals, religious celebrations, and more. Attending these events can help you get a deeper understanding of the island's culture and traditions.
Visit local markets: Skopelos has several markets where locals sell fresh produce, handmade crafts, and more. Visiting these markets can give you a sense of what daily life is like on the island.
Take a walk or hike: Skopelos has several walking and hiking trails that offer stunning views of the island's landscape. Walking or hiking is a great way to explore the island's natural beauty and get to know the environment.
Try local food: Skopelos has some delicious local specialties, including cheese pies, grilled octopus, and fresh seafood. Trying local food can help you get a sense of the island's culinary traditions.

 
Last but not least It is a good idea to notify your bank about your travel plans before traveling to Skopelos. Banks will prevent fraud alerts, they allow you to have access to funds and protect you in case of emergency. Once your bank has been informed of your period of absence, it will do everything possible to protect your account and protect your identity loss. This way it will not be alarmed when it detects transactions at an unknown location. To notify your bank about your travel plans, you can call the customer service number on the back of your debit or credit card, or you can log in to your online banking account and send a secure message to your bank.
Here are some tips for a memorable and safe trip  – Skopelos safe guide:
Plan ahead: Before you leave, research the island, the culture, and the weather so you know what to expect. Make a list of things you want to do and see, and create an itinerary for your trip.
Pack smart: Greece can be hot in the summer, so pack light, breathable clothes and comfortable shoes. Don't forget sunscreen, sunglasses, and a hat to protect you from the sun.
Pack A Small Travel Health Kit: Medical emergencies can happen at any time. Although modern medicine can be found anywhere, it is safer to prepare your own travel medicine kit.
Stay hydrated

:

It's important to stay hydrated in the hot summer months, so make sure you drink plenty of water throughout the day.
Be respectful of the culture: Greek culture is steeped in tradition and history, so be respectful of local customs and traditions. Dress modestly when visiting churches or other religious sites, and don't litter or damage historical landmarks.
Learn some Greek: While many Greeks speak English, it's always helpful to learn some basic Greek phrases to show respect for the culture and make communication easier.
Stay safe: Skopelos is generally a safe destination, but it's important to take basic safety precautions. Be aware of your surroundings, keep your valuables in a safe place, and don't walk alone at night in unfamiliar areas.
Be flexible: Sometimes things don't go as planned, so be flexible and willing to change your plans if needed. Don't stress if you miss a ferry or if the weather isn't great.
Enjoy your trip: Above all, remember to enjoy your trip to Skopelos! Take in the beautiful scenery, try new things, and create memories that will last a lifetime.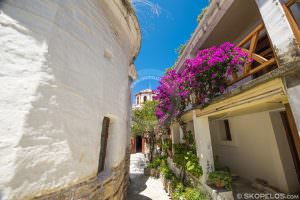 By taking the time to get to know Skopelos, you can develop a deeper appreciation for the island and create lasting memories. The Skopelos safe guide will help you to have careless free time on your summer vacation. A travel plan will also help you stay safe and prepared during your travels to Skopelos from abroad.
Skopelos.com – Skopelos Blog
Blog.Skopelos.com –  Skopelos.com/Blog
Author – Adrina Hotels Skopelos – www. Adrina.gr