SKOPELOS FITNESS LOVING VISITOR, FITNESS LOVING VISITOR SKOPELOS, RECREATION IN SKOPELOS, OUTDOOR ACTIVITIES SKOPELOS, DIVE CENTER SKOPELOS, SCUBA DIVING SKOPELOS, SNORKELING SKOPELOS, ADRINA  HOTELS SKOPELOS, YOGA, HIKING SKOPELOS, KAYAKING SKOPELOS, SUP SKOPELOS, CYCLING SKOPELOS, WATER SPORTS IN SKOPELOS, WATER ACTIVITIES SKOPELOS, SPA SKOPELOS, SWIMMING, BEACH WORKOUT, HEALTHY EATING, LOCAL GYMS, FITNESS CENTER, SKOPELOS BEACHES, NORTHERN SPORADES, GREECE, SKOPELOS BLOG, SKOPELOS BLOGSPOT, SKOPELOS BLOGGING, SKOPELOS BLOGS, SKOPELOS BLOGGERS
10 THINGS EVERY FITNESS-LOVING VISITOR TO SKOPELOS HAS TO KNOW ABOUT
If you are not yet introduced to Skopelos, you may need some help getting around the island. In the following post, you will learn more about Skopelos and in particular what the island has to offer to every fitness-loving visitor.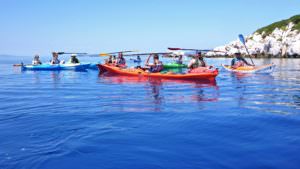 Skopelos Island in Greece can be a suitable destination for fitness-loving visitors, especially those who enjoy outdoor activities and natural surroundings. While the island may not have dedicated fitness facilities or specialized fitness programs, it offers a range of options for staying active and maintaining a fitness routine.
Skopelos is a stunning Greek island with a diverse natural landscape, making it perfect for outdoor activities. Fitness enthusiasts can indulge in activities like hiking, biking, and trail running. The island offers a variety of trails and paths that lead through scenic forests, picturesque villages, and breathtaking viewpoints.
Scenic Hiking Trails: Skopelos is blessed with stunning hiking trails that take you through lush forests, rugged cliffs, and breathtaking viewpoints. Explore trails like the Skopelos Trail, which covers the entire island, or hike to the iconic Church of Agios Ioannis, featured in the movie "Mamma Mia!". These hikes offer both a fitness challenge and a chance to immerse yourself in the island's natural beauty.
Cycling Adventures: Rent a bike and explore Skopelos on two wheels. The island offers a mix of flat and hilly terrains, making it suitable for both leisurely rides and more challenging cycling routes. Pedal your way through charming villages, olive groves, and vineyards while enjoying the fresh air and scenic landscapes.
Swimming: With its stunning beaches and clear waters, Skopelos is an ideal place for swimming. Whether you prefer leisurely swims or more vigorous laps, the island's beaches offer a refreshing way to exercise.
Water Activities: Skopelos is a paradise for water lovers. Dive into the crystal-clear waters for a refreshing swim or engage in water activities like snorkeling and scuba diving. The island is home to vibrant marine life and fascinating underwater landscapes, making it an ideal destination for underwater exploration.
Water Sports: With its crystal-clear waters, Skopelos offers fantastic opportunities for water sports enthusiasts. Try your hand at activities like kayaking, or paddleboarding. These activities not only provide an exhilarating workout but also allow you to explore the island's coastline from a different perspective. All the above offer a great workout for your core, balance, and overall strength. Rent a paddleboard or a kayak and navigate the calm waters around the island, enjoying a unique perspective of the coastline and surrounding nature.
Yoga and Meditation: Skopelos provides a serene environment for practicing yoga and meditation. Ask and join yoga retreats held on the island during the summer, where you can deepen your practice amidst the island's tranquility. Alternatively, find a quiet spot on the beach or in nature to practice on your own.
Beach Workouts: Skopelos boasts numerous pristine beaches, and they provide an ideal backdrop for outdoor workouts. Take advantage of the shores by engaging in activities such as beach volleyball, or yoga sessions. The refreshing sea breeze keeps you energized.
Healthy Eating: Skopelos is known for its fresh and nutritious Mediterranean cuisine. Embrace the local food culture by indulging in wholesome dishes made with locally sourced ingredients. The island is abundant in fresh seafood, seasonal fruits and vegetables, and high-quality olive oil. Enjoy traditional Greek salads, grilled fish, and dishes like stuffed vine leaves (dolmades) that are both delicious and nourishing.
Local Gyms and Fitness Centers: If you prefer indoor workouts or want to maintain your regular fitness routine, Skopelos has gyms and fitness centers. These facilities are equipped with modern equipment and offer various classes and training programs. Whether you're into weightlifting, cardio workouts, or group fitness sessions, you can find a suitable place to stay active during your visit.
Spa: Adrina Resort and Spa is a 5-star hotel located on Skopelos Island, Greece. As a luxury resort, it offers various amenities and services, including a spa. The resort's spa is designed to provide relaxation, rejuvenation, and wellness experiences for its guests.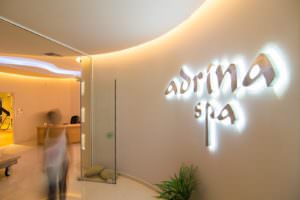 The island's diverse landscape, with its mountains, forests, and coastline, offers scenic trails for hiking and biking. Additionally, the clear waters surrounding Skopelos provide excellent conditions for swimming and water sports. Visitors who enjoy staying active during their vacations can certainly find ways to engage in physical activities and maintain an active lifestyle while exploring the natural beauty of Skopelos Island.
Moreover, Skopelos has a charming town with narrow streets and steps, offering opportunities for walking and exploring. Many visitors find that simply exploring the island on foot is an enjoyable and active way to experience its beauty.
While Skopelos may not have many specialized fitness facilities, its natural surroundings and recreational activities make it a destination where fitness-loving visitors can stay active and maintain their fitness routines.
Remember to stay hydrated, apply sunscreen, and listen to your body's needs while engaging in physical activities in Skopelos's summer heat. Enjoy the island's beauty while keeping your fitness goals in mind.
Skopelos.com – Skopelos Blog
Blog.Skopelos.com – Skopelos.com/Blog
Author – Adrina Hotels Skopelos – www.Adrina.gr