This post is also available in: Ελληνικά (Greek)
FROM MANTOUDI TO SKOPELOS, SKOPELOS FROM MANTOUDI, SKOPELOS BY BOAT, HOW TO GET TO SKOPELOS BY BOAT, TRAVELLING TO SKOPELOS, HOW TO GET TO SKOPELOS FROM MANTOUDI, ROUTES, TICKET PRICE, TIMETABLES, PORTS, SKOPELOS, LOUTRAKI, GLOSSA, MANTOUDI EVIA, ATHENS TO SKOPELOS, SKOPELOS BLOG, SKOPELOS BLOGSPOT, SKOPELOS BLOGGING, SKOPELOS BLOGS, SKOPELOS BLOGGERS
TRAVELING FROM MANTOUDI TO SKOPELOS
Skopelos
The summer is almost here and you wonder where to spend your holidays?  Greek islands are always your first choice!!Have you ever been on Skopelos island in Northern Sporades (Skiathos, Skopelos, Alonissos) ?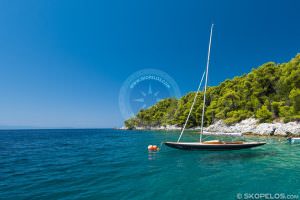 Do not ever wonder if Skopelos is worth visiting because it certainly does 1000 times. First of all it is not yet been an overcrowded place, so you will enjoy peacefulness.  Second you will get thrilled by the lush landscape , more of the 80% of the island is covered by pine forest. Third, the majestic  beaches, fourth the chora of Skopelos…
Not to mention that most of the Mamma Mia movie scenes were shot on Skopelos island.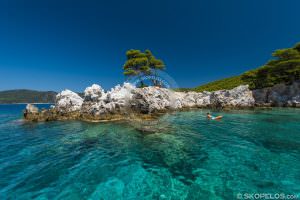 I will stop counting the numerous reason to visit Skopelos and I will guide you how to travel there. Travelling to Skopelos island needs to use more than one kind of transportation. Note there is no direct route from Athens to Skopelos.
VERY IMPORTANT NOTE
If you are travelling from Athens then Mantoudi port, in Evia, is the cheapest and fastest way to do so.

Mantoudi Evia
Mantoudi or Kymasi is a village on the northern side of Evia. It is about 140 km away from Athens and 54 km from Chalkida. Mantoudi in Evia is a relatively new harbor, which has been operating for the last decade. It is located in a central area since you have to passage from Mantoudi to reach other tourist places of Evia such as Loutra Edipsou, Agia Anna, Pyrgos, Istiea. Furthermore, the Church of Agios Ioannis Rossos (Saint John the Russian) is also very close to Mantoudi, to the village Prokopi. From Mantoudi small port run the ferries to Skiathos and Skopelos islands.
How to get from Athens to Mantoudi Evia
By your Own Car
If you travel with your own vehicle from Athens to Mantoudi you will need approximately 2 hours.
TIP: BE CAREFUL since the road approaching the harbor has several turns.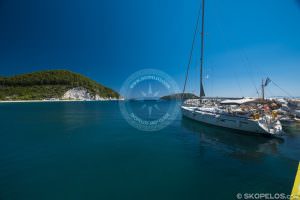 By Local Bus (KTEL)
If you do not have your own vehicle, you can go by bus (KTEL) from KTEL Liosion or KTEL Evia. 
TIP: When searching for bus routes you should look for Kymasi, instead of Mantoudi.
Cost of KTEL
The cost is at 14.00 € simple transfer and 26.00 € with return.
Duration
The KTEL bus from Athens to Mantoudi, Evia takes approximately 2 hours 30 minutes. There is not direct way from Athens to Skopelos.

Useful contacts:
KTEL LIOSION  tel:. +30 2108317186, +30 2108317173. Address: 260 Liosion, Athens – Kato Patissia – Three Bridges

KTEL EVIA tel: +30 2108317163, +30 2108317153, +30 2108315923, +30 22210 22640. Address: Stiron 1, Chalkida
FROM MANTOUDI EVIA TO SKOPELOS
ANES LINES travels from Mantoudi  to Skopelos with the ferry boat PROTEUS.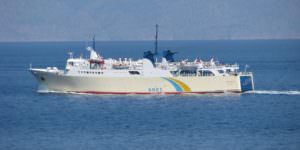 Travel Cost
The trip to Skopelos from Mantoudi in Evia is the cheapest one.
| | | | |
| --- | --- | --- | --- |
| | PASSENGER | VEHICLE up to 3,7m | VEHICLE exceeding 3,7 m |
| ONE WAY | 19,80 € | 42,00 € | 55,00€ |
| ROUND TRIP | 37,60€ | 79,80€ | 104,50€ |
Infants and children up to 4 years travel for free, children from 5 -10 years have 50% discount.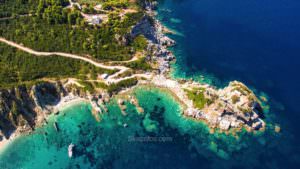 Itineraries
The most common route is
Skiathos port- Loutraki port (Glossa, Skopelos)- Skopelos port (Chora).
But there are also alternative routes. The ferry boat can make the first stop at Alonissos and then continue on to Skopelos since it covers the Northern Sporades.
Tip: By booking your tickets you should also ask about the ferry route, since there are alternative οnes. Check also in which port you disembark, Skopelos port (Chora) or Loutraki Port (Glossa).
Tip: ANES LINES  during the summer period offers you free transfer from the port of Skopelos to the port of Glossa (Skopelos) and vice versa.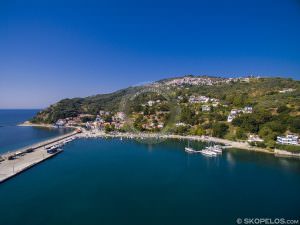 Trip duration
PROTEUS ride from Mantoudi, Evia to Skopelos (and not from Athens to Skopelos) takes approximately 1 hour and 30 minutes to 2 hours and 30 minutes.
TIP: The trip duration depends on the boat route, so before booking your ticket check carefully to find the faster one.
Time Tables F/B, 
Anes ferries have already announced the itineraries for the year 2020.
From Mantoudi in Evia, the ferry services to Skopelos take place throughout the year. During summer season though there are approximately 6-7 schedules a week. While in the remaining months there are approximately 2-3 times a week.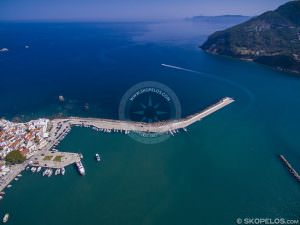 Booking Tickets
Travelling to skopelos. Tickets can be booked via:
tourist agencies (tourist offices of Skopelos)
in the offices of anes ferries. contact phone: +30 210 5237613, +30 2227023336 email 

info@anes.gr

Mantoudi vendors Phone Number 

+30 2227023336

via internet.
General Information for travelling to skopelos from Mantoudi
ANES LINES  phone number: +30 210 5237613, +30 2227023336.   email info@anes.gr.  website www.anes.gr  
If you would like to get more information about the ports please contact:
Port Authority of Mantoudi Tel: +30 22270 22020
Port Authority of Skopelos Tel: +3024240 22180
Under the Port Authority of Skopelos Tel: +3024240 33033
Skopelos.com – Skopelos Blog
Blog.Skopelos.com – Skopelos.com/Blog
Author – Adrina Hotels Skopelos – www.Adrina.gr