This post is also available in: Ελληνικά (Greek)
TAVERNAS ON PORT SKOPELOS, FOOD IN SKOPELOS, FOOD AND DRINK SKOPELOS, RESTAURANTS TAVERNS SKOPELOS, BEACHES SKOPELOS, NORTH SPORADES SKOPELOS, SUMMER HOLIDAYS SKOPELOS, FOOD SKOPELOS, ENTERTAINMENT SKOPELOS, PORTS SKOPELOS, TAVERNAS ON PORTS SKOPELOS, TA KYMATA SKOPELOS, KYRATSO'S KITCHEN SKOPELOS, MOLOS SKOPELOS, AKTAION SKOPELOS, STOU DIMITRAKI SKOPELOS, MOURIA SKOPELOS, ARAMIS SKOPELOS, FLISVOS SKOPELOS, SKOPELOS BLOG, SKOPELOS BLOGSPOT, SKOPELOS BLOGGING, SKOPELOS BLOGS, SKOPELOS BLOGGERS
Skopelos is considered the be a Sporades gem. Since it is a beautiful green island with magnificent beaches. Furthermore is an island full of life. Skopelos is definitely an incredible destination for unforgettable summer vacations. Therefore, you will enjoy moments of relaxation and fun.
Moreover, in Skopelos, you will taste delicious food. We have chosen the best taverns and restaurants on the island's ports.
Enjoy!!!
FRESH FISH AND SEAFOOD TAVERN TA KYMATA "O AGGELOS"
The Tavern Ta Kymata is located in the Old Port in the graphic Skopelos Chora. It is under the popular Church Panagitsa of Pyrgos.
The Tavern Ta Kymata has a long history as it has been working successfully since 1896. Now has been taken over by the fourth generation of the Gripiotis family. Moreover, you will taste traditional well-cooked flavors with a fresher approach. Since the chef combines tradition with creation by offering you amazing dishes!!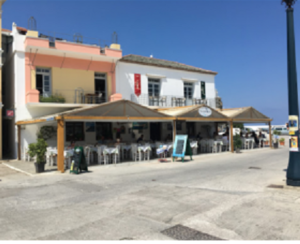 EXTRAS: At the Taverna Ta Kymata often hosts authentic Greek nights with live music, bouzouki, and genuine rebetiko music.
Taverna Ta Kymata, Old Port of Skopelos Town, Tel. + 30 24240 22381
TAVERN KYRATSO'S KITCHEN
Kyratso's Kitchen tavern is located in the old port of Skopelos Town. Offering you wonderful sea views.
Of course, at the Tavern of Kyratso's Kitchen, you will taste delicious traditional dishes. Always cooked by Mrs. Kyratso herself. Specialties of the tavern are the goat with plums. So if you love good food, drink and fun then you've come to the right place.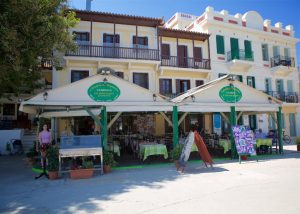 EXTRAS: At the Tavern of Kyratso's Kitchen you will have the opportunity to hear live Rembetico music. As a matter of fact, you will experience authentic Skopelos entertainment.
Tavern of Kyratso's Kitchen, Old Port Skopelos Town, Tel. + 30 24240 23184
TAVERN O MOLOS
Molos Taverna has been located for several decades by the old port of Skopelos Town. Molos offers a friendly atmosphere and excellent service.
At Taverna Restaurant Molos Skopelos you will find fresh fish and seafood daily. The menu includes traditional Skopelos dishes and more special flavors. Flavors such as pork with Skopelos honey and rosemary. Also artichoke tart and rabbit with tsipouro and apricots.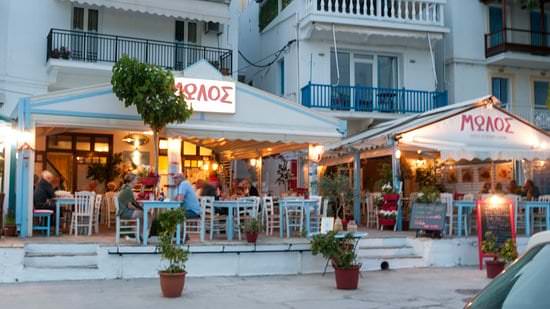 EXTRAS: At the tavern Molos you will be able to listen to live Greek music, with bouzouki and baglamadaki. Have fun with "rebetika" songs.
Taverna O Molos, Old Port Skopelos Town, Tel. + 30 24240 22551
The taverna Aktaion is located in a privileged spot, the main beach in Skopelos Town. Offers you a spectacular view of the sea.
At the Aktaion taverna, you will enjoy fresh seafood and grilled meats, also traditional dishes. Don't miss trying the Skopelos pork plum and roasted swordfish with vegetables.
The environment in the tavern Aktaion is extremely friendly.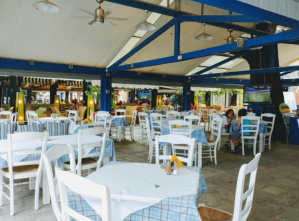 EXTRAS: The tavern Aktaion belongs to Prodromos Kathiniotis and his brother Stelios. The first one became known with his participation in the first reality Big Brother in Greece.
Taverna Aktaion , Port Skopelos Town, Tel. + 30 24240 22239
TAVERNA STOU DIMITRAKI
Just a few meters from the port of Skopelos Town is the traditional tavern Stou Dimitraki. Stou Dimitraki can enjoy daily Skopelos well-cooked dishes, grilled meats. Fresh fish and seafood. Furthermore, Skopelos traditional "meze" to accompany the ouzo, raki.
The tavern Stou Dimitraki is famous for its delicious spaghetti with prawns. For the excellent service as well is always prompt and friendly.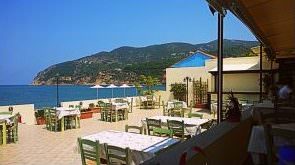 EXTRAS: The Taverna Stou Dimitraki has private free parking. No doubt it is an ideal destination for lunch and tsipouro meze.
Taverna Stou Dimitraki, Port Skopelos Town, Tel. + 30 2424 770171
The Mouria Taverna is located in the windless  Agnontas port. Offers quality food, tsipouro, and appetizers at all times of the day. You will enjoy not only traditional dishes but also spectacular views.
The local cook Maria will impress you for sure with the taste of her traditional dishes. In particular, the specialties of the restaurant are lobster with spaghetti and all fresh fish.
Moreover, the taverna offers you an idyllic environment. The natural shade of centuries-old mulberry tree combined with excellent service and the friendly atmosphere of the tavern.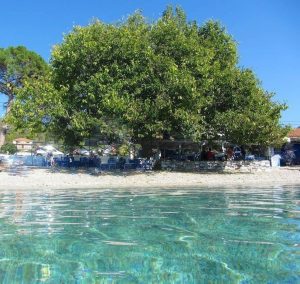 EXTRAS: You can also enjoy coffee and breakfast at the free sunbeds and umbrellas offered by Mouria tavern on Agnontas beach.
Taverna Restaurant Mouria, Agnontas Skopelos, Tel. + 30 24240 22897
The traditional Aramis Tavern is located in the beautiful Loutraki port of Glossa Skopelos. Moreover, at the Aramis Tavern, you will find a warm environment with stunning sea views. Also, home cooking Skopelos food.
Furthermore, the friendly and attentive staff along with the hospitable owners will make you feel at home, indeed.
The menu at Aramis Tavern, in Loutraki, Glossa Skopelos, includes also dishes of traditional Greek cuisine, grilled and fresh seafood.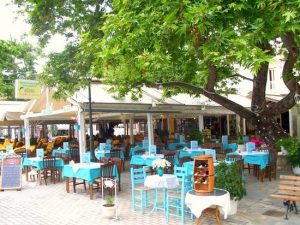 EXTRAS: The beautiful location and warm environment of Aramis Tavern are ideal for all. Especially for families with children, friends as well as couples.
Aramis Tavern, Loutraki Glossa Skopelos, Tel. +30 24240 33731
Flisvos Fish Tavern Restaurant is located on the right side of Loutraki Port in Glossa Skopelos. It is an excellent tavern that offers you well-cooked food on tables that are literally by the sea.
Moreover, at Flisvos Fish Tavern, you can have a full meal. You can also accompany your drink, ouzo or tsipouro with fine meze. While you have to taste the seafood stew and the traditional moussaka.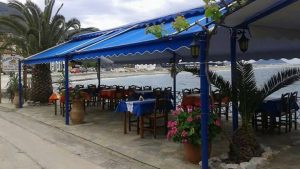 EXTRAS: Without a doubt, its location will amaze you. Taste delicious food and handmade "meze" just where the wave pops. Flisvos Tavern is ideal for families with children as well as for friends.
Flisvos Tavern, Loutraki Skopelos, Tel. +30 24240 33856
Skopelos.com –  Skopelos Blog
Blog.Skopelos.com –  Skopelos.com/Blog
Author –  Adrina  Hotels Skopelos – www. Adrina.gr