This post is also available in: Ελληνικά (Greek)
BEACH BARS IN SKOPELOS, DRINKS SKOPELOS , BARS SKOPELOS, BEACHES SKOPELOS, FOOD AND DRINKS SKOPELOS, NORTHERN SPORADES, SUMMER SKOPELOS, HOLIDAYS SKOPELOS, FUN SKOPELOS, MILIA BEACH BAR, KASTANI BEACH BAR, APANEMO BEACH BAR, ADRINA HOTELS, GLYSTERI BEACH BAR, MADALAKI CAFE HOVOLO, PERIVOLIOU BEACH BAR, STAFYLOS BEACH BAR, SKOPELOS BLOG, SKOPELOS BLOGSPOT, SKOPELOS BLOGGING, SKOPELOS BLOGS, SKOPELOS BLOGGERS
THE BEST BEACH BARS IN SKOPELOS
On every island, the beaches make the difference !! The natural beauty of each place combined with the extra amenities creates amazing places of fun and relaxation !!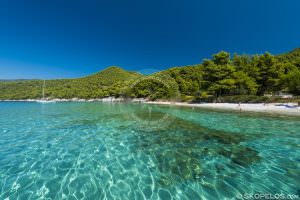 In Skopelos, the beaches will fascinate you. Stunning landscapes starring the green of nature and the endless blue of the sea. Pine trees that literally take root in the deep blue sea will take your breath away. The perfect combination of green to blue !!
You are already one step away from earthy paradise. What would you say to add a refreshing cocktail and a summer musical hit to the ultimate landscape?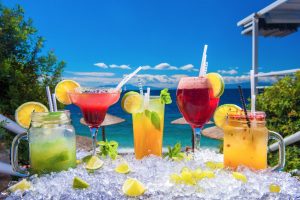 Stop dreaming and live it .. Skopelos offers another hidden surprise presenting its awesome beach bars for endless fun, enchanting relaxation, and great partying. There are beach bars for all tastes. For those who love cosmopolitan places, for those who love parties, and for those looking for moments of summer relaxation!
The most popular beach bars of Skopelos is located on the following beaches: Milia, Kastani, Andrines, Limnonari, Hovolo, Glisteri, Perivoliou.
For many Milia is considered the most beautiful beach of Skopelos. It is truly a stunning lush beach that combines white sand with small pebbles. It is the longest beach on the island and is 14 km from Skopelos Town. Access to Milia Beach is easy. You can go there either by public bus or in your own vehicle.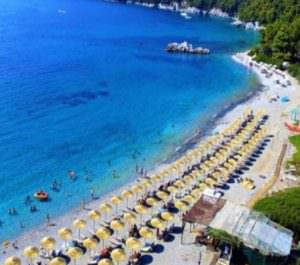 On Milia, there is an organized beach bar, the Milia Beach Bar, or otherwise apple paradise bar. Milia Beach Bar has sunbeds and umbrellas for rent.
At the Milia beach bar, you will enjoy coffee, juice, drinks, beer, and cool summer cocktails. Mojitos, daiquiries, aperol, margaritas, cosmopolitan and many more to satisfy all tastes !! Light meals, salads, ice creams, and sandwiches are also available.
Here, on  Milia Beach Bar,  the fun never ends. Incredible summer rhythms and loud music will take you away !!! The friendly staff will make you feel immediately part of the team !! All you need to have with you is your swimsuit, your smile, and your summer mood …
Every summer, beach bar milia, many unforgettable themed parties are organized, featuring DJs and celebrity guests 
At Milia Beach, you can do water sports. Water skiing, wakeboard, banana, and other fun sports activities.
Kastani beach is the most cosmopolitan beach of Skopelos. It became widely known from the movie Mamma Mia!, Since most filming took place there. Its natural beauty will fascinate you just as it did in Hollywood.

Kastani is a beautiful bay with fine sand, small pebbles, and rocks at each end. Kastani Beach is 15 km from Skopelos Town and is easily accessible. You can go there either by public bus or in your own vehicle.
Organized beach bar Κastani provides you with all the amenities you need for an unforgettable summer experience. Cosmopolitan air, friendly staff, and an inexhaustible summer mood dominate Κastani beach bar that extends from the lawn to the beach.
The Kastani Beach Bar features sunbeds and umbrellas for rent.
You will also enjoy a comprehensive list of coffees, juices, spirits, snacks, salads, ice creams, sandwiches, cocktails, beers, etc. Fan visitors suggest you try the frozen strawberry margarita! Cocktails along with selected music, endless fun, and frenzied fun will turn you into big funs as well.
During the summer season,  Kastani Beach Bar hosts fabulous thematic parties, with DJs or celebrity guests.
Kastani Beach Bar hosts weddings, christenings, and other personal events !!
The magnificent Limnonari beach is 10 km away from Skopelos Town. The landscape is extraordinary, with pines hugging the turquoise waters and the sea is always calm.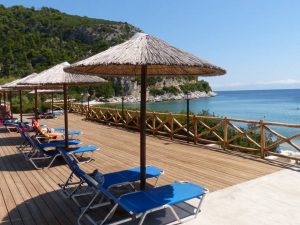 On Limnonari Beach has been operating the excellent Apanemo Beach Bar since 1999. The bar's menu features juices, coffee, drinks, summer cocktails, plenty of snacks, and main course dishes for a complete meal or dinner. The Apanemo Beach Bar is fully harmonized with the enchanting scenery, giving you generous moments of relaxation and fun.
At Limnonari Beach you can with your own vehicle.
Apanemo Beach Bar features sunbeds and umbrellas for rent.
Summer music raises your mood and adds more fun to your vacation. During the summer season at Apanemo Beach Bar interesting events and parties are organized with great fun.
Apanemo Beach Bar features a swimming pool!
Many people prefer Apanemo Beach Bar to host their wedding party, christenings, and other personal events!
Adrina Hotels are dominated in the magnificent Andrines in Panormos Skopelos. Both the 4-star Adrina Beach and the 5-star Adrina Resort & Spa guarantee you unforgettable luxury and comfort.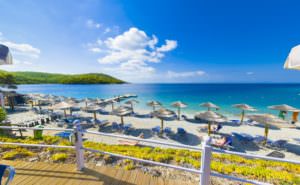 Andrina's unique beaches are magnificently beautiful. They have white pebbles and crystal clear waters.
Adrina Hotels are about 13 km from Skopelos Town.
Both hotels feature fully organized beach bars with a huge selection of summer cocktails such as frozen daiquiri strawberry or margarita. Refreshing refreshments and light snacks are available all day.
A beach bar operates at Adrina beach, one at the Adrina Resort and Spa beach, and one at the Adrina Resort and Spa pool. The beach bar at Adrina Resort and Spa also has a beach service!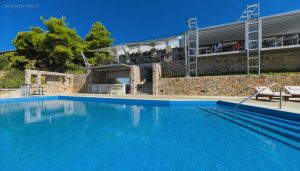 The Adrina Beach Bar is the ideal romantic setting for summer cocktails and true relaxation.
After a swim and relaxing moments at the beach bar of the Adrina Βeach hotel you can enjoy your meal at Adrina Tavern.
Similarly, if you have chosen the beach bar of the hotel Adrina Resort & Spa you can then dine at the NERO restaurant.
MADALAKI CAFE HOVOLO BEACH
The Μadalaki cafe opens just a few meters from Hovolo Beach, in Neo Klima, and welcomes you in your swimsuit or full dress.
In the small courtyard of Μadalaki cafe, you can taste premium quality coffee (Mrs. Rose), unique vaflaki, ice creams, snacks, and drinks, from early morning until late at night.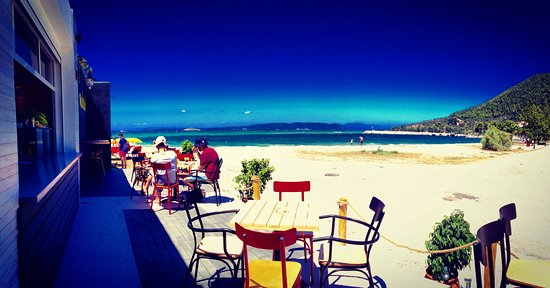 Don't miss the magnificent sunset at the Μadalaki cafe enjoying local beers and refreshing cocktails, with lounge, reggae, and house sounds. Definitely try the cocktails "Madalaki" and " Hovolo", it is a must!
At Μadalaki cafe you will be refreshed with coffee and soft drinks, relax with refreshing drinks and summer cocktails, enjoy light dishes and snacks, and enjoy ice cream and vaflaki!
Hovolo Beach is located in the settlement of Elios or Neo Klima after Kastani. It takes about 26 minutes by car from Chora. In Neo Klima, you can go either by public bus or with your own vehicle. Arriving at Neo Klima - Elios you will find signs that lead you to Hovolo beach.
Every summer since 2016 and after the Μadalaki cafe first launches thematic parties and various activities are organized.
Don't miss out on the social media of Μadalaki cafe for happy hour promotions.
The small idyllic Glysteri beach became famous from the Hollywood movie "Mamma mia". Glysteri stole the heart of Hollywood celebrities as well as stolen yours. Glysteri Beach Bar became a hot spot rapidly.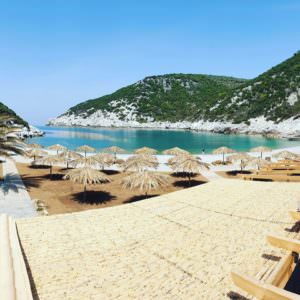 In June 2019, a special super summer beach bar started operating in Glisteri. Glysteri Beach Bar is made with full respect for the environment as all raw materials are ecological and taken from the island of Skopelos (natural wood, antique shipyard wood, clay bricks, ceramic stones, pebbles from the sea, etc.).
A positive mood and a summer atmosphere are the main features of Glistery Beach Bar. Here you will enjoy summer cocktails, beers, coffee, juices as well as delicious main dishes and finger foods.
Throughout the summer, in  Glysteri Beach Bar, the various happenings with popular Djs, parties, bbq's and surprises never stop!!
Glysteri Beach is 4.2 km from Skopelos Town. Just 10 minutes by car following the ring road leading to Skopelos Castle.
Perivoliou beach is very close to Glossa village of Skopelos. It is a beautiful beach with crystal clear waters, sand, and amazing rocks that create natural shade.
Outside of the natural shade, there is the awesome beach bar of Perivoli. Perivoliou Beach Bar is a wooden canteen at the top of the beach and features sun loungers and umbrellas for rent.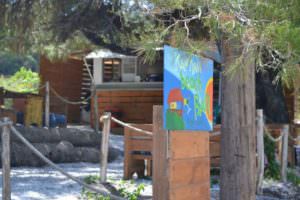 The friendly staff, the cool cocktails, and the very summertime music will lift your senses by turning the Perivoliou Beach Bar into the ultimate summer destination.
In addition to the natural scenery at Perivoliou Beach Bar, you will also enjoy fresh salads, scorpion cheese pie, sandwiches, souvlaki, and of course ice cream. You will find a variety of coffees, soft drinks, beer juices, and classic summer cocktails such as mojito, daiquiri, and margarita.
Perivoliou Beach Bar is the perfect place to relax. Usually not affected by crowds as it is the last beach on the north side of Skopelos. It's a place you will definitely fall in love with for its authenticity!
Relax in the hammock under the natural shade of pine trees.
The beach is not recommended for people with special needs because it has a steep course to the coast.
Skopelos.com –  Skopelos Blog
Blog.Skopelos.com –  Skopelos.com/Blog
Author –  Adrina  Hotels Skopelos – www. Adrina.gr