This post is also available in: Ελληνικά (Greek)
TRADITIONAL PRODUCTS SKOPELOS , FOOD SKOPELOS , LOCAL PRODUCTS OF SKOPELOS, SKOPELOS CHEESE PIE, OLIVE OIL SKOPELOS, HONEY SKOPELOS, PLUMS SKOPELOS, WINE SKOPELOS, SKOPELOS WINE, SOAP SKOPELOS, TRADITIONAL SWEETS SKOPELOS, AYGATO, HAMALIA, ROZEDES, SKOPELOS BLOG, SKOPELOS BLOGSPOT, SKOPELOS BLOGGING, SKOPELOS BLOGS, SKOPELOS BLOGGERS
Traditional Products of Skopelos, Local Products, Food Skopelos, Cheese Pie in Skopelos, Skopelos Olive Oil, Skopelos Honey, Skopelos Soap, Skopelos Wine
LOCAL PRODUCTS OF SKOPELOS
The lush Skopelos island is a blessed place with agricultural production and fishing. The products made in Skopelos have an international reputation. Moreover, some of them are exported.
The most popular traditional products are plums, olive oil, honey, Skopelos cheese, local almonds and nuts sweets (hamalia, rozedes), and wine.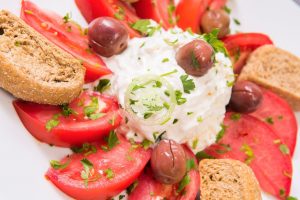 Every August at the annual local events held in the old port of Chora, there is a local market with all the traditional products of Skopelos.
The most famous places to get some of the traditional products are:
LEMONIS Shops tel: +30 24240 23326, Skopelos Chora. 
SKOPELITISSA tel: +30 24240 23448,  Skopelos Chora. 
WOMEN'S COOPERATION GLOSSA or "Gliossiotisa"  tel: +30 24240 33224, Glossa Skopelos 
KYRA LENI, tel: +30 24240 33688, Glossa Skopelos 
ANTONIOU FAMILY, tel: +30 24240 33517, Glossa Skopelos 
PLUMS
Skopelos is famous for its excellent quality plums that have been produced for over two centuries. In the local kitchen, you will find plums in many versions. For example, in main dishes cooked with meat, in sweets, in spoon sweets (avgato), in jams, desserts, dried and liqueurs.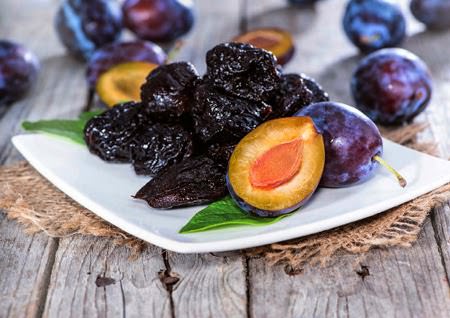 People in Skopelos refer to their plums as "prunes".
The most popular Plums are the Black and the Red Plums "Agioritika". Skopelos generally cultivate about ten different varieties. There is also the rumor that one of these varieties is the French one,  which arrived on Skopelos hidden in a potato.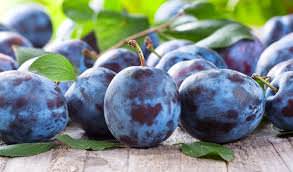 Sweet black plum is mainly used in sweets. The popular spoon-sweet "avgato" plum has been named after the oval shape. This variety makes excellent jams, delicious dried plums, and liqueur.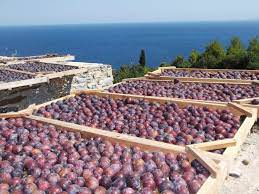 On the other hand, sour red plum is mainly used in cooking. One of the local dishes is pork with plums. Especially popular is also the chicken stuffed with plums. Do not get surprised by the other traditional dish, snapshot fish cooked with plums. One more recipe is a different version of the classic lentil. The sour plum can also be used for jams.
There is also the "Azan" quality that has its origin in the French city, Agen. More particular,  Mr. Giorgakis Valsamakis, who was studying in Agen, sent the specific quality of plums to the Agricultural Company of Skopelos in 1900.
EXTRA VIRGIN OLIVE OIL, OLIVES  
Skopelos produces excellent quality low-acid extra virgin olive oil and amazing olives. Skopelos olive trees are similar to the ones on Pelion Mountain.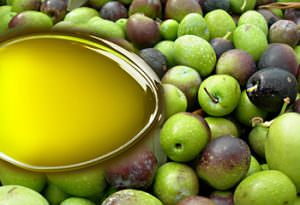 The locals have olives on their daily table. They usually prefer green. Some others prefer the combination of olives with fennel or thyme or even the recipe with vinegar. 
Locals feel very proud of the way they produce extra virgin olive oil.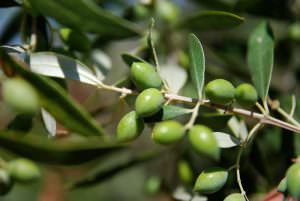 Since their own way of production requires no second pressing or any other mixing.
In older times there were about 5 active mills in Skopelos. About two decades ago most of them were closed. There are now two mills in operation, one in Skopelos Chora,  and the other Antoniou Falimy in Glossa village.
HONEY
Beekeeping has always existed in Skopelos. In fact, the first settlers came with their beehives and since then honey has been intertwined with the island's economy. Nowadays, full-time beekeeping continues, although unfortunately, the number of bees tends to decline.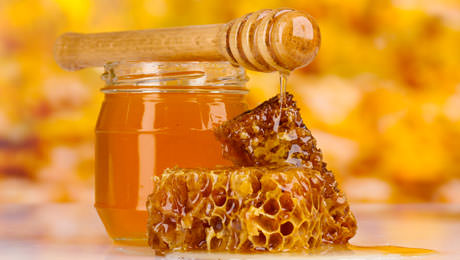 Skopelos honey is organic and beekeepers continue to use traditional wooden beehives to raise bees. Also, the clean environment, the pine forest, the herbs, and the wildflowers of Skopelos are ideal conditions for the production of quality honey and its products.
Skopelos premium quality honey with all its products is exported worldwide.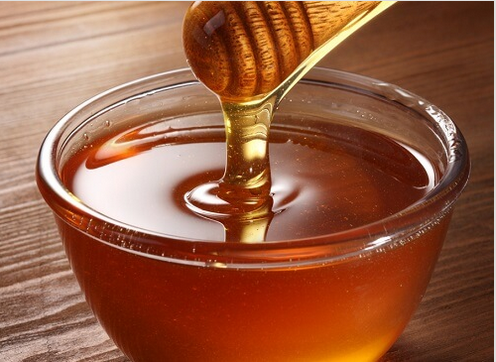 You can taste plain honey, honey with nuts, pollen, royal jelly, and honeycomb. Propolis, beeswax, and bee ointment are also excellent.
Stamatiou estate has been producing organic honey since 1953. There are other producers, and beekeepers with top-quality honey products as well.
Traditional Products of Skopelos, the first thing that comes to mind is the cheese pie. Skopelos twisted cheese pie with its crunchy pastry and wonderful goat's milk cheese has become the trademark of the island.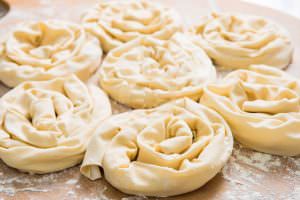 The secret to the success of Skopelos cheese pie lies in the simplicity of the ingredients, the production of the pastry with the rolling pin, the authentic goat cheese, and the right frying pan.
Skopelos' twisted cheese pie is completely different from the pies we find in all other parts of Greece.
CHEESE PIE ORIGIN
But its history begins on the neighboring island of Northern Sporades, in Alonissos.
When in the old days the shepherds from Alonissos used to go to the small islands (Peristera, Kyra Panagia, Gioura) for grazing there the goats had to have food with them. The trip apparently lasted some days as there were no motorboats yet. For this reason, their supplies were flour, olive oil, water, dry cheese, and a frying pan.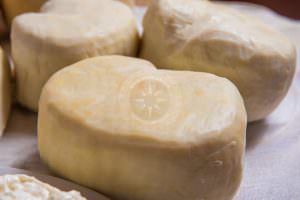 So this is the origin of the precious Skopelos cheese pie recipe. This recipe was brought to Skopelos by women from Alonissos who were lucky enough to marry a groom from Skopelos or who came to pick up the olives.
Although you will find many variations of traditional Skopelos cheese pie, keep in mind that the main ingredients are flour, water, olive oil, and goat cheese.
Despite that in Skopelos the basic recipe has evolved. So, you will have the chance to taste delicious pies, such as spinach pies and delicious milk pies.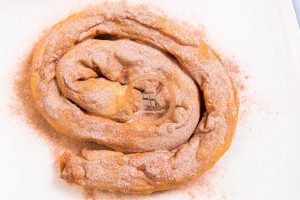 TRADITIONAL SWEETS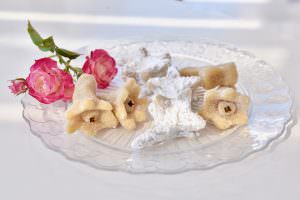 The traditional sweets of Skopelos are hamalia and rozedes. Hamalia are made of almonds, they are irregular in shape and sprinkled with powdered sugar. The rozedes are walnut-based, spherical in shape, small balls, and brown in color. There is also a tasteful spoon sweet of almonds "amigdalato". Those traditional sweets accompany the locals in almost all phases of their lives. At baptisms, at weddings, and generally at all their great joys.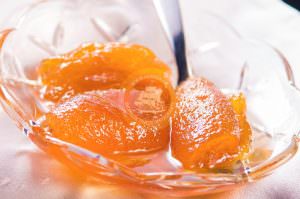 Furthermore, on Skopelos island, they make wonderful spoon sweets. Strawberry, bergamot, sour cherry, rose, tangerine, aubergine, etc.
WINE
According to mythology the first inhabitants of Skopelos were the brothers Stafylos and Peparithos. Sons of god Dionysos, god of vineyards and wine, and Ariadne (princess of Crete). Therefore, in antiquity Skopelos' name was Peparithos. The myth merely confirms the flourishing of viticulture in Skopelos since antiquity. Even the well-known Greek lyric Caesar Dapontes praises the renowned divine wine and ranks it among the most important things in the world.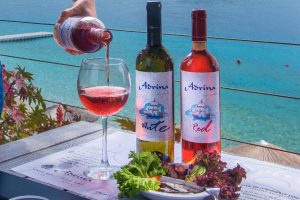 In the '40s a phylloxera epidemic destroyed all the vineyards and destroyed any production for years to come. Locals, however, have started again with the same passion to cultivate vines and produce Skopelos wine.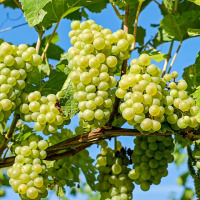 Therefore wine is famous as a Traditional product of Skopelos. In some tavernas, you will taste bulk wine of Skopelos wine production. Moreover, there is the red wine of black grapes, the white wine of a variety of rosette, sabbatical, and assorted. After all, wine pleases the heart.
SOAP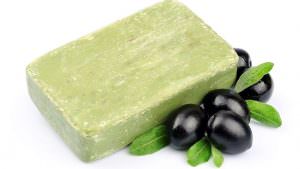 On Skopelos island, you will find excellent handmade olive oil soaps made of 100% natural ingredients.
The Traditional Products of Skopelos are worth tasting and buying.
Skopelos.com – Skopelos Blog
Blog.Skopelos.com – Skopelos.com/Blog
Author – Adrina Hotels Skopelos – www. Adrina.gr 
www.AdrinaBeach.com – www.AdrinaResort.com