SKOPELOS MAMMA MIA!, SKOPELOS MAMMA MIA MUSICAL, ΜΑΜΜΑ ΜΙΑ SKOPELOS SKIATHOS PELION, SKOPELOS THE ISLAND OF MAMMA MIA , SKOPELOS GREEN IN BLUE, SKOPELOS BLOG, SKOPELOS BLOGSPOT, SKOPELOS BLOGGING, SKOPELOS BLOGS, SKOPELOS BLOGGERS
SKOPELOS ISLAND OF MAMMA MIA!
The natural beauty of Greece attracts, apart from tourists, even Hollywood producers.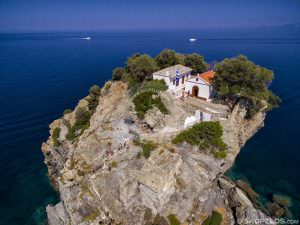 FAMOUS MOVIES FILMED IN GREECE
Here we are going to mention some of the famous movies that were filmed in Greece. Firstly in 1957, the movie "Boy on a Dolphin" with Sofia Loren was filmed in Hydra. Secondly in Cephalonia, the movie "Captain Corelli's Mandolin" was filmed in 2001, with Nicolas Cage and Penelope Cruz. Angelina Jolie visits Santorini in 2003 as Lara Croft for the movie "Tomb Raider: The Cradle of Live".
MAMMA MIA!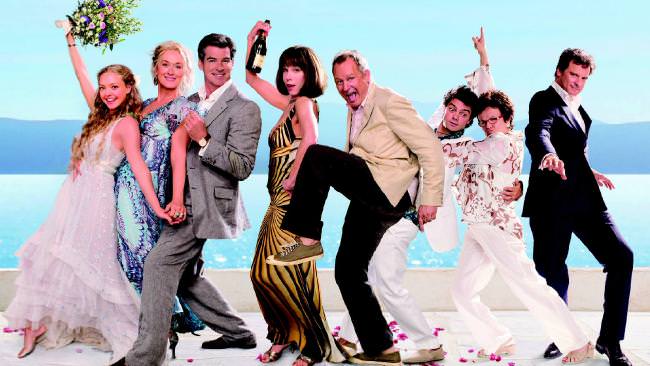 Looking for a green landscape for filming the Mamma Mia movie!, the coefficients did not take long to reach the beautiful green Northern Sporades (Skopelos, Skiathos) and Pelion.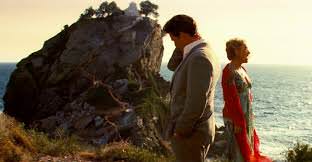 Specifically, in Skopelos, there were filming scenes on the beaches of Kastani, Glisteri, Milia, and Amaranto in Agnontas and the picturesque church of Agios Ioannis in Kastri.
In Skiathos, in the old port and in the church of Agios Nikolaos.
In Pelion, the filming took place in the seaside village of Damouchari, which is 2 hours from Volos.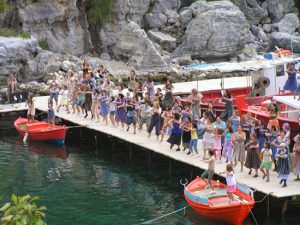 THE STORY
The story of the musical film is the life of Donna (Meryl Streep), a former hippie who lives on the Greek island "Summer". Her daughter, Sophie (Amanda Seyfried), is getting ready to marry. Shortly before marriage finds the diary of her mom. As she reads it she discovers the big secret. Her unknown father is one of the three men (Pierce Brosnan, Colin Firth, Stellan Skarsgård) whom her mom had met during the summer that she got pregnant. Wanting to get to know her potential daddy, she invites the three of them to her wedding. Donna meets them again, revives her past and the story begins. Who is finally Sophie's dad, who will hand her over to the church? You will learn this by watching the movie Mamma Mia.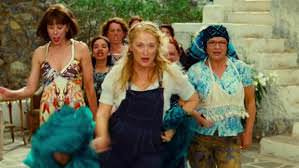 ABBA MUSIC
There are a total of 22 in the musical movie ABBA songs. All songs are released on an album." Honey Honey", "Money Money Money", "Mamma Mia", "Dancing Queen", "Our Last Summer", "Lay all your love on me", "Super Trouper", "Gimme! Gimme! Gimme!", "Th name of the game", "Voulez-vou", "SOS", "Does your mother know", "Slipping through my fingers", "The winner takes it all", "When all said and done", "Take a chance on me", "I have a dream".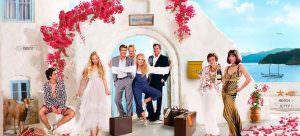 Tom Hanks who loves Greece and his Greek-origin wife, Rita Wilson are the film's producers.
Skopelos.com –  Skopelos Blog
Blog.Skopelos.com –  Skopelos.com/Blog
Author –  Adrina  Hotels Skopelos – www. Adrina.gr