This post is also available in: Ελληνικά (Greek)
GREAT PLACES TO EAT IN SKOPELOS,  FOOD AND DRINK SKOPELOS,  RESTAURANTS AND TAVERNAS SKOPELOS ,HOLIDAYS SKOPELOS, FOOD SKOPELOS, ADRINA TAVERNA, RODI, OLIVO, MUSES, ZUPA, OASIS, MONOGRAMMA, SKOPELOS BLOG, SKOPELOS BLOGSPOT, SKOPELOS BLOGGING, SKOPELOS BLOGS, SKOPELOS BLOGGERS, Adrina Taverna in Skopelos, Perivoli in Skopelos, Rodi Restaurant, Olivo Restaurant, Mouses Restaurant, Zoupa, Oasis Restaurant, Monogramma
7+1 GREAT RESTAURANTS TO EAT IN SKOPELOS
The beautiful Skopelos reserves many pleasant surprises for its visitors. In Skopelos, there are many interesting things to do besides swimming in the crystal clear waters of its enchanting beaches. If you are a lover of good quality food and are looking for more special flavors then we suggest you dine at the following restaurants – tavernas: Adrina Taverna in Skopelos, Perivoli in Skopelos, Rodi Restaurant, Olivo Restaurant, Mouses Restaurant, Zoupa, Oasis Restaurant, Monogramma
PERIVOLI
Perivoli restaurant is a gastronomic paradise amidst a blossoming orchard full of aromas. It is located in a picturesque alley in Skopelos Town. The surroundings are excellent and the tables are under vine leaves. It is a restaurant with a few tables to give maximum service. The flavors stand out and all dishes are made just in time for your order. So be prepared to enjoy your dinner in no hurry.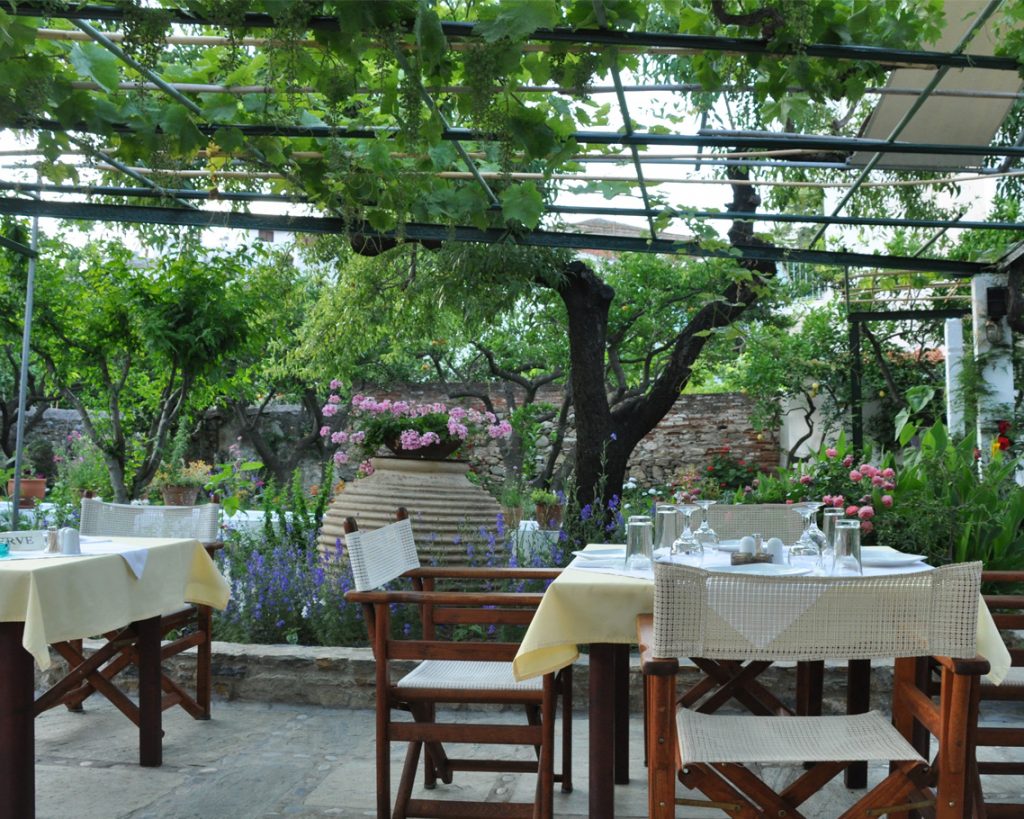 An excellent appetizer for your dinner is the delicious vegetable tart as well as the mushroom with metsovone cheese.
The inspirational dishes will satisfy even the most demanding guests. You should taste the pork with apples and local prunes, the veal fillet with sauteed vegetables or mushroom sauce, the authentic meatballs, the excellent pesto spaghetti as well as the chicken curry shrimp with pineapple.
The wine list covers almost all tastes.
Perivoli no longer operates every year. But year after year.
Perivoli, Skopelos Chora, Tel: +30 24240 22549
When the traditional taste becomes special. In a magical landscape, within the sea, at the Adrina Beach Hotel in Panormos, you will enjoy a hearty meal. Professional service and always friendly owners will make you feel at home.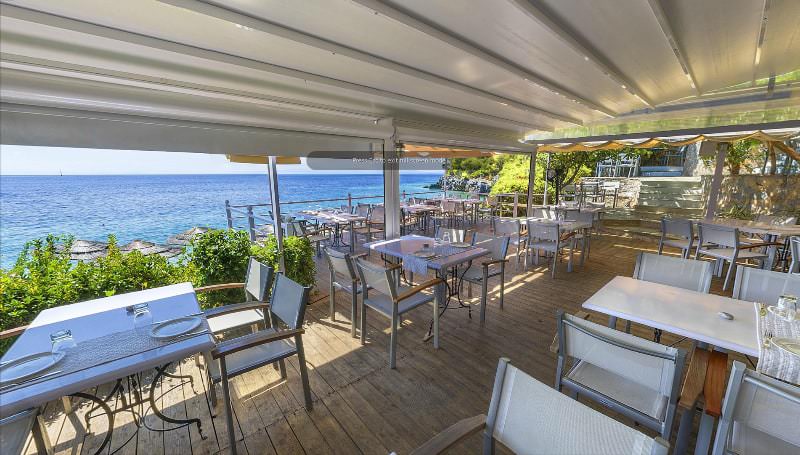 Begin your meal with the cool filling salads. Gavatha salad always impresses with its simple ingredients and fine taste. Tomato, feta cheese, olives, caper, paximadi, and purslane in the best possible combination.
All appetizers are homemade with pure raw materials. The traditional twisted cheese pie, as it should be, crisp and stuffed with local mizithra cheese.
Andrina's specialties are lobster spaghetti as well as scorpionfish spaghetti. Every day the fisherman puts his fish in the Adrina taverna, so you will definitely enjoy fresh fish.
If you are a meat lover you will be very happy to choose among pekania, lamb ribs, juicy yogurt burger, pork souvlaki, and chicken gyros.
Do not skip dessert. Ice cream profiterole with hot chocolate is a miracle of flavors!!!!
Another MUST is the remarkable wine list.
Visiting Adrina is a unique experience.
Adrina Taverna, Panormos Skopelos, Tel: +30 24240 23373
RODI 
In the picturesque alleys of Skopelos, you will find Rodi Restaurant. Once you find it help yourself in to enjoy a delicious dinner. The incredible fragrances will take you alone to the wonderful restaurant. Rodi stands for pomegranate. Therefore the pomegranate in the elevated courtyard justifies the etymology of the restaurant's name.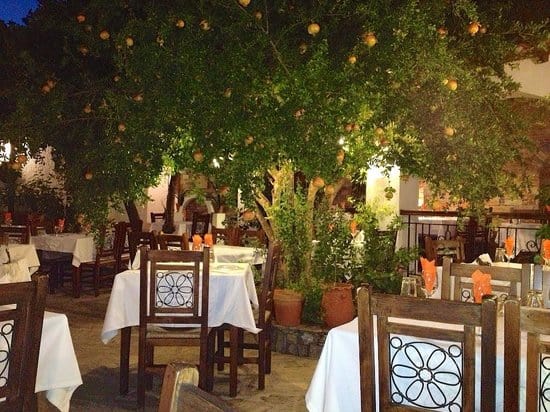 The decoration of the restaurant will impress you as the owner has perfectly combined the modern style with tradition.
The same pattern applies to his dishes, as some of them are prepared by the owner's own mother. Relaxing music and enchanting surroundings will give your dinner a special touch.
From the appetizers menu, you should taste excellent flames, fried as well as zucchini rolls with local katiti cheese and mint. On the menu, you will find a variety of Greek cheeses, pasta dishes as well as traditional flavors. It's worth trying the lamb cooked in the flower pot and the pork with citrus sauce and caramelized apples.
Rodi restaurant has a decent wine list with Greek labels.
Rodi , Skopelos Chora, Tel: +30 24240 24601
OLIVO
Olivo restaurant is located in Skopelos Chora, very close to Skopelos Port. That restaurant has a romantic atmosphere. The garden with the olives trees is a plus by itself. So, the combination of that garden with the warm lighting and the excellent music will make you want to come back again and again.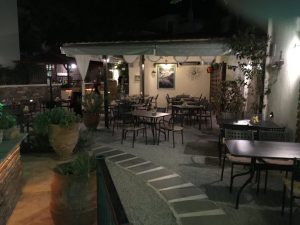 Olivo  Restaurant, in  Skopelos Town, offers tasty alternative suggestions. Some special dishes on the menu are pappardelle with conglomerate, risotto with beetroot and yogurt, risotto chicken, starfish with eggplant sauce, beefsteaks, roasted chicken marinated with curry, muffin mussels, etc. The menu also includes grilled meat and salmon.
Additionally, Olivo  Restaurant offers also a valuable wine list.
The special chocolate soup dessert will surely amaze your senses.
Olivo  Restaurant,  Skopelos Chora, Tel: +30 24240 23209
MUSES
Muses Restaurant is located on the left side of Skopelos port. The location is magnificent since the tables are on the rocks and you can enjoy the incredible views of Skopelos Town as well as the endless blue Aegean Sea. If you are a lover of good food then you are in the right place!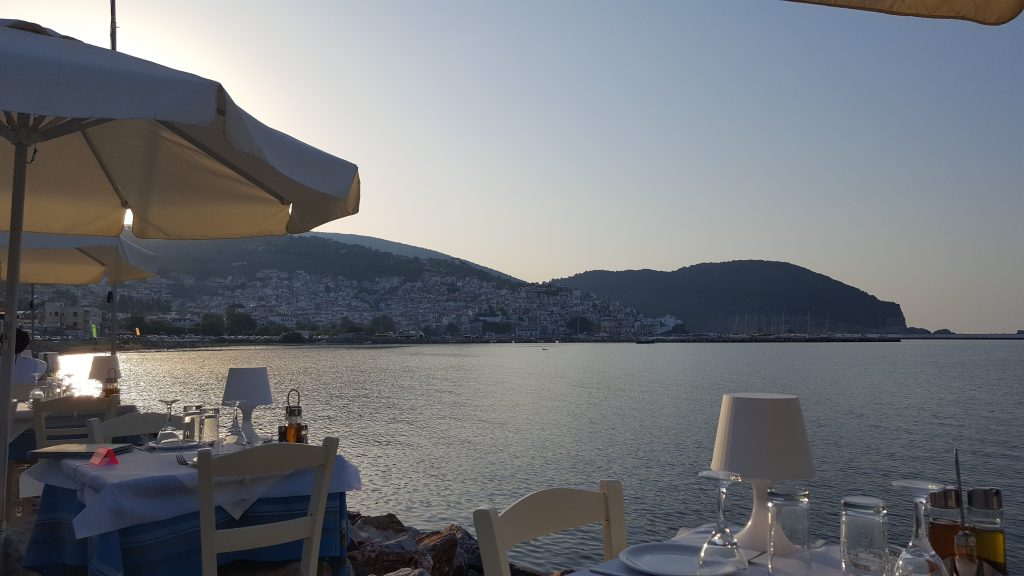 At Muses, you will enjoy Greek dishes in their best possible version. Properly cooked dishes with pure raw materials. You will enjoy both seafood and meat dishes. The variety of flavors you will find in the list is satisfying and covers all kinds of tastes.
We strongly recommend you try the tomato jam cheesecake for an appetizer and order the muses salad. Most of all you have to taste the stuffed burger with potatoes and truffle sauce, goat lemon, pork with plums, seafood spaghetti, roasted chard, and stuffed squid.
At Muses you will also find a complete wine list with a variety of labels.
Muses, Skopelos Chora, Tel: +30 24240 24414
ZOUPA
In Skopelos' beautiful town, in the special area of the old olive press, you will find Zoupa restaurant. At Zoupa you will enjoy a wonderful tasty trip. The menu contains mainly Mediterranean Greek flavors that will lift your senses. The main feature of the Zupa restaurant is the pure biological raw materials used in the preparation of the dishes. Dishes-based traditional recipes, with a more creative touch.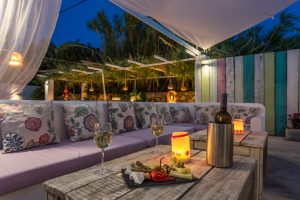 In a highly landscaped area, you will enjoy a romantic dinner listening to the sounds of the world music scene. The aroma of jasmine and the wonderful color of bougainvillea that dominates the space will definitely impress you.
The menu variety will satisfy all guests. It is worth trying the delicious tasty moussaka, traditional red meatballs, snails, plum pork, hamburgers, and pasta with seafood. The pork shank is one of  Zoupa specialties.
Zoupa Restaurant offers a rich wine list with 43 greek labels. 
Zoupa, Skopelos Chora, Tel: +30 24240 24494
OASIS 
In the seaside Neo Klima or Elios Village, next to the picturesque port you will find Oasis restaurant. A real oasis that will satisfy even the most demanding guests. Both with the dishes variety and the excellent quality. Oasis Restaurant offers accurate service, warm hospitality, and well-cooked dishes of Greek cuisine. The sea view next to Neo Klima port is magnificent.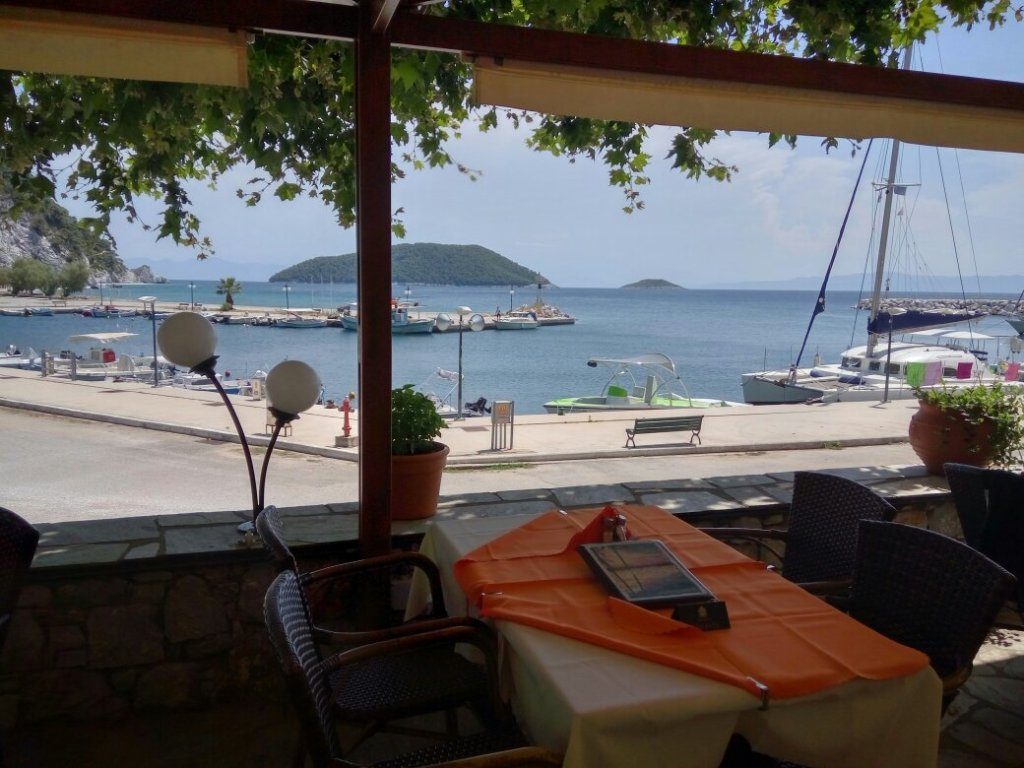 The owner cultivates vegetables himself. Therefore, raw materials used in the preparation of exquisite dishes come from there.  With incredible taste and dedication to quality, Oasis Restaurant creates the perfect setting for an unforgettable meal or dinner, as it stays open all day long. 
In Oasis rich wine list you will find many with organic labels.
Oasis menu remains faithful to the Greek tradition. Excellent traditional cheese pie, a hearty salad, moussaka, stuffed tomatoes and peppers, roast beef, etc. You will find excellent grilled meat, fresh fish as well as various snacks such as pizza.
Oasis, Neo Klima Skopelos, Tel: +30 24240 33674
MONOGRAMMA
Monogramma Snack Bar Cafe is located next to the Skopelos Women's Cooperative in Glossa Village. It operates from morning till night and serves not only deliciously cooked dishes but also a variety of appetizers, coffees, beers, ouzo, and other drinks. All drinks, of course, are accompanied by traditional Greek mezedes.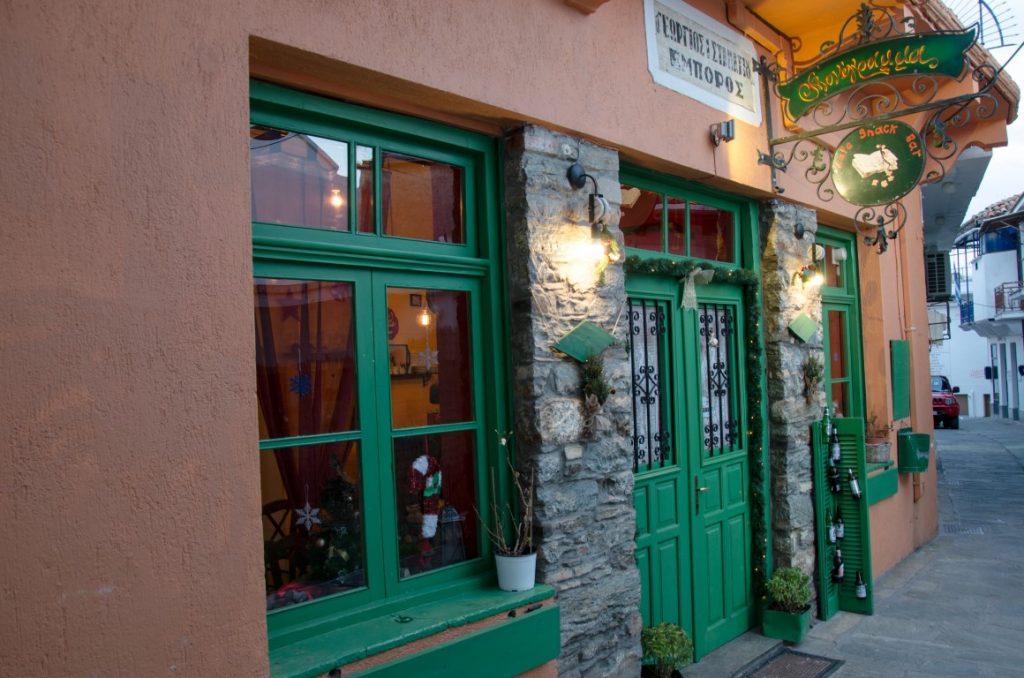 Guests at Monogramma Snack Bar Cafe will experience the ultimate Greek hospitality at its finest. Many times in Monogramma there are events with live Greek music where the fun flows endlessly.
Both locals and tourists prefer to dine in or have a cafe in Monogramma Cafe Bar as it is a fun summer getaway. Monogramma is not a classic restaurant, is something more.
You will enjoy delicious appetizers, hearty salads and tasty spaghetti either indoors or at the tables outside the alley.
Monogramma , Glossa Skopelos, Tel: +30 24240 33110
Visit Skopelos island and enjoy your dinner at Adrina Taverna in Skopelos, Perivoli in Skopelos, Rodi Restaurant, Olivo Restaurant, Mouses Restaurant, Zoupa, Oasi Restaurant, Monogramma for a unique experience.
Skopelos.com – Skopelos Blog
Blog.Skopelos.com – Skopelos.com/Blog
Author – Adrina Hotels Skopelos – www. Adrina.gr