This post is also available in: Ελληνικά (Greek)
MILIA BEACH SKOPELOS, MILIA SKOPELOS, BEACHES SKOPELOS, SKOPELOS MILIA BEACH, SKOPELOS MILIA, DASIA SKOPELOS, MILIA BEACH BAR, MILIA APARTMENTS, MILIA TAVERNA, SKOPELOS BLOG, SKOPELOS BLOGSPOT, SKOPELOS BLOGGING, SKOPELOS BLOGS, SKOPELOS BLOGGERS
MILIA BEACH, THE MOST BEAUTIFUL BEACH OF SKOPELOS
Ηow much beauty can your eyes capture in only one look?
How much can your heart fulfill with a landscape as beautiful as it gets?
Turquoise waters, deep blue sky and green pine trees combined as if it is a painting!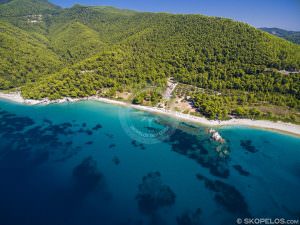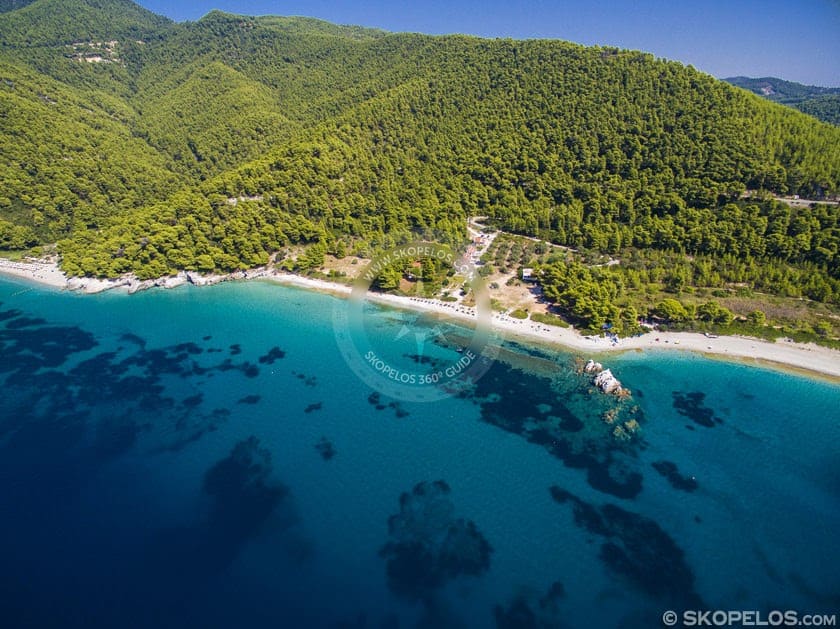 This is not a dreamy exotic scenic. Not at all. This is Greece and to be more specific welcome to the green Skopelos Island!
Skopelos is well known as the green and blue Aegean island. In Skopelos you will have the chance to to swim in some of the most beautiful beaches ever, with the most crystal clear waters ever.
DESCRIPTION
According to the most of the people Milia Beach is the most beautiful beach of Skopelos Island. Visiting Milia beach is definitely one of the MUST DO in Skopelos. Milia beach is a sandy wide beach with turquoise waters surrounded by pine landscape. Moreover, Milia beach has a spectacular view of small island of Dassia.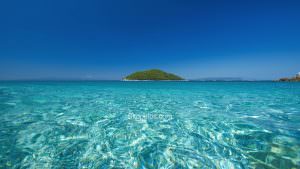 To continue with the description of this magnificent beach, Milia has mostly glammering white sand mixed with pebbles. It's the longest beach on Skopelos island and it stretches in two directions. Actually, a row of rock formation is the natural boundary of Milia beach that divides it in the middle.
Left or Right
So there is the right and the left side of Milia Beach. The left side attracts most visitors since it has a beach bar, sun loungers and umbrellas for rent. At Milia Beach bar you can have snacks, ice cream, refreshments and a variety of cocktails and beers. Whereas the right side is more peaceful and family friendly. Although, since the summer of 2019 in the right side there is also a beach bar, sun loungers, umbrellas and  a playground.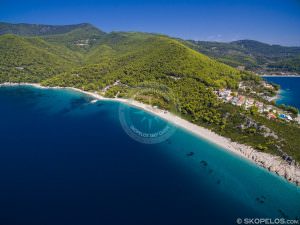 So it's up to you where side to follow. On one hand you can have special party with dj's, summer cocktails such as mochito, caipirinha, frozen margarita, frozen daiquiri and on the other hand it is the perfect place for families with kids and for more relaxing situations.
Milia is not not only an enchanting beach, is also wide. Therefore, there is still a third option. If you really had tranquil and peaceful mood then you can have your own summer equipment and just lying down on the beach away from the bars and the crowd.
Furthermore at the right of Milia beach there is a slippery plate, so you will to be careful by entering the water. On the left site there are only the small pebbles and the white sand into the sea , so there is no need for worries.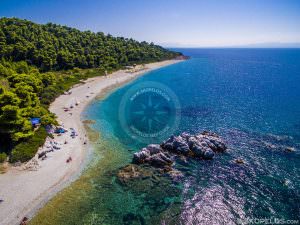 More about Milia Beach
The waters are just perfect, cool and clean. You will certainly enjoy your swimming a lot in Milia. Even perfect is the fact that the bottom gets deeper every little step you make.
Milia Beach is an extremely amazing beach. The natural scenery is breathtaking. All your senses will be satisfied to the maximum…Swimming in those crystal clear waters, smelling the pine trees, seeing only green in blue, tasting the sea and touching the sand.
Furthermore from Milia beach you can see not only the little Dasia island but also Skiathos island.
To become even better, except from admiring the natural beauty there are more to do on Milia Beach. If you are a sportsman you will be thrilled to know that on Milia Beach you can do water sports. Water skiing, paddle boarding, wakeboarding and a lot of others sports and games. There is an acclaimed coach and a lifeguard.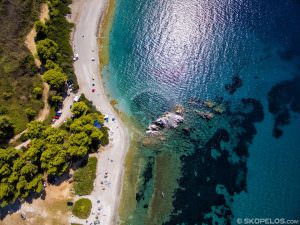 LOCATION
Milia Beach lies north of Panormos, over the headland, approximately 14km south-west of SKopelos Chora.  Milia Beach is almost in the middle of Skopelos island since it has a similar distance east from Glossa, the island's second largest village.
By car and following Agios Riginos road you will need approximately 25 minutes to get there. The road is in a good conditions but it has some turns.
On the road you will see a sign called Milia Beach. If you come from Skopelos Town you will make a left on the small path. A little downhill with easy turns and you've arrived. There is parking space.
If you are using Skopelos local bus you should be aware that the station is on the road. Therefore you have to walk down the little downhill to get to Milia Beach. It is about 8 minutes walking. It truly deserve every single step.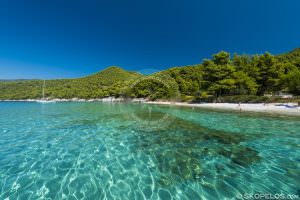 Swim, swim and swim…enjoy the clearness of the crystal waters in the sea, swim and sunbathe on the lush beach.
Stay until evening to admire the unique sunset just fading behind the Dasia, the little green island in the sea.
Go for diving and snorkelling.
Have fun and learn water sports.
Rent a canoe or a paddle and take a wonderful sea ride till Dasia island.
Do nothing else rather than lying down and enjoy the magnificent landscape.
Taste well-cooked Greek dishes at Milia Taverna.
Swim without your swimming suit on the left side of the beach, do nudism.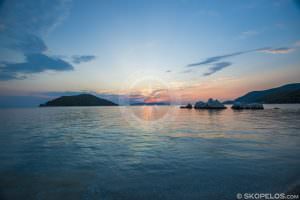 At Milia Beach you will find one of the best beach bar of Skopelos.  Milia Beach Bar or apple paradise bar. Milia Beach Bar have a lot of funs that are delight to visit it again and again.
You can enjoy coffee, juice, drinks, beer and cool summer cocktails. Mojitos, daiquiris, aperol, margaritas, cosmopolitan and many more to satisfy all tastes !! Light meals, salads, ice creams and sandwiches are also available in Milia Beach Bar.
Moreover, at Milia Beach Bar,  the fun never ends.Every summer many unforgettable themed party are organized, featuring djs and celebrity guests .
All you need to have with you is your swimsuit, your smile and your summer mood …
Accomodation in Milia, Milia apartments
I you wish to spend the whole of your vacation on Milia Beach we do have the solution for you. Book at Milia Apartments. This complex is amphitreatically built in a lush garden and ends in a distance of only 10 meters from the amazing Milia Beach.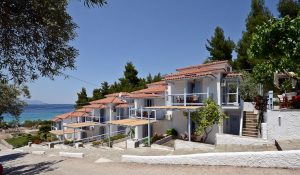 Furthermore it offers free sun umbrellas and deck chairs in the beautiful Milia Beach. In the complex  of Milia apartments there is a playground for the little friends to be happy as well. Free parking is also available on site (Milia apartments) and breakfast is served daily.
Enjoy your meal in Milia, Milia Taverna
It is well known that the sea increase our appetite. We do have a solution for that too. On the Milia Beach there is an excellent taverna, Milia restaurant. It is located near the beautiful Milia Beach and offers great views to the sea and the Dasia little island.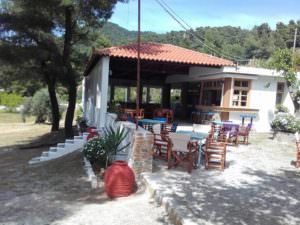 The service is very friendly and you will enjoy well cooked greek dishes made of local products. At Milia taverna you will enjoy fresh fish and many plates with lobster.
The legend of Dasia
This beautiful uninhabited island, Dasia has its own legend, which claims that there is a hidden treasure in one of the caves. In fact a big black person used to guarded the treasure while sitting on a stool made of marble smoking a tobacco pipe. You should think very well if you wish to take that treasure, because in order to do so you should first kill one of his relative.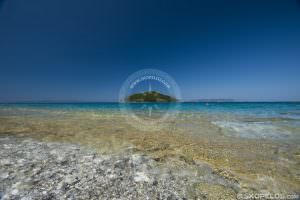 To conclude with Milia Beach is the most beautiful beach of Skopelos. An ideal scenic that will blow your mind away. Happy holidays!!!
Skopelos.com – Skopelos Blog
Blog.Skopelos.com – Skopelos.com/Blog
Author – Adrina Hotels Skopelos – www.Adrina.gr 
www.AdrinaBeach.com – www.AdrinaResort.com