SKOPELOS TOP WORLD ISLAND, SKOPELOS BLOGGER MARTA OSTAYA, SKOPELOS BEST ISLAND IN THE WORLD, VISIT SKOPELOS, SKOPELOS GETAWAY, SKOPELOS INTERNATIONAL DISTINCTION, SEYCHELLES, MALDIVES, WHERE LIFE IS GREAT, TRAVEL BLOGGERS, SKOPELOS MUST SEE, SKOPELOS BEACHES, SKOPELOS HOVOLO BEACH, SKOPELOS MILIA BEACH, SKOPELOS BEACH HOPPING, SKOPELOS CHORA, SKOPELOS TOWN, MAMMA MIA SKOPELOS, SKOPELOS AGIOS IOANNIS CHAPEL, SKOPELOS RECREATION, SKOPELOS SWIMMING, HIKING, SNORKELING, BIKING, SKOPELOS FOOD, SKOPELOS CHEESE PIE, NORTHERN SPORADES, GREECE, SKOPELOS BLOG, SKOPELOS BLOGSPOT, SKOPELOS BLOGGING, SKOPELOS BLOGS, SKOPELOS BLOGGERS
Skopelos is first in the list of the 12 top islands to visit in 2023
The beautiful green island of the Northern Sporades, Skopelos has been the subject of much international press coverage.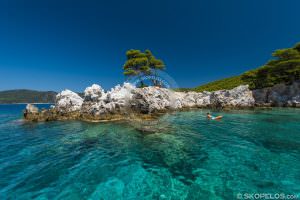 Sometimes through the movie Mamma Mia, sometimes for its natural wealth, its stunning beaches, its luxurious accommodation, and its delicious local food. In fact, the international press and several public figures or bloggers mention Skopelos as the ideal place to visit on a summer holiday.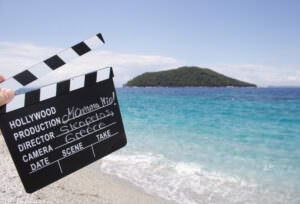 It is worth noting that the unique Skopelos, the diamond of the Sporades and the Aegean Sea, is not only mentioned in lists of the best Greek holiday islands. On the contrary, it very often competes with top islands and destinations all over the world.
WTM TOURISM EXHIBITION
Let's not neglect to mention the important international distinction won by the island of Mamma Mia at the recent WTM tourism exhibition in London. As Skopelos was on the first list announced after the end of the exhibition. This list is about the proposals for the best islands in the world for the year 2023.  Skopelos is deservedly on the list of the world's top islands.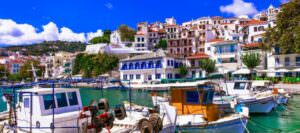 The well-known traveling blogger Marta Ostoya combined the new travel trends that exist after the Covid era with the world destinations featured in the World Travel Market and concluded that the Greek island, Skopelos is the top worldwide place to see.
Famous blogger Marta Ostoya
Famous blogger Marta Ostoya has been awarded the title of "the most influential talent on the web". Her blog "Where Life is Great" is of travel nature and is particularly popular with young couples and people who love activities.
According to the famous web blogger Marta Ostoya, Skopelos is the top island to see in the world in 2023. Higher on the list of the world's top islands than even the Maldives, Seychelles, Bali, Mallorca, and the Barbados Islands.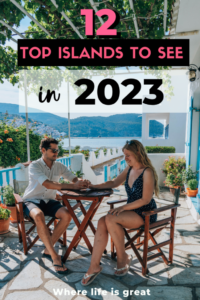 More specifically, Skopelos is in first place, followed by Tenerife, Sardinia, Procida, Iceland, Bali, Japan, Sri Lanka, Maldives, Seychelles, Barbados, and Majorca.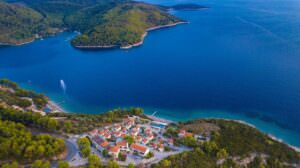 Marta responded positively to the invitation of the Municipality of Skopelos and visited this beautiful island. She says that "with the reputation of being the greenest island in Greece, Skopelos is awe-inspiring with its harmonious natural color palette and the abundance of quality options from hiking and cycling to scuba diving, Mamma Mia tours, sea excursions to the pirates' lairs and cooking traditional cheese pie".
We totally agree with her!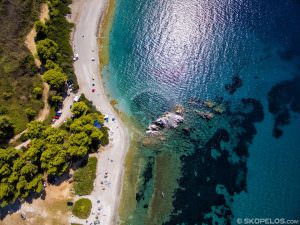 Mamma Mia The Party
In London, the special collaboration between the Municipality of Skopelos and the gastronomic music and dance performance Mamma Mia The Party was also successfully completed. Mrs. Ioanna Efstathiou, as chairperson of the Tourism Committee of the Municipality of Skopelos, made the following statement "The messages we received at the WTM exhibition are encouraging. Despite the international crisis, interest in Skopelos remains high from tour operators and smaller agencies. All this time we have invested in thematic tourism products that fascinate the traveling public and the international media".
Skopelos.com – Skopelos Blog
Blog.Skopelos.com – Skopelos.com/Blog
Author – Adrina Hotels Skopelos – www. Adrina.gr