SKOPELOS ELIOS WEEKEΝD, WEEKEND IN ELIOS SKOPELOS, BEACHES OF SKOPELOS, SKOPELOS VACATIONS, BREAKFAST IN ELIOS, ELIOS PORT,SKOPELOS HOVOLO, SKOPELOS ELIOS BEACH, SKOPELOS NEO KLIMA, SKOPELOS ESCAPE, SKOPELOS FOOD, SKOPELOS DRINKS, HOLIDAYMAKERS SKOPELOS, SKOPELOS ADRINA  HOTELS, NORTHERN SPORADES, GREECE, SKOPELOS BLOG, SKOPELOS BLOGSPOT, SKOPELOS BLOGGING, SKOPELOS BLOGS, SKOPELOS BLOGGERS
Weekend in Elios
Summer is on. Do you want to get away from the ordinary? Of course, you do! We advise you to get off the beaten path a little bit. Instead of the famous Cyclades what about visiting the green Sporades? In fact, Skopelos is even more beautiful than you've been told or imagined. More than 80% of the island is covered by pine forests, where the pines are rooted dramatically in the sea, with traditional seaside villages, a variety of deep blue beaches, romantic sunsets, and landscapes that promote outdoor activities.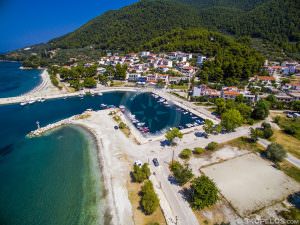 Skopelos Island is the biggest island of the complex of Northern Sporades (Skiathos, Skopelos, Alonissos). On Skopelos, except for the beautiful Chora, there are other settlements to stay. We highly recommend you spend a weekend in Elios Village.
You can visit Skopelos on a honeymoon, on a romantic getaway, or even explore solo or with a group of friends, or with your family. In this post, we are going to show you how to spend an unforgettable weekend in Elios (Neo Klima) of Skopelos.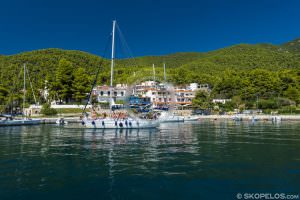 The scenic Elios Village is a complete state, with all the necessary amenities for a carefree holiday. A beautiful harbor, a marina, a basketball court, a football field, a playground, supermarkets, traditional fish tavernas, gourmet restaurants, cafes, and a bistro for a night's summer cocktail. The landscape of the green into the blue is impressive.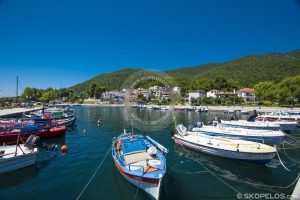 You have either the choice to go swimming or to go for a walk in the woods. After all, it is built on the sea and downhill the Delfi Mountain. The two beaches of the village are Elios Beach and Hovolo Beach.
DAY ONE
Welcome to Elios or Neo- Klima Village. Put on your swimming suit and let the fun begin.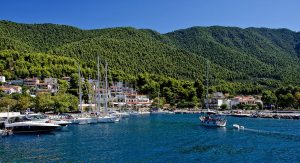 On your first day, you must go to Hovolo Beach. It is no coincidence that it is on the Telegraph's list of the 17 most beautiful beaches in Greece.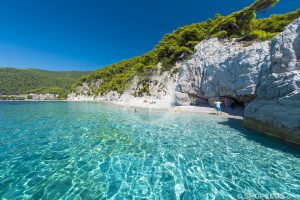 Hovolo has fine sand, dominating white rocks, and crystal clear waters framed by a pine forest. The inconceivably beautiful natural landscape remains untouched. Therefore, be prepared because there are no sunbeds and umbrellas at Hovolo.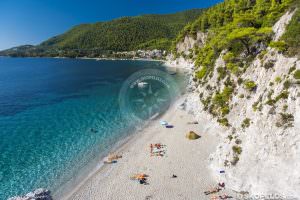 But there is the beach bar "mandalaki cafe", where you can enjoy your morning coffee, your breakfast, and delicious snacks and stay there to admire the sunset or have a late cocktail.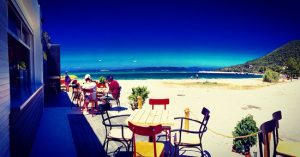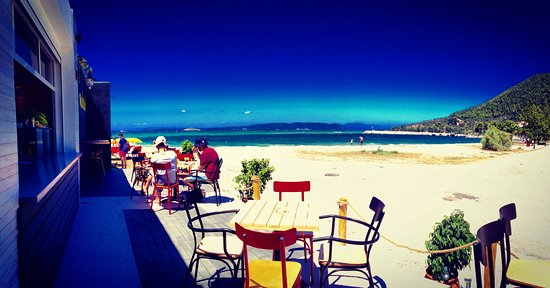 Of course, after the beach, you feel hungry. So, you have a lot of choices. There are a variety of traditional fish tavernas. Captain Spyros, Vaggelis as well as Manolis Taverna.  Plateia Neo Klima and Nikos tou Rali are also great options offering pizza and Greek souvlaki. On the other hand, Tasos is a traditional tsipouradiko. If you prefer more distinctive dishes then visit the Oasis or the 5 Platania restaurant. Food lovers will feel blessed in Elios Village.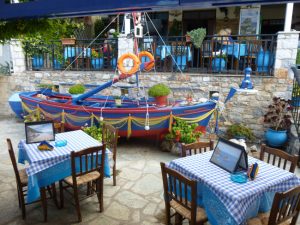 After, having your meal you should go to your place of accommodation to relax a little bit.
But afterward, get dressed and go for a summer late drink.  At night, you have always the fine choice to go to Palataki wine bistro.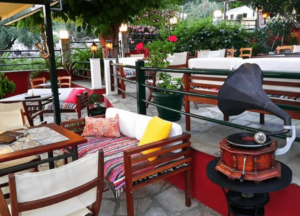 DAY TWO
Good morning! The second day dawned and it is about time to visit the other beach of the village. Elios Beach extends along with the Neo- Klima Village, next to the harbor. It is an organized beach with loungers and umbrellas. Moreover, it is a sandy beach with small and large pebbles surrounded by green pine trees.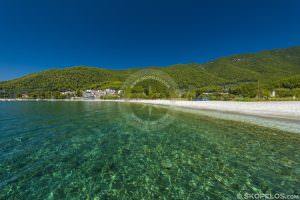 You can have your breakfast or morning cafe in the tavernas or cafes on the harbor next to Elios Beach.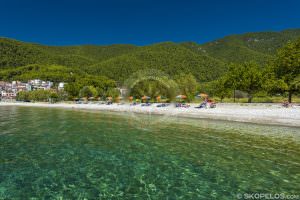 After staying on the beach is again time for food. You can go to the same taverna- restaurant on day one if you were truly satisfied or pick another option for variety.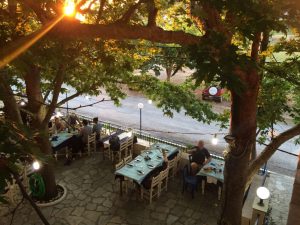 In the afternoon there are two options depending on your status. You can go either with your children to the playground or go with your friends hiking to the mountain Delphi.
If you still have stamina and don't want to lie down, the options are still open at night. You can go back to the bistro for a glass of wine or hang out in the cafes of the harbor.
Weekend in Elios, a break to love!
EXTRA TIPS
Tip-1: While booking your tickets, select the Glossa Port, since it is closer to Elios Village than the Chora Port! Glossa Port to Elios is approximately a 7-minute drive away, while Chora is a 25-minute drive.
Tip-2: Make yourself an extra favor and visit  Adrina Hotels, in Panormos of Skopelos, just an 8-minute drive from Elios. Spoil yourself by enjoying a delectable meal in  Adrina Taverna.
Tip-3: If you are looking for more adventure on your weekend, then don't hesitate to try scuba diving or kayaking. The island's diving center is located at the Hotel Adrina Beach in Panormos, while the kayaking is located on Milia Beach. Milia Beach is just a 6-minute drive from Elios.
Skopelos.com – Skopelos Blog
Blog.Skopelos.com – Skopelos.com/Blog
Author – Adrina Hotels Skopelos – www. Adrina.gr