SKOPELOS CHILD-FRIENDLY VACATIONS, FAMILY TRAVEL GUIDE SKOPELOS, SKOPELOS FAMILY-FRIENDLY DESTINATION,  SKOPELOS FAMILY LUXURY HOTELS, KIDS CLUBS, FAMILY DESTINATIONS, CHILD-FRIENDLY HOTELS, FAMILY-FRIENDLY HOLIDAYS, HOLIDAYMAKERS SKOPELOS, SKOPELOS ADRINA  HOTELS, NORTHERN SPORADES, GREECE, SKOPELOS BLOG, SKOPELOS BLOGSPOT, SKOPELOS BLOGGING, SKOPELOS BLOGS, SKOPELOS BLOGGERS
Visit Skopelos for Best Family Vacation Ever
It's about time to start planning your family vacation. In order to spend some truly calm time you first must find a brilliant location where your children's happiness is perfectly matched with your own relaxation. You definitely need a Family Travel Guide to Skopelos.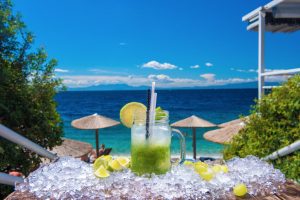 For those who do not know it yet, please be informed that Skopelos is a child-friendly destination. Since there are organized beaches, family-friendly hotels, playgrounds, Elios Village, Milia Beach, and last but not least the majestic Skopelos Chora. So, Skopelos remains an untouched place by mass tourism, a place that has not yet been dramatically affected by the bustle of visitors, a heaven for you, your family, and your adorable children.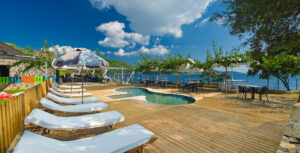 Although there are many islands in Greece promising family relaxing holidays, we highly recommended Skopelos for plenty of reasons. The basic reasons are highlighted in this article.
Skopelos is worldwide famous for its unique combination of green and blue. The beaches of the island are not only of unparalleled beauty but also easy to access. You can go easily in your own car or by the very well-organized public bus. Moreover, you will not face parking problems since on most of the beaches there is space provided.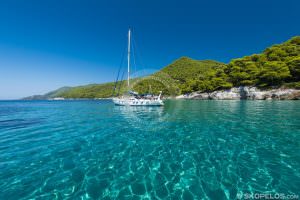 EXTRA BONUS (Skopelos family travel guide)
Skopelos Road Network. The road is asphalted and wide. Compared to roads on other islands it is one of the easiest to drive on. There are a few bends that may cause dizziness for small children.
Adrina Resort & SPA
Adrina Hotels in Panormos, are luxury beachfront Hotels that provided the best service. Adrina Beach is 4 stars Hotel and Adrina Resort & Spa is a 5-star Hotel. Visit Adrina Hotels to enjoy royal vacations. Most people characterize Adrina Hotels as the jewelry of Skopelos Island. The very good news is that Adrina Hotels are expanding and soon a third hotel will follow to complement the marvelous facilities.
Each Hotel comes with its private beach and restaurant. Particularly Adrina Taverna is one of the top places to eat in the Northern Sporades.
Adrina Resort & Spa 5-star Hotel provides also Kids Club Playground. Τrained educators, keep your children busy every day from 11 am to 20 pm. Creative activities in such a beautiful environment make children truly happy. It also helps them to socialize easily and meet other children. The handicrafts they create are the best souvenir to take with them from Skopelos.

Visit Adrina Resort and Spa to experience the definition of a child-friendly vacation in a family luxury hotel.
EXTRA BONUS
  Adrina Resort & Spa offers spacious villas that minimize at once the problem of planning accommodations for more than 4 people.
In the Hotel Restaurant, they prepare melted baby food according to the needs of your family.

 

At the restaurant of Adrina Resort and Spa, they serve a delicious kids' menu as well.
They do have High chairs compatible with infants and toddlers.
Everything you need is inside the Hotel. You do not need to move your car until the last day of the family vacation.
Milia Beach is one of the most beautiful beaches in the Northern Sporades. Many people claim that is the best beach on Skopelos Island. It is an organized beach with parking space. Have in mind that if you visit Milia by bus then you have to walk a distance from the bus stop to the beach.  On the right side of the beach is a beach bar while the left side is the perfect spot for families.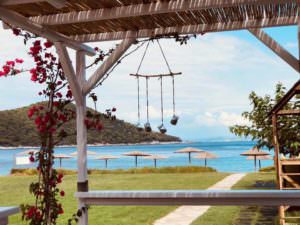 EXTRA BONUS
There is a beach bar combined with a playground on the left side of the beach.
Skopelos town, also known as Chora, is a traditional small town that has been declared a traditional settlement. Chora offers everything, supermarkets, tavernas, bakeries, cafes, seasonal shops, accommodation, even two ports, and a beach.  The road from the new to the old port, essentially the beach of Chora, has been paved, creating an even more traditional effect.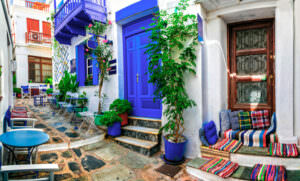 The cobblestones are walkable. There are also interesting museums to visit. Such as the folklore museum of Chora, the Vakratsa Mansion, and the house of Pavlos Nirvana. The best spot for the perfect family portrait is the Panagitsa of Pyrgos on the left side of Chora.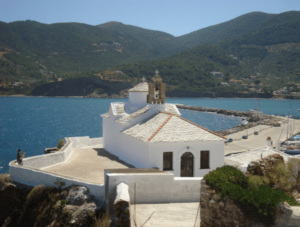 EXTRA BONUS
Opposite the new port is an organized playground. To continue with the benefits, there is also a cafeteria, Ntokos Cafe, where you can enjoy your coffee while watching your children play.
During the afternoon hours, the paved part becomes exclusively a pedestrian area. As there is a ban on cars, you can move around with your children in peace and quiet.
There is an organized beach inside Chora, Ammos Beach where you can safely swim with your kids. It also provides a beach volley court.
Elios or otherwise Neo Klima village has been recently developed. Is approximately 7 km from Glossa Villa and 18 km from Skopelos Chora. Neo Klima village features a lot of taverns and restaurants, as well as cafes. Furthermore, there is a marina for boats. There are many hotels studios and apartments for a pleasant stay in the area.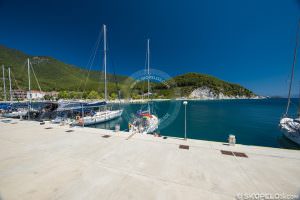 EXTRA BONUS
There are basketball and football courts along with a playground, for our little friends to play.
  Elios Village has everything a relaxed traveler needs. The only reason to move is to see other beaches or to visit other parts of Skopelos Island.
Skopelos offers quality food to its visitors. It is mainly famous for the traditional cheese pie. Children literally love the specific flavor. It's ideal for all times of the day. Moreover, most of the restaurants and tavernas, in Skopelos, feature a kid-friendly atmosphere. Children will feel welcomed, and so are the parents. Isn't it a perfect child-friendly vacation?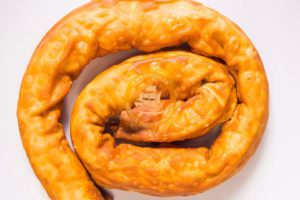 EXTRA BONUS
Almost every taverna or restaurant offers spaghetti or a grilled burger and french fries. BE CAREFUL: Though, have a stroll with you because not all of them offer high chairs. 
Recreation – Best family activities Skopelos
How cool is it to try new experiences along with your children? Skopelos offers a variety of family-friendly activities. Parents become kids for a while, and at the same time, children spend a magnificent time with them all together. Spend your child-friendly vacations in Skopelos family-friendly destination. Skopelos family travel guide.
Diving
The Diving Center of Skopelos is located in Adrina Beach Hotel, in the Panormos area. After a big effort, the Dive Center was established on Skopelos Island. The well-trained staff will properly guide you and your kids to dive efficiently and safely. The whole family can attend lessons in order to take a certified diploma.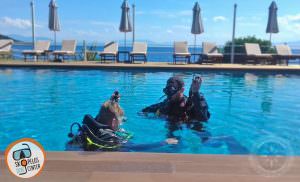 In Skopelos Chora, there is a store where everybody can rent a bicycle. Only it's not just about renting, since the store offers organized cycling tours all over Skopelos and children's activities and cycling races inside Chora.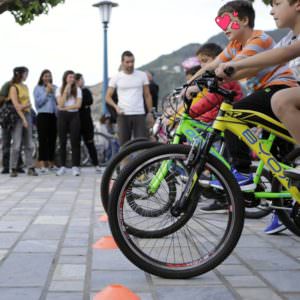 SUP
Stand Up Paddleboarding (SUP) is a popular outdoor family activity. The most important is that it is aimed at all ages. Parents and kids have the opportunity to play with the sea waters and discover Skopelos Island.  Enjoy your child-friendly vacations since Skopelos is a family-friendly destination.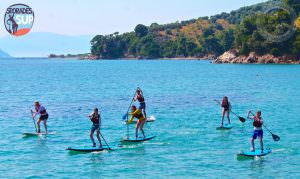 Kayaking
Kayaking in Skopelos is a great experience that addresses all ages and levels of experience. The experienced staff, divided into guides, backroom staff, and helpers, will make you feel safe and will guide you and put you on the right tour. Explore, as a family, the unhidden beauties of Skopelos Island.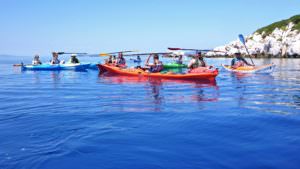 Water sports
Water skiing, wakeboarding, kneeboarding, sea bicycle, banana, sea canoes, and many other water activities will make your holidays even more fun. Definitely, the kids will love all these water games. It's also a chance for you to find your inner child. Although the water sports are based at Milia beach, there is the possibility to come with their boat to the nearby beach where you are already located.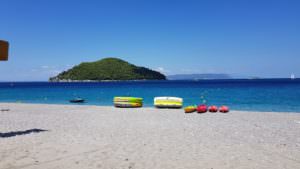 Easy access from Skiathos airport
There is easy access to Skopelos either by boat or by plane. You can land at Skiathos airport and then by a water taxi to reach Skopelos in less than 25 minutes and with an adventurous feeling.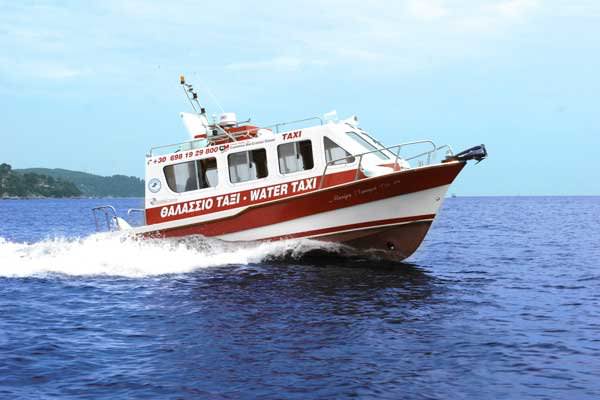 Although there is a misconception that Skopelos is a destination for couples, there is plenty to see and do with your children as part of an exciting family holiday.
EXTRA TIPS FOR FAMILY VACATIONS IN GREECE:
Skopelos family travel guide
To visit Greece you do not require to undergo any special vaccination procedures. Due to the global covid epidemic, the only vaccination certificate required is for covid. Furthermore, you do not need to prescribe any special medicine.
Skopelos Island has Health Center and experienced private doctors.
Greece is a blessed country. Just, think that there is sunny weather in most months of the year. The very best weather in Greece, of course, for families with kids to enjoy beach time and swimming is from late May to late September.

 

Be careful with the sun,  the children should always use sunscreen and wear hats.
Sometimes you may face the short summer rains (most probably in June). In Skopelos, specifically, you will not experience problems with strong winds.
The taxis in Greece have the capacity of a maximum limit of 4 passengers. If your family has more members then you should look for larger vehicles at the car rental offices of Skopelos. All of them have child car seats on request.
Overall traveling in Greece, no matter the means of transportation (bus, ferry, airplane, is easy and comfortable.
Enjoy your child-friendly vacations since Skopelos is undeniably a family-friendly destination.
Skopelos.com – Skopelos Blog
Blog.Skopelos.com – Skopelos.com/Blog
Author – Adrina Hotels Skopelos – www. Adrina.gr