7 DAYS ON SKOPELOS ISLAND, WHAT TO DO ON SKOPELOS ISLAND, BEACHFRONT HOTELS SKOPELOS, HOTELS ON THE SEA, SUMMER VACATION, SKOPELOS GREEN ON BLUE, SKOPELOS BEACHES, SKOPELOS ENTERTAINMENT, SKOPELOS ACTIVITIES, HOTELS SKOPELOS, ACCOMMODATION SKOPELOS,  SKOPELOS PLAN VACATION, MINI GUIDE TO SKOPELOS, SPENDING A WEEK ON SKOPELOS ISLAND, ADRINA HOTELS SKOPELOS, ADRINA BEACH HOTEL, ADRINA RESORT AND SPA, ADRINA RESTAURANTS, SKOPELOS BLOG, SKOPELOS BLOGSPOT, SKOPELOS BLOGGING, SKOPELOS BLOGS, SKOPELOS BLOGGERS
7 DAYS ON SKOPELOS ISLAND – WHAT TO DO
The summer is here, your vacation has just begun and you are staying in the best beachfront Hotel on Skopelos Island, Adrina Hotels, either Adrina Beach Hotel or Adrina Resort and Spa. Though, you are feeling adventuresome and have this intense desire to explore the beaches of the island.
An island made of blue and green. The lush Skopelos is always willing to give generously to everyone who visits it the very best gifts of nature. From the traditional main Chora to the magnificent beaches, celebrating with the dancing waves the magicity of the Aegean.
On a coastline of 67 km, there are more than 30 beaches that compete in beauty so as to gain your attention, alongside the imposing main town and picturesque villages.
We suggest you the perfect 7 days program to follow. The very best of Skopelos in a week (7 Days on Skopelos Island)!
WEEKLY  PLAN ON SKOPELOS BEACHES
In other words, there are so many options that you could be easily confused. Since you have the opportunity just to spend your day on the beach, or maybe wish to visit Skopelos Chora, have you also think the possibility of doing a daily boat trip, what about scuba-diving, hiking, or cycling? Some of you may be interested on discover the cultural highlights of Skopelos Island.
So, relax and we will make for you the best weekly program for enjoying the very best beaches of Skopelos, from the most popular to the most secluded ones.
Having Adrina Hotels as your base, you can visit them all or choose what to follow. Get ready to discover the beaches of Skopelos. (7 Days on Skopelos Island)
TIP 1- If there are north winds choose the West or South Beaches (for example Milia, Kastani)
TIP 2- Be alert, another guideline with more recreation and must-do to follow…
TIP 3- At the Adrina Hotel reception, there are always happy to serve you and answer your questions.
How many times have you seen the Mamma Mia musical? How many times have you sung along with Donna "The winner takes it all"? Admit it several times…now is the date to make your dream come true. Visit Agios Ioannis beach and then feel free to climb the 100 to Ai Giannis Kastri church.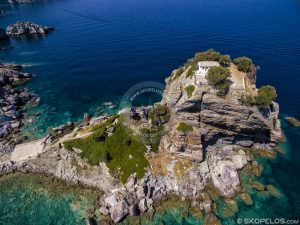 The beach is on the way to Glossa. You will come across a road in your right hand that ends up in the church of Agios Ioannis. It is easy since there are signs that guide you. Ai Giannis beach is sandy, with small pebbles and stones with turquoise waters. There are a few umbrellas and deck chairs. Furthermore, there is a canteen on the road during the summer season that offers water, soft drinks, and coffee.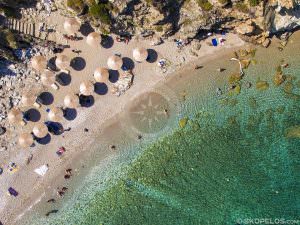 TIP The best hours to climb to the Mamma Mia Church is early in the morning or late afternoon due to the sun.
Did you enjoy your first day on Skopelos Island? Yes, you did. Let's organize your second day to another majestic beach..or two.
Hondrogiorgi Beach is not of the most popular ones. It consists of small coves with rock formations in the sea while having fine pebbles. The crystal-clear turquoise water will impress you at a glance.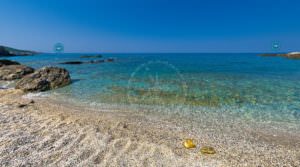 The beach has neither sun umbrellas nor a beach bar. Park your car in the small car park overlooking Hondrogiorgi Beach. Then follow the small and easily accessible path that leads to the beach.
After enjoying your swim on this beach continue to Perivoliou Beach.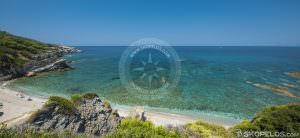 Perivoliou Beach is a sandy beach featuring stunning rocks that create natural shade. On the road to Perivoliou Beach, you will find a carved and painted stone on your right hand. There is parking on the rock above the beach. Moreover, there is a beach bar to quench your thirst.
TIP Both of the beaches are not accessible to people with special mobility needs because there are steep paths to the coast.
DAY-3 STAFYLOS- VELANIO
Maybe you get a little tired of the beaches to discover. We clearly understand that so, on your third day, we suggest you visit one of the most popular beaches in Skopelos. Go south and welcome to Stafylos Beach, which is located in a magnificent bay at the foot of a mountain covered with pine trees. Moreover, the beach is sandy and the water is enchanting blue-green. Stafylos Beach is an organized one with sun loungers and umbrellas as well as a beach bar.
TIP You can visit the tomb of Prince Stafylos.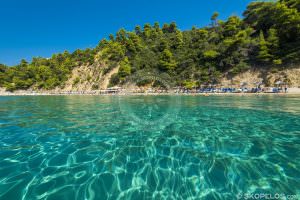 You have to trust us, a little more. It is a pity to visit Stafylos Beach and not cross the other side of the rock. You just need to walk a little bit and a hilled paradise will appear at Velanio Beach.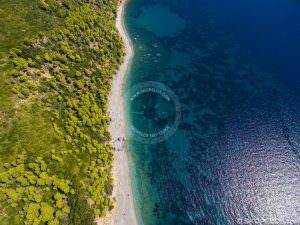 Velanio Beach has white sand, small pebbles, and crystal clear aquamarine waters. The dream landscape has not received human interference, so while swimming you only meet the beautiful beach, the blue sky, and the green pine forest. Velanio is the official nudist beach of Skopelos Island.
TIP If you stay on Velanio Beach shortly after the lovely sunset, you will come across free-range goats that come down to drink seawater.
Good morning! How are feeling today? Are you ready for another perfect day on Skopelos Island? Yes, you are! Today we are going to visit Armenopetra Beach.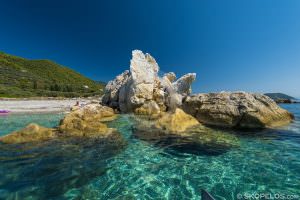 Armenopetra Beach, in Skopelos, is a wide beach with sand, white pebbles, and stones. Throughout the coast, there is white sandstone, creating a scenery of luminous lanes. It has no very easy access since the downhill dirt road is narrow and rough. Nevertheless, the amazing landscape down there will reward your effort. Armenopetra Beach is located after Neo Klima – Elios Village.
TIP On Armenopetra beach you can enjoy idyllic sunsets but have your own water and food supplies.
Enough with the adventurous beach. Let's visit the most popular beach on the island, let's dance to the mamma mia songs, let's go to Kastani beach, where most of the scenes of the famous musical took place.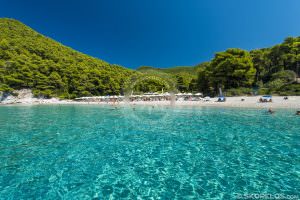 Kastani Beach, on Skopelos island, is a place of impeccable beauty with pine trees winding up almost in the water. Moreover, on Kastani Beach there are all the necessary amenities since it is an organized beach.
At Kastani Beach guests can enjoy even more at the modern beach bar. Kastani Beach bar offers sun umbrellas, loungers, and a variety of refreshments, cocktails, and snacks.
TIP  Kastani Beach is less than 7 minute drive from Adrina Hotels.
DAY 6 MILIA BEACH
You are already 5 days on Skopelos Island but still, you haven't visited the magnificent Milia Beach. Do not worry at all. Today is the day to do so!!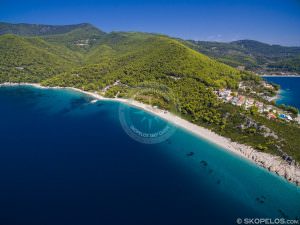 Milia Beach is one of the most popular beaches on the green island of Skopelos. Many even claim that Milia is the best beach on Skopelos Island. On Milia Beach, you will find white sand mixed with pebbles. It's the longest beach on the island and it stretches in two directions. A row of rock formations, great for snorkeling,  naturally divides Milia Beach in half. There is a beach bar on the beach. 
TIP Milia Beach is not only approximately 5 minute drive from Adrina Hotels but also there are Water sports on the beach.
DAY 7 ADRINA BEACH HOTEL – ADRINA RESORT AND SPA
In such a short time and you experience so many visiting. You need to be rewarded for your effort. Therefore, spoil yourself as much as you want at the Adrina Hotels.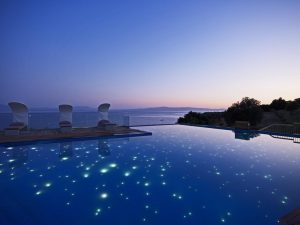 Enjoy all the luxury facilities, swim in one of the two large piscine with seawater, have a cocktail on the beach, and enjoy delicious and quality food in Adrina's Taverna and Restaurant.  Both Taverna and the restaurant offer greek creative dishes.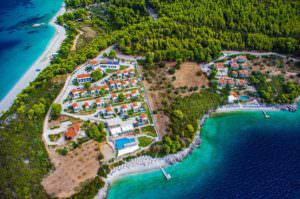 Adrina Hotels are synonymous with luxury vacations and quality service. The key to success is the friendly atmosphere and warm hospitality with the highest international standards of service and facilities.
TIP Adrina Hotels are built in the perfect spot on Skopelos Island, almost in the middle of Skopelos, on a magnificent slope that is covered with pine trees.
In a week, by our 7-day plan (7 Days on Skopelos Island), you manage to visit so many beaches…yet there are so many places left. Our advice, visit Skopelos again, only one is not enough to discover the whole beauty of this magical island.
Skopelos.com – Skopelos Blog
Blog.Skopelos.com –  Skopelos.com/Blog
Author – Adrina Hotels Skopelos – www. Adrina.gr