SKOPELOS POPULAR BEACHES, SKOPELOS BEACH BARS, SKOPELOS ISLAND, NORTHERN SPORADES, SKOPELOS BEST BEACHES GUIDE, ORGANISED BEACHES IN SKOPELOS, SKOPELOS MILIA BEACH, SKOPELOS KASTANI BEACH, SKOPELOS PANORMOS BEACH, SKOPELOS BLOG, SKOPELOS BLOGSPOT, SKOPELOS BLOGGING, SKOPELOS BLOGS, SKOPELOS BLOGGERS
THE THREE MOST POPULAR BEACHES OF SKOPELOS ISLAND
Skopelos is a beautiful Greek island known for its stunning beaches and crystal-clear waters. Here are three of the most popular beaches on Skopelos Island:
Panormos is one of the most famous beaches on Skopelos, offering golden sand, white pebbles, clear waters, and lush green surroundings. It is well-organized with beach bars, taverns, and sunbeds.
Panormos Beach is one of the most popular and beautiful beaches on Skopelos Island, Greece. It is located on the northwest coast of the island, approximately 12 kilometers (about 7.5 miles) from Skopelos Town, and the drive takes about 20-25 minutes.
🌞 Here are some key features and highlights of Panormos Beach🌊:
🌅 Scenic Setting: Panormos Beach boasts a picturesque setting with golden sandy shores and turquoise waters. The beach is surrounded by lush green hills, creating a stunning backdrop for beachgoers.
🚣Swimming and Water Activities: The waters of Panormos Beach are calm and clear, making it an excellent spot for swimming and snorkeling. The gentle waves make it suitable for families with children as well.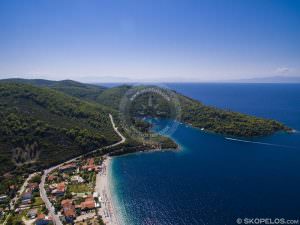 🍹Beach Facilities: Panormos Beach is well-organized with sunbeds and umbrellas available for rent, providing visitors with comfort during their beach day. Additionally, there are taverns and beach bars nearby where you can enjoy refreshing drinks and Greek cuisine.
🏞️Natural Shade: The beach is naturally shaded by pine trees, providing a pleasant and refreshing escape from the sun during the hot summer days.
🚗Accessibility: The beach is easily accessible by road, and there is a parking area available for those arriving by car or scooter.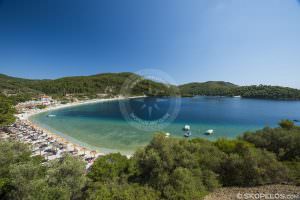 Overall, Panormos Beach offers a fantastic combination of natural beauty, clear waters, and convenient facilities, making it a favorite destination for both locals and tourists. Whether you're seeking relaxation, water activities, or simply a stunning beach setting, Panormos Beach on Skopelos Island is an excellent choice.
Milia is a scenic beach with pebbles and is surrounded by a pine forest. Milia Beach is located north of Panormos, about 14 km southwest of Skopelos Chora, and a similar distance east of Glossa, the second-largest village on the island.
🏖️ Discover the Hidden Gem – Milia Beach, Skopelos Island 🏖️
📍 Location: Milia Beach, Skopelos Island, Greece
🌅 Unveil the Serenity: Escape the hustle and bustle of everyday life and embark on a journey to the paradise of Milia Beach on Skopelos Island. Milia Beach awaits with its tranquil shores and mesmerizing turquoise waters.
🏞️ A Nature Lover's Heaven: As you approach Milia Beach, the pristine natural landscape will take your breath away. Encircled by lush pine forests, this pebble-strewn haven emanates an aura of natural beauty. The harmonious blend of greenery and the crystal-clear Aegean Sea creates a picture-perfect postcard setting.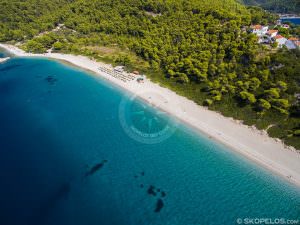 🏊‍♂️ Dive into the Azure Waters: Dip your toes into the gentle waves and succumb to the allure of the azure waters. The remarkable clarity of the sea invites you to explore the fascinating underwater world, making it an ideal spot for snorkeling and discovering vibrant marine life beneath the surface.
🍹 Relax & Recharge: Unwind on comfortable sunbeds of Apple Beach Bar under the shade of umbrellas, letting the soft sea breeze soothe your senses. Enjoy refreshing drinks and local delicacies as well as summer music.
🚶‍♂️ Nature's Trail: For the adventurous spirits, a coastal path and some rocks connect Milia beach with neighboring beaches. Wander along the path, which is not so far from the road, and indulge in the stunning views of the steep cliffs and the sparkling sea, immersing yourself in the untamed beauty of Skopelos island.
🍹 A Sip of Paradise: While simplicity is the essence of Milia Beach, a quaint beach bar and tavern offer delightful refreshments and traditional Greek dishes. Savor the flavors of Greece while embracing the rhythmic sounds of the waves gently lapping against the shore.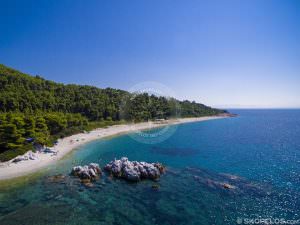 📸 Capture Memories: As the sun begins its descent, the colors of the horizon transform into a palette of pastel hues, creating an unforgettable backdrop for capturing cherished memories. Witnessing the sun dip below the horizon at Milia Beach is a spectacle you won't want to miss.
Milia Beach invites you to enjoy, breathe, and immerse yourself in the timeless rhythm of the sea. With every step taken on its golden sands and every gaze lost in its endless expanse, Milia Beach weaves itself into the tapestry of memories you'll carry with you long after you've left its shores. So, whether you come seeking solace, joy, connection, or wonder, Milia Beach welcomes you with open arms and invites you to become a part of its enduring story. 🌅🏝️
🏖️ Kastani Beach: Where Mamma Mia Magic Meets Tranquility 🎬
Looking for a slice of paradise on the enchanting island of Skopelos? Look no further than the iconic Kastani Beach! 🌅
Kastani Beach is located on the southwestern coast of Skopelos, near the village of Neo Klima( Elios). Kastani Beach is just a few minutes' drive away from Milia Beach.  It is surrounded by lush green hills and offers stunning views of the crystal-clear Aegean Sea. The beach has golden sand and is well-known for its natural beauty and serene atmosphere.
🎥 Mamma Mia Memories: Step into the world of Hollywood romance as you stroll along the golden sands of Kastani Beach. This is the very spot where scenes from the beloved movie "Mamma Mia!" were filmed, adding a touch of cinematic magic to your getaway.
🌊 Turquoise Waters: Dip your toes into the crystal-clear turquoise waters that gently kiss the shoreline. The calm and inviting sea is perfect for leisurely swimming and cooling off under the warm Greek sun.
🌴 Natural Beauty: Nestled between lush green hills, Kastani Beach offers a pristine oasis where nature takes center stage. Take a leisurely hike to the surrounding cliffs for breathtaking panoramic views.
🍹 Relax & Recharge: Unwind on comfortable sunbeds under the shade of umbrellas, letting the soft sea breeze soothe your senses. Enjoy refreshing drinks and local delicacies at the Kastani beach bar.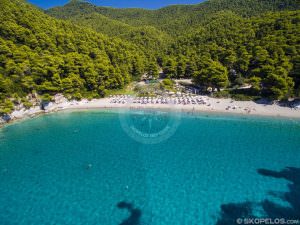 🚣 Water Adventures: Embark on exciting water adventures, from kayaking to snorkeling, and explore the captivating underwater world around Kastani Beach. The vibrant marine life will leave you awe-struck!
📸 Insta-Worthy: Capture Instagram-worthy moments against the backdrop of stunning cliffs, azure waters, and golden sands. Your feed will thank you for the breathtaking snapshots!
🎶 Melodies of Nature: Let the gentle lullaby of lapping waves and the symphony of rustling leaves serenade you into a state of pure bliss. Kastani Beach is a sanctuary for those seeking a harmonious connection with nature.
🌅 Sunset Magic: As the sun dips below the horizon, Kastani Beach transforms into a realm of magical colors. Witness the sky painted in hues of pink, orange, and gold, creating an unforgettable spectacle.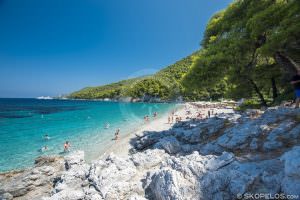 🌈 Memories to Treasure: Whether you're a die-hard "Mamma Mia!" fan, a nature enthusiast, or a seeker of seaside serenity, Kastani Beach promises memories that will linger long after you've left its shores.
Experience the allure of Kastani Beach – where cinematic dreams meet the timeless beauty of Skopelos. The beach is also well-organized, with sunbeds, umbrellas, and a beach bar providing refreshments and snacks. 🎬🏝️
It's important to note that, due to the movie's fame, Kastani Beach may be more crowded during the high tourist season. If you prefer a quieter experience, consider visiting during the shoulder season or early mornings when the beach tends to be less busy.
These are just a few of the many stunning beaches you can find on Skopelos Island. Each one offers its own unique charm and natural beauty, making the island a paradise for beach lovers. Please note that beach popularity and facilities may change over time, so it's always a good idea to check for the latest information when planning your visit.
Skopelos.com – Skopelos Blog
Blog.Skopelos.com –  Skopelos.com/Blog
Author – Adrina Hotels Skopelos – www. Adrina.gr