This post is also available in: Ελληνικά (Greek)
WHAT TO BUY ON SKOPELOS ISLAND, SHOPPING LIST IN SKOPELOS, THINGS TO BUY IN GREECE, SKOPELOS TOURISTS SHOPS, UNIQUE GREEK SOUVENIRS, PERFECT GREEK SOUVENIRS, TRAVEL IDEAS, THINKS YOU CAN ONLY BUY IN SKOPELOS, SHOPPING GUIDE, GUIDE IN SOUVENIR SHOPPING, VERY BEST BUYS ON SKOPELOS ISLAND, DISCOVER SKOPELOS MARKET, DISCOVER SKOPELOS LOCAL ART, DISCOVER SKOPELOS LOCAL PRODUCTS, CLOTHES, HANDMADE JEWELRY, HANDMADE CERAMICS, SWIMMING SUITS, PAREOS, SKOPELOS CHORA, NEW PORT, OLD PORT, SKOPELOS BEACHES, SKOPELOS MAMMA MIA, SKOPELOS FOOD, NORTHERN SPORADES, GREECE, SKOPELOS BLOG, SKOPELOS BLOGSPOT, SKOPELOS BLOGGING, SKOPELOS BLOGS, SKOPELOS BLOGGERS
What to buy in Skopelos
Things you can only buy in Skopelos
Visit Greece is always a timeless and unique experience, let alone the Greek islands. Skopelos is one of the islands you should definitely visit at least once. You will be thrilled by the beaches, the amazing things you will meet, the admirable history, and the simplicity of the delicious Greek cuisine after all greek gastronomy have top Mediterranean dishes.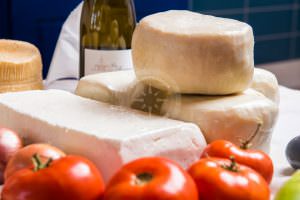 To continue with, Skopelos is globally known as the green on blue island. In fact, it is one of the greenest islands in Greece and the Aegean Sea. This beautiful island of Northern Sporades features magnificent beaches, museums, and monuments as well as a rich history full of myths.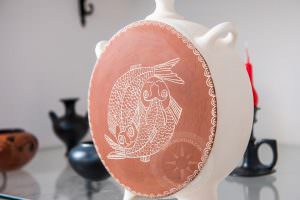 But all the above are not the only benefits of Skopelos. With a long tradition of local arts (pottery, ceramics, micro shipbuildings, painting), local products of excellent quality, a developing market, and customs and traditions that are alive even today, Skopelos offers much more than just the common fridge magnets and boats and shell replicas to buy for souvenirs. You won't get back home with just some usual greek souvenirs, that will also refresh the interiors of your house.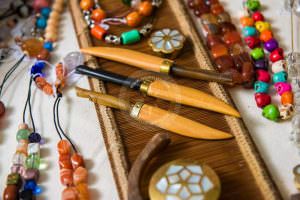 The end of the holidays is always sad and creates a feeling of nostalgia. So what better way to have made purchases on your return that will remind you of the favorite place you visited and refresh your mood.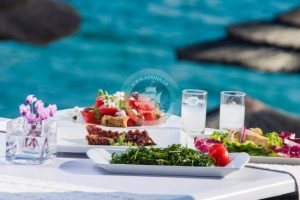 On your way back home you should have made the appropriate shopping. Skopelos is a special island, and so are the souvenirs and gifts you will take with you. The variety and diversity of souvenirs will delight you. The local art items are not only decorative items but also utilitarian. Local gastronomy products are not allowed to be missing from your shopping list.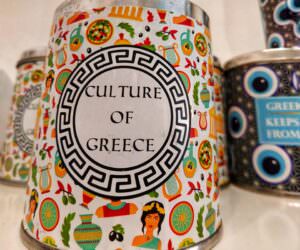 Below there are some souvenirs and items, that you can buy only in Skopelos. Souvenirs and things that you can't leave Skopelos without.
pottery/ceramics
Ceramics in Skopelos is an art with a long tradition that remains alive. In fact, pottery is an integral part of the island's culture. There are still families of well-known ceramists that maintain the traditional style that made ceramics popular. While, at the same time, new artists create their own pottery lines.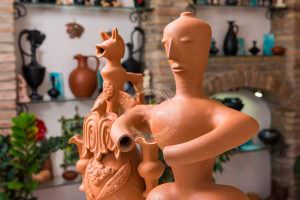 Thus, in Skopelos, you will find shops to buy authentic ceramic art products. If you are in Greece you should buy the well-known pomegranates  (which according to Greek tradition offer good luck),  the blue eyes (which ward off the evil eye) and certainly a boat. Also, apart from the original decorative pieces, there are also, coffee mugs dishes, bowls, and other special kitchen items.
If you wish to make a new statement to your outfit then you should look for ceramic pieces of jewelry.
Mr. Nikos Rodios and his daughter Magda Rodiou own the Rodios Pottery. Their family is well known for their tradition of ceramics, they are both great artists, and all pieces are handmade in their workshop.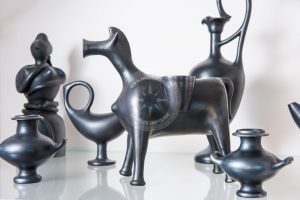 Armoloi is another shop you should definitely visit. The founders are Elena and Nikos Markou. Her daughter Dimitra continues the hand-made and hand-painted ceramic creations.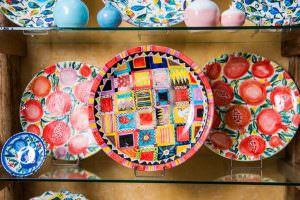 Last but not least, is the studio "Colours of Skopelos". The owner and artist, of the hand-made and hand-decorating creations, is Mr. Liz McGhie.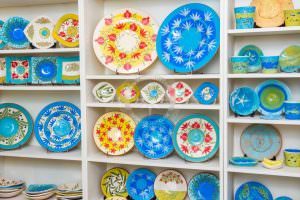 local art and crafts
If you see an old man holding a string of beads do not get confused. He has the famous Greek Kompoloi, or else worry beads. They are usually handmade and were popular men's accessories for relaxation in Greek Culture.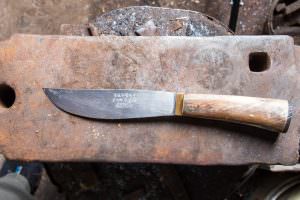 Specifically in Skopelos Island, which very famous is also the handmade knives. The materials used for making knives are usually goat horns for the base and oak or olive for the sheath. Today the tradition of scoped knives is continued by Mr. Antonis Ampelakias.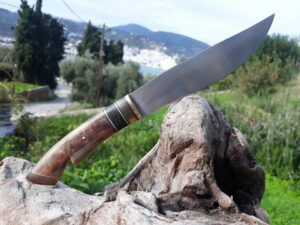 local MICRO SHIPBUILDING
Micro shipbuilding art is a unique piece of the traditional Skopelos art and culture. Micro shipbuilding is in simple words the construction of smaller wooden boats as miniatures.
Ships have always had a strong symbolic meaning in the history of Greece. In fact, in the old days, Greeks used to decorate a ship instead of a tree at Christmas.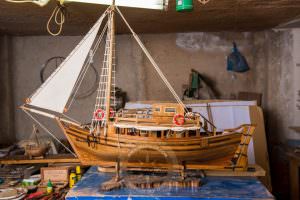 It is a unique souvenir to take with you. Wooden handmade pieces of exquisite art made in Skopelos. It will definitely give another prestige to the interior decoration of your home.
Mr. Boudalas Yiannis and his daughter Regina are famous for their unique construction in micro shipbuilding. Mr. Danos also practices this original art in Skopelos.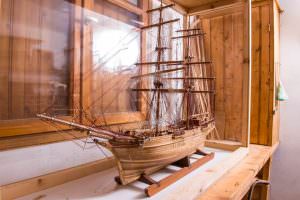 local products
The most popular local product of Greece is "Ouzo". Ouzo accompanies perfectly the seafood meze dishes and the greek summer. However, Greece and especially Skopelos, have a long tradition of wine production dating back to the most ancient times. Being in Skopelos you should taste and buy the well-known "Peparithios Wine".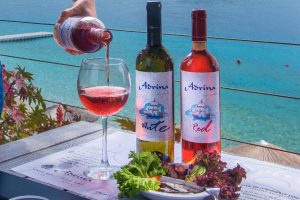 The queen of Skopelos cuisine is the traditional cheese pie. As you can understand it is a must to bring some pieces back home.
Another famous product of Skopelos is honey. The ancient Greeks especially revered honey and called it ambrosia, which means the food of the gods. The honey of Skopelos is produced in the green forest of the island. Apart from honey, don't miss to buy its derivatives such as pollen, royal jelly, propolis, and beeswax. It is impossible to leave Skopelos without greek honey in your bags.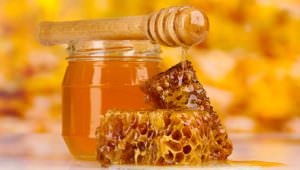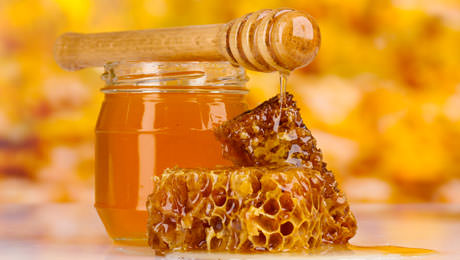 Olive Oil in Greece is simply the best after it is also called "liquid gold".  It is a must in Greece since antiquity when the goddess of wisdom Athena gifted the olive tree to Athens. In Skopelos, the olive oil is extra virgin. Of course, along with olive oil come the delicious olives in many varieties, Do not forget for no reason to buy Greek olive soap and other beauty products made of olive oil.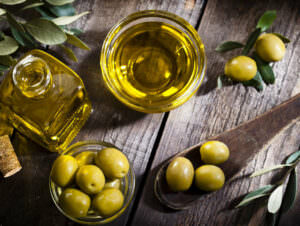 In Skopelos, they have had a big production of excellent plums for over 2 centuries. It is a common element of their dishes. It is used everywhere in many different variations, as in main dishes cooked with meat, in sweets, in spoon sweets (avgato), in jams, desserts, dried, and liqueurs.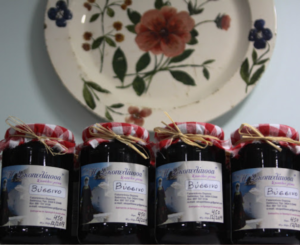 They also have a variety of different jams and spoon sweets. Dried herbs are a prerequisite buy as well as the famous "kritama" and the tuna in olive oil.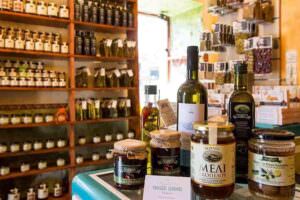 Some of the best places in Skopelos to buy local products are Skopelitissa, Antoniou Family Olive Oil, Ktima Stamatiou, Lemonis stores, Skopelos Land, Mediterranean Deli, Kochilis Bakery, Mr. Gerakis, Kyra-Leni, and the Gliossiotisa.
jewelry
On Skopelos Island, you will find a variety of handmade greek jewelry to buy on your trip. Anyway, the jewel is always a valuable souvenir to bring back home from holidays.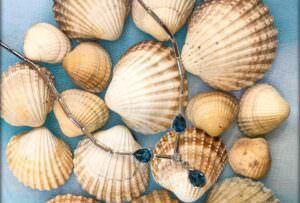 There is always the option of the traditional, usually silver or gold, earrings, bracelets, necklaces, and rings designed with Greek symbols and of course sea elements. The evil eye and the blue color is the standard choice for good luck!
Especially, in Skopelos Town, there are many excellent shops with handmade pieces of jewelry. Alexandros, Kastri, Ploumisti, Giannakopoulos, Chroma, Aloia, Abebablom, and many others. We advise you to be alert and have your eyes open to discover more souvenir stores for unique Greek jewelry that is unlikely to can buy elsewhere
clothes and accessories
However, there are many clothing and accessory shops in Skopelos that you can find mainly in the main town of the island but also in the village of Glossa. Summer dresses, for young and old ladies (mother and daughter), handmade bags, pareos, cardigans, sea accessories such as beach towels and beach bags, and unique Greek sandals.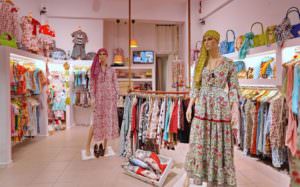 Of course, apart from women's clothing and accessories shops, there are also men's and children's shops. A complete market that will leave you completely satisfied.
You will shop for items to refresh your summer wardrobe but you will also be able to make beautiful gifts for friends. Everyone appreciates a Τ-shirt or even a bag that says Greece and shows the Greek sun.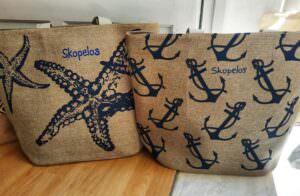 Some shops to visit in Skopelos Chora are Kalimera, Abebablom, Armonia, Petite Etoile Kids Fashion, KO and Ritas Idea,  Kastri, Ploumisti, Elegance Hand-made Bags, and many others.
Moreover, there are plenty of tourist shops as well as gifts stores to spend your time and buy souvenirs that you will be in love with.
Items of local art of multiple uses, presents, knives, photos, mugs, cups, magnets, card postal, beach towels, clothing, accessories, hats, sandals, and so on.
Once visiting Skopelos will be always in your heart, buy souvenirs to have in your house all year round. Till the next summer…
Skopelos.com – Skopelos Blog
Blog.Skopelos.com – Skopelos.com/Blog
Author – Adrina Hotels Skopelos – www. Adrina.gr